Rockers Who Lost All Their Money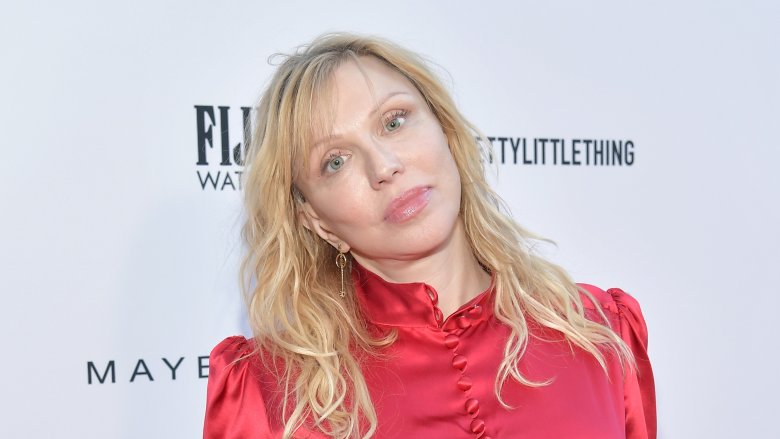 Getty Images
When you're a popular rock star, the success can seem endless. Churning out hit after hit means fans, fame, and enough money to keep you set for life. But with all that cash comes a million ways to lose it. There have been plenty of rockers who should have been rolling in it, who suddenly find themselves broke or even in bankruptcy court.
When that happens, they might start questioning how it got to that point. Maybe they signed a bad contract or trusted the wrong people to take care of their money. And of course, there's always the rock and roll excess, which can mean rockers wake up one day and realize they threw or drank or snorted all their cash away. But even if they do the right thing and try to invest their income responsibly, disasters can happen. It must be easier for musicians to lose millions than you'd think because some of the biggest names in rock have been doing it for decades.
Pete Doherty was living in a squalid apartment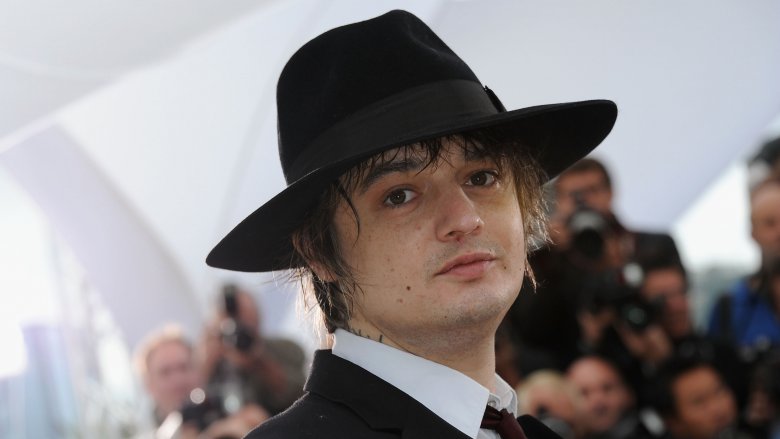 Getty Images
English bad-boy rocker Pete Doherty founded the successful rock band The Libertines in 1997. When that group banned him from playing with them due to Doherty's drug use and jail time, he simply started another band in 2003, called Babyshambles, that also went on to do well.
But the drug use didn't just affect his personal relationships, it affected his bottom line. Badly. In 2007, the Evening Standard reported that despite earning millions from his time in The Libertines and his recent Babyshambles album selling a respectable 100,000 copies, Doherty was "on the verge of bankruptcy." Leaked accounts showed one of his companies connected to the band only made £1,910 in profit, while his touring company actually lost £21,731, despite Doherty playing a bunch of shows. While it was assumed his addictions didn't help financial matters, his investments also had "not fared well," and all the money was seemingly gone.
Fortunately, despite his many problems, he'd managed to snag supermodel Kate Moss along the way, and her millions were keeping him afloat at the time. Doherty lived in her mansion, and she even paid for a trip to rehab for him. But Moss was long gone by 2010, when British tabloid The Sun claimed that the rocker was "completely broke" and living in a "squalid" basement apartment. Since it's The Sun, one must take this with a huge grain of salt, but considering his earlier problems, it's definitely believable that Doherty was still completely out of money.
Courtney Love was too out of it to realize she was being robbed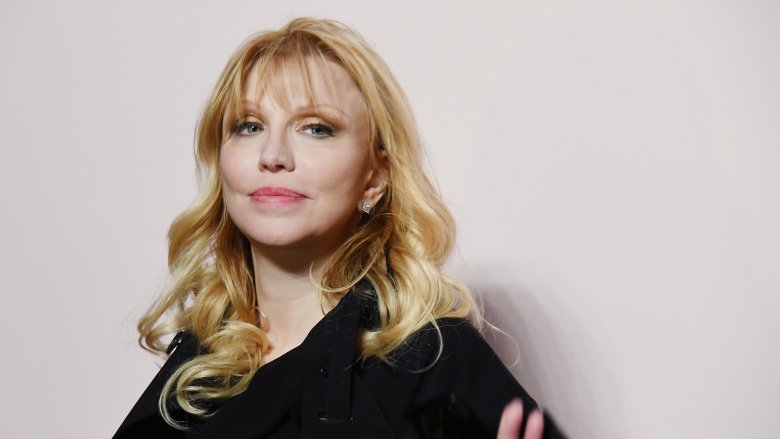 Getty Images
Courtney Love is a successful rocker in her own right, but her real money comes from control over late husband Kurt Cobain's publishing rights. But in an interview with The Fix, she said she was too out of it to pay attention to what happened to the money. After Cobain died, she was "doing drugs from the moment [she] woke up till the time [she] went to bed." When it came to finances, Love just "did what [she] was told to do," and by the time she realized what was happening, she was totally broke. She and her daughter, Frances, had to move in with Love's stepfather to avoid homelessness. She even claims they didn't have enough money to eat. Then in 2013, according to Clash Music, Love again said she was near bankruptcy because money had been taken from her accounts by "douchelords."
However, as the website noted, "controversy has raged over the veracity" of her claims of poverty. In a 2009 court filing, Frances claimed, among other things, that her mother was "obsessed with uncovering fraud and spends much of her day raging about the fraud that has been perpetrated on her." So some of it might have been in Love's head.
What is definitely true, however, is that Love has trouble paying taxes. The Blast says the IRS came after her for nonpayment of hundreds of thousands of dollars in 2009, 2011, 2012, and 2016. The last bill was the largest one yet, for over $500,000.
Tom Petty filed for bankruptcy to get out of a record contract
Getty Images
When Tom Petty filed for bankruptcy in 1979, it was a strategic choice, and one that would be copied by several later artists. But Petty was the first one to figure out how to legally say he had no money to get out of a terrible recording contract. As History says, the music industry is "notorious for its creative accounting practices," and it can mean a very successful act might somehow have no money or perhaps owes their label lots of cash.
In 1979, Petty found himself with two hit albums, numerous hit singles, and what he thought was an unfair cut of the sales, due to an "extremely unfavorable contract that Petty felt he had signed under duress." So he completed a third album, which he financed himself, but refused to let the record company release it. This left him $500,000 in debt, and he filed for bankruptcy. According to Rolling Stone in 1980, it was a complicated situation, where Petty's record label sued him and refused to let him perform in concert, even thought it would have made the company money, and then everything had to be put on hold while the bankruptcy was dealt with. Petty filing for bankruptcy and announcing he'd only made $36,000 the previous year was also very embarrassing for the label.
Billboard reports this strategy was concerning to the record industry, since other artists might follow suit. So the label folded, offering the broke Petty an attractive $3 million contract.
Mick Fleetwood doesn't remember how many times he went broke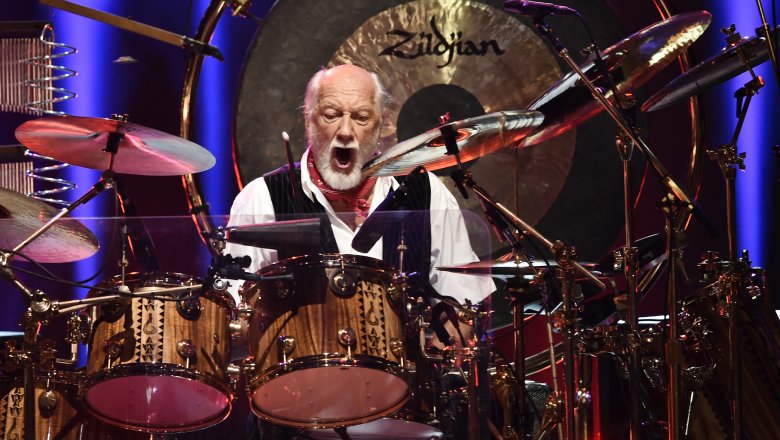 Getty Images
In 1984, Mick Fleetwood filed for bankruptcy. This was absurd, since he had founded Fleetwood Mac 17 years before. At the time Rolling Stone asked how this could happen to him, the founder and (for five years) manager of "one of the most financially successful rock bands ever." Rumors had come out only eight years earlier. (To get an idea of that record's success, in 2018, it was the seventh best-selling album of all time.) So how did he possibly go broke?
Part of the problem was that as the drummer, Fleetwood didn't write any of the band's songs, so he made "the least money," according to the Telegraph. And in 1984, his lawyer was quick to point out that while Fleetwood loved "great drums, cars, beautiful women, and magnificent pieces of real estate," he was absolutely not blowing money on drugs.
But the real estate in particular still screwed him. Fleetwood bought and then quickly sold property in Australia and "took a bath" on the transactions financially. Then he bought a mansion and took out a huge loan when interest rates were at their peak. As Fleetwood Mac band members took time off for solo projects, his yearly income plummeted to only a couple hundred thousand. Then there were various investments that flopped.
The financial problems continued on and off. In 2014, Fleetwood told the Telegraph he'd "lost count" of how many times he had filed for bankruptcy.
David Crosby had to borrow clothes from a friend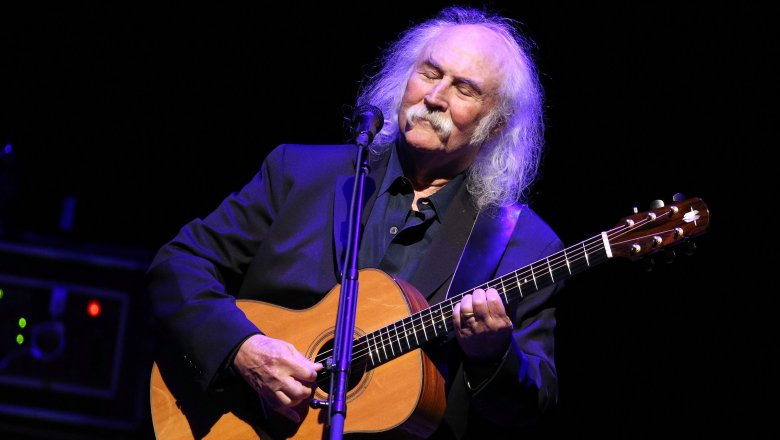 Getty Images
David Crosby saw huge success with not one but two legendary bands: The Byrds and supergroup Crosby, Stills, & Nash (and sometimes Young). But then it all fell apart in the 1980s.
Ultimate Classic Rock says Crosby's first run-in with the law happened when he crashed his car while on cocaine. He also had a concealed weapon on him. Then just three weeks later he was busted with more cocaine and a gun in a nightclub he was performing at. According to the Los Angeles Times, he got lucky when that conviction was overturned on appeal, but he didn't learn a thing. In 1984, Crosby got three years' probation for driving on a suspended license while drunk. A year later he crashed his car again and, as he was probably used to by now, charged with possession of a concealed pistol and narcotics paraphernalia, and just to mix it up, hit-and-run driving.
Eventually, Crosby did hard time. The combination of drugs and drama had not been nice to his bank account. Bankrate reports that in 1985, he filed for bankruptcy. When he got out of jail, he was so broke that he had to live in a friend's spare bedroom and even had to borrow his clothes. In 2003, Crosby told Bankrate he estimated he'd burned through $25 million over the course of his career. He eventually made his money back by continuing to work, but was arrested for possessing a gun and drugs yet again in 2004.
Ted Nugent had a failed mink farm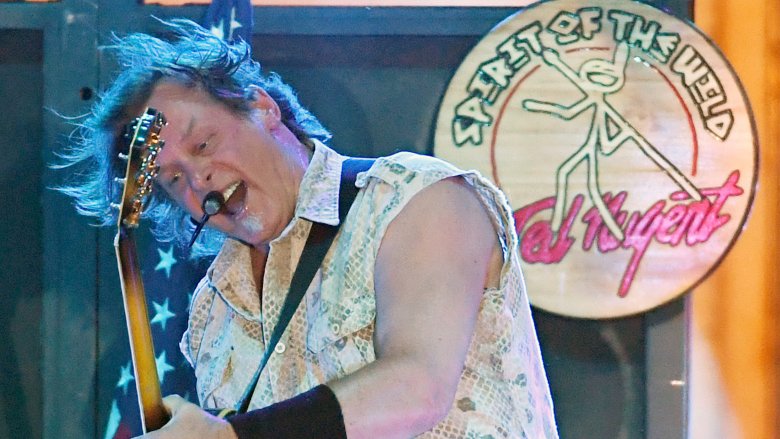 Getty Images
These days Ted Nugent is known for his opinions on guns, his vocal support of Trump, and even for visiting the White House with Sarah Palin and Kid Rock, but he's first and foremost a successful rock star. There was a time when he would play in front of a quarter of a million people and sell a million copies of his records. He was a master self-promoter. He also seemed to care about his money, calling his accountant "kick ass" in a 1979 Rolling Stone interview, and saying the guy got a "sensual thrill" doing Nugent's books.
But there is an interesting detail in that same article, where the reporter sees Nugent quickly sign a packet of bonus checks for his employees in a few minutes while running late for a gig. The checks totaled $87,000 in 1979 money. Nugent said he paid his "business associates" handsomely, and they included everyone from musicians, roadies, agents, and accountants to farmers on his mink ranch. Yes, he had a mink ranch.
According to Texas Monthly, within a year of that Rolling Stone interview, Nugent was bankrupt. The mink farm, as well as other esoteric investments like a hotel in Flint, Michigan, and a herd of Clydesdales, had been failures. (Side note: Nugent did not, as some believe, declare bankruptcy in 2018 over a "liberal boycott" of his albums. A small satire site made a post saying the rocker was facing "financial ruin" and going to apply for "welfare and food stamps" after 13 albums bought by liberal fans were returned.)
Dee Snider was shopping in thrift stores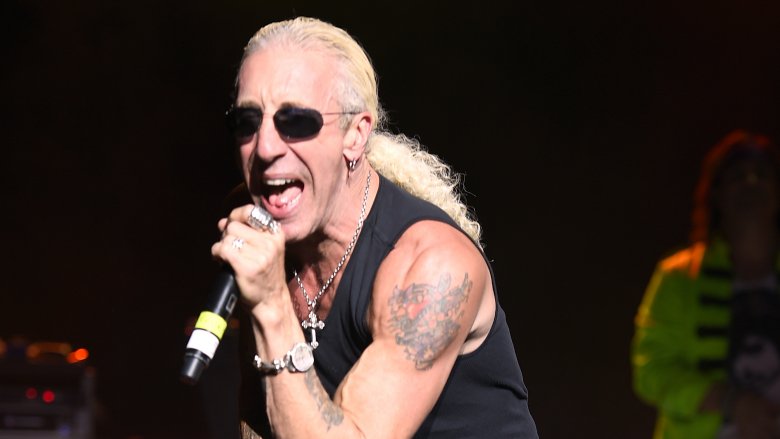 Getty Images
In the mid-1980s, Twisted Sister was riding high with a quadruple platinum album and crazy music videos that went viral well before YouTube. Dee Snider, as the "primary songwriter," was making a ton of money, according to Hard Rock Daddy. But then he was called before the Senate to defend his violent music videos. In order to get the politicians on his side, Snider mentioned he was "a teetotaling family man who never drank, smoked, or did drugs." That ruined his credibility with his fans, and then musical tastes changed and Twisted Sister was over.
Radar Online says this dramatic fall resulted in Snider's filing bankruptcy. He told Fox News that by 1995 he was "flat broke." Snider said it was a gradual slide and that despite the warning signs, he "just kept spending," and that unlike other bankrupt musicians, he didn't have a drug problem or a corrupt manager he could blame for his financial problems. In the end, Snider took a minimum wage job and commuted to it on his bicycle since he didn't have a car anymore. He and his family used coupons and shopped in thrift stores, although he mentioned he would leave quickly before people recognized him. Snider said at that point he couldn't even afford to buy his kids a piece of candy, although thanks to nostalgia and time on Broadway, he's since bounced back financially.
Meat Loaf faced a flood of lawsuits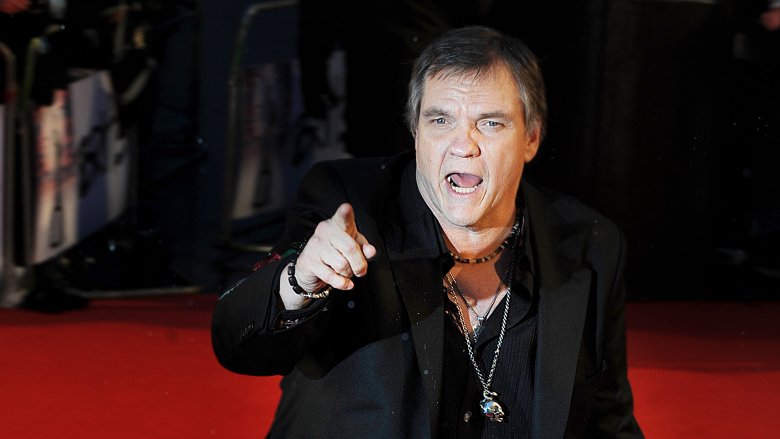 Getty Images
Meat Loaf may have eventually lowered himself to gigs like starring in the Spice Girls' movie, but at one point he was massive. His 1977 album Bat Out of Hell was one of the best selling in pop history, according to a 1996 LA Times article. But his record company decided to lie to him about just how many albums he sold and continued to sell, so the money wasn't rolling in like it should have been.
Loaf said he suspected his sales were being lowballed during the 1980s, but it wasn't until the early '90s, when accounting technology got better, that he could prove it. He estimated his record company owed him $14 million in 1996 money. The lawyer he hired to sue the company said it was normal for their accountants to try and shave every dollar they could from artists.
And all that money would have come in really handy in the early '80s. In 1983, Encyclopedia.com says people like Loaf's publisher and manager sued him and at one point he was facing 22 separate lawsuits for $85 million total; the musician later told the Guardian it was 45 lawsuits for $80 million. Whatever the exact numbers, it was a lot of lawsuits and they wiped him out. He says every time one lawsuit was dismissed, another would suddenly emerge. He had to file for Chapter 11 to get them to stop. Loaf says it was "shameful," and he lost his "house and everything," even the publishing rights to his songs.
Jerry Lee Lewis lost his mechanical bull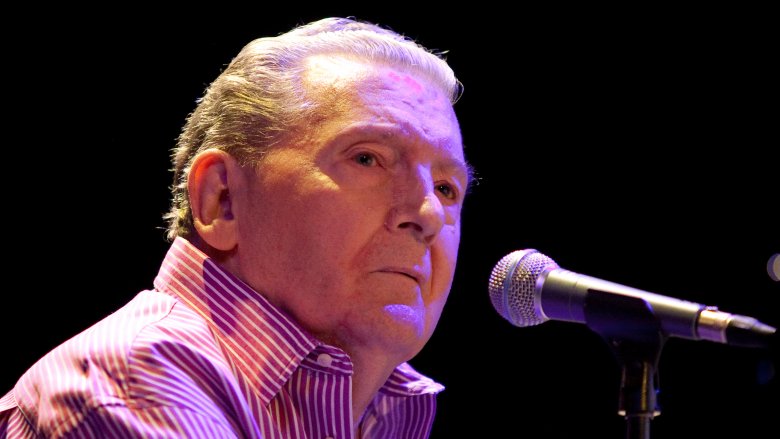 Getty Images
Jerry Lee Lewis has lived a weird life, having married his 13-year-old cousin when he was 22. But there's no denying people liked his music. "Great Balls of Fire" and "Whole Lotta Shakin' Goin' On" were instant classics, and his energetic stage shows were hugely popular.
But the money Lewis earned went bye-bye, and it took a long time for him to get everything right again. According to the Associated Press, in 1979, he owed $274,000 to the IRS, who came to his house and took 60 items to auction off for payment, including a tractor and some guns. The auction was a failure, with only 150 people showing up and spending less than a third of the money owed.
In 1984, Lewis escaped the possibility of jail when he was found not guilty of evading taxes, but that didn't mean his debts went away. A year later, the IRS came calling again, this time taking, among other things, a mechanical bull and a jet ski. By 1988, Lewis was $3 million in debt. About $2 million of that was to his good friends at the IRS, but when he filed for Chapter 7 bankruptcy, he listed 21 other creditors, including a lawyer, three hospitals, and a $119 bill from the Waldorf-Astoria Hotel in New York. It was embarrassing, considering a movie starring Dennis Quaid was about to come out about the successful period of his career, but Lewis' manager later said the bankruptcy gave the performer a "new lease on life."
The Goo Goo Dolls had to tour to pay the bills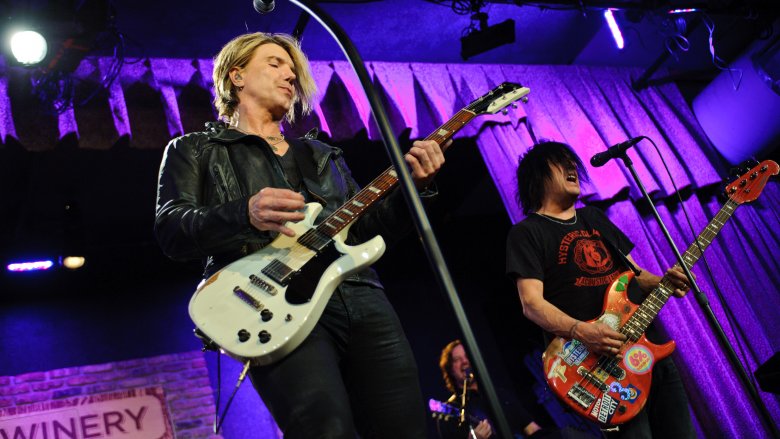 Getty Images
The Goo Goo Dolls, like a lot of artists starting out, were so desperate for a record deal they were basically willing to sign any contract, no matter how terrible it was for them. After releasing a couple good albums in the late 1980s, the band signed with Metal Blade Records. They would later claim in a lawsuit, according to Billboard, that the company "exploited their naivete" and got them to sign an unfair contract, one that Encyclopedia.com says saw them "sign away most of their royalty rights."
This meant that while they toiled away trying to make it, the band members all still held down part-time jobs, per Music Fan Clubs. But then in 1995, their smash hit album A Boy Named Goo came out. Led by the single "Name," it sold millions of copies. The band should have been rolling in it, except ... the money never came. Literally almost none. Each member got a measly $6,000 a year from their label, and no, that isn't missing a zero or three.
Unable to pay the bills, they went on tour for two years. It wasn't always fun for them, like when they joined up with Bush and No Doubt, an experience one member said was like "having a dentist enter through your ass to pull your wisdom teeth out." So they sued their label. They won, and signed a much better contract, but there were still money issues, like when their drummer left over financial disagreements.