What Mike Rowe Was Doing Before Dirty Jobs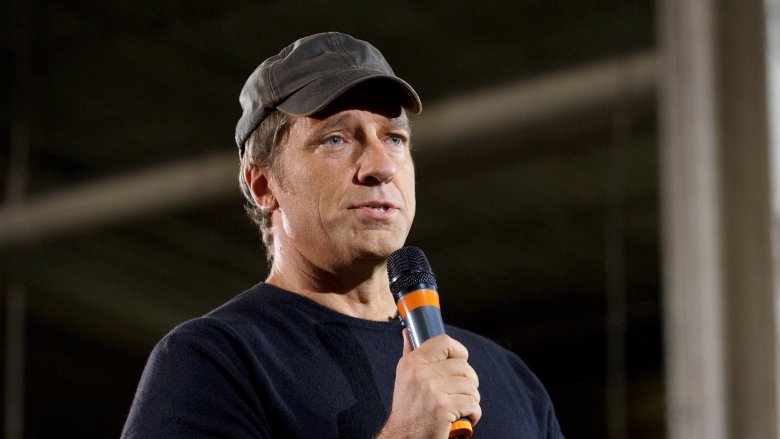 Mandel Ngan/Getty Images
Mike Rowe is a man whose sleeves stay rolled. He's a champion of the everyman thanks to eight seasons of his show Dirty Jobs – which featured him temporarily assuming a variety of blue collar positions on camera — and he's a man known for his can-do attitude. His willingness to take on any work is no act, however. Long before Dirty Jobs, Rowe made a career for himself doing what he would eventually become famous for — trying out all sorts of work. 
According to his personal website, Rowe's interest in using his mellifluous voice began in his school choir, where an enthusiastic teacher helped instill a love of singing and theatrical performance. Rowe was also an Eagle Scout, which he says helped transform him from a "painfully shy twelve-year-old kid with an annoying stammer and a deep fear of trying anything new" into a confident, well-spoken young lad. After graduating from Towson University in 1985 with a degree in communication studies, according to the school's Towerlight newspaper, he auditioned for the Baltimore Opera Company, despite having no opera background. The decision was a one-two punch, according to his bio, helping him to "get his union card and meet girls, both of which he accomplished during a performance of Rigoletto." 
He liked the opera so much that he stayed until 1990, when he auditioned for the shopping channel QVC to settle a bet. His ability to riff about a pencil for eight minutes earned him the graveyard shift, hawking products like the "Katsak" cat toy. After three years he was fired for mocking both products and customers — and, to be fair, if you're doing that, you should probably just quit your job before you have a chance to get canned.
For the next decade, Rowe worked as a successful television freelancer racking up dozens of credits, primarily as a host and narrator. These included "The Most," and "Egypt Week Live," according to IMDb, and those jobs wound up helping to solidify connections with networks like The Discovery Channel and The History Channel.
His big break came when he pitched Dirty Jobs as a three-hour miniseries to the Discovery Channel, which was so well-received that the network ordered 39 more episodes. The rest, as they say, is history, with Rowe performing over 300 different jobs in all 50 states during the show's run. Within his labyrinthine resume you'll find colorful roles such as "Wild Goose Swabber" and "Worm Poop Rancher."
Thanks to his lengthy career, you'll never have to wonder whether you should have gone into cow bladder assembly.