How Much Dude Perfect Is Really Worth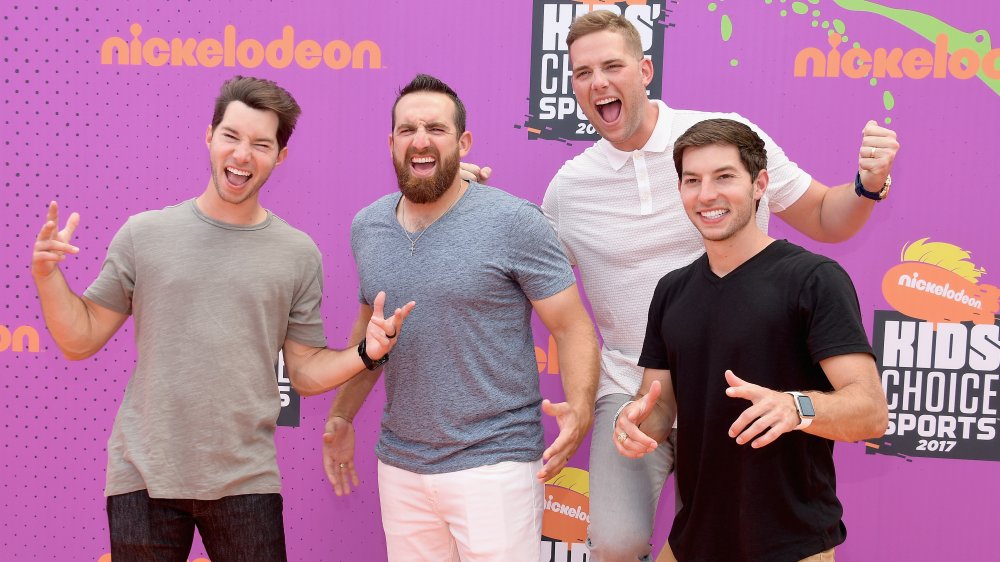 Matt Winkelmeyer/Getty Images
Remember that epic "Nothing But Net" McDonald's ad in which Boston Celtics sharpshooter Larry Bird challenged unstoppable Chicago Bull Michael Jordan to the world's most insane game of H-O-R-S-E? Pepperidge Farm remembers, and so does NESN. In an increasingly ridiculous display of one-upmanship premised on winning Jordan's Big Mac and fries, they shoot baskets from one knee, make buckets from the stadium stands, bounce the ball from the floor to the backboard and through the hoop, shoot from outside through a window to bounce the ball off a wall — nothing but net every time. In other words, Bird and Jordan were the first Dude Perfect.
As described by Texas A&M Today, Dude Perfect began as "six college roommates betting each other sandwiches on scored baskets in their backyard." Initially consisting of twin brothers Coby and Cory Cotton, Cody Jones, Garrett Hilbert, Tyler Toney, and Sean Townsend (who was the group's camera guy before moving to a different city), the sandwich-hungry dudes started off impressively and ramped up the antics to ludicrous levels. In their very first YouTube video they made baskets in a backyard — hitting behind-the-back shots while sitting in a chair, bouncing the ball off a chimney through the hoop, and other gems. They've since gone on to bigger things and bigger wallets.
Nothing but net worth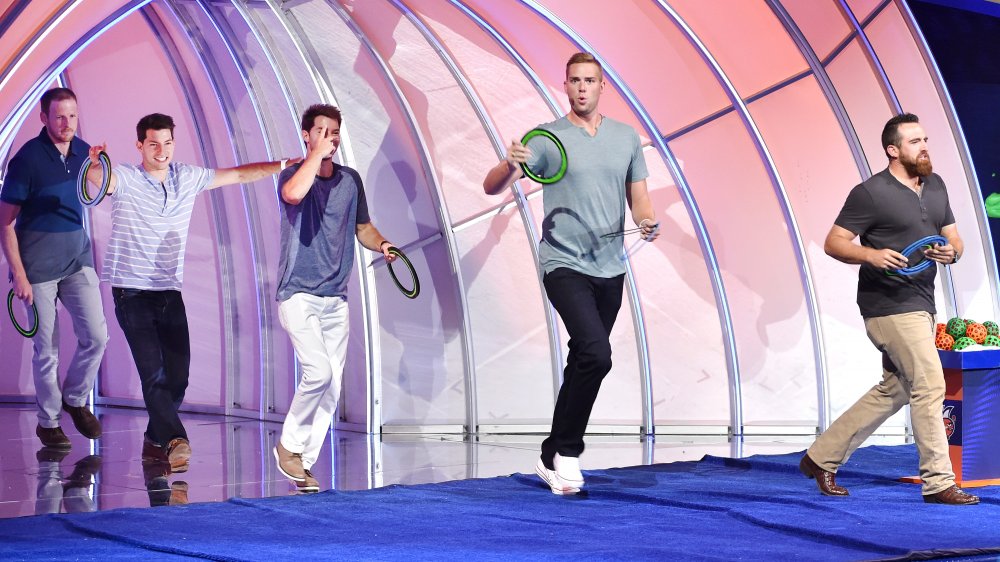 Kevin Winter/Getty Images
It's easy to see why these dudes are among YouTube's biggest stars. They constantly drop jaws with (literally) off-the-wall trick shots that seemingly defy credulity. They've done mind-boggling bottle flips and flung plungers absurd distances, getting them to stick to moving targets and a dude in medieval armor. They've teamed up with NFL and NBA players to pull off stunning feats and set up Oreos as dominoes to set off Rube Goldberg-like chain reactions. And that's just the tip of the iceberg. Per the Fresno Bee, in 2019, they launched a 20-city tour, and they have their own Nickelodeon show. 
Whether you think the dudes are faking it or are simply living proof that practice makes Dude Perfect, their practice makes them a lot of money. In 2019, Business Insider listed them as the third highest paid YouTube stars. Between June 1, 2017 and June 1, 2018, they earned $20 million, which is also their overall net worth, according to Celebrity Net Worth.