This Is How Much Kurt Angle Is Actually Worth
Despite what WWE fans used to chant, Kurt Angle never sucked. Any wrestler who could verbally take down the Undertaker and physically take down the one-man wrecking crew Brock Lesnar in a real-life wrestling match, as Angle did once, couldn't possibly suck. On the contrary, Angle blew fans away. He was a comically brilliant villain who had unmatched wrestling ability and classic matches. He could also be a bad-guy-slugging, milk-chugging babyface — or as Jim Ross famously called him, "an Olympic dairyman."
But even though "Milkomania" ran wild on Monday Night Raw, at times Kurt Angle's life ran off the rails. He grappled with potentially crippling injuries, a deadly painkiller addiction, and heartbreaking deaths in his family. But the parade of adversities that rained down on Angle couldn't wash away his perseverance. He survived the ugly times and made a pretty penny along the way.
The hurt of a champion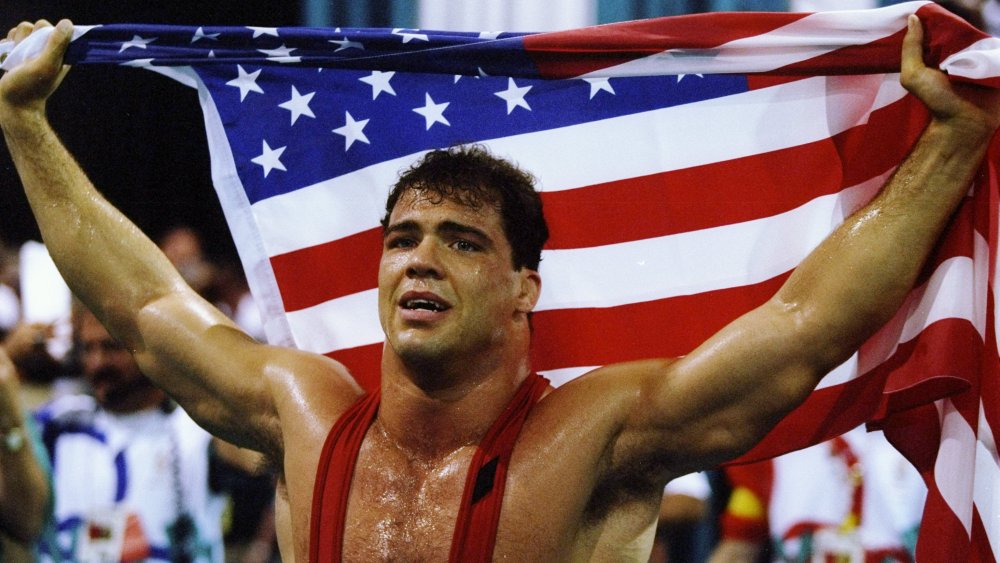 Jed Jacobsohn/Getty Images
Kurt Angle is an Olympic gold medalist, a multi-time WWE and TNA champion, and generally one of the greatest wrestlers — if not the greatest — who ever lived. But behind his many wins is a string of heartbreaking losses. The Pennsylvania Center for the Book explains that at age 16 Angle lost his father, who sustained fatal injuries in a work-related construction accident. So Angle resolved to become a living tribute to his dad: "I just remember vowing to myself to become a champion, for my dad, because I knew there was nothing in the world that would have made him happier." As a high school senior, Kurt Angle won the state championship in wrestling.
In his sophomore year of college, Angle's grandmother passed away. But instead of letting grief defeat him, he won the wrestling national championship with a badly injured knee to boot. During the 1996 Olympics, his coach was murdered, and Angle broke his neck. Furthermore, ESPN points out that he was light for the 220-pound weight class he competed in, tipping the scales at a scant 211 pounds. But once more he beat the seemingly overwhelming odds and his opponent to win a gold medal.
Worth more than his weight in gold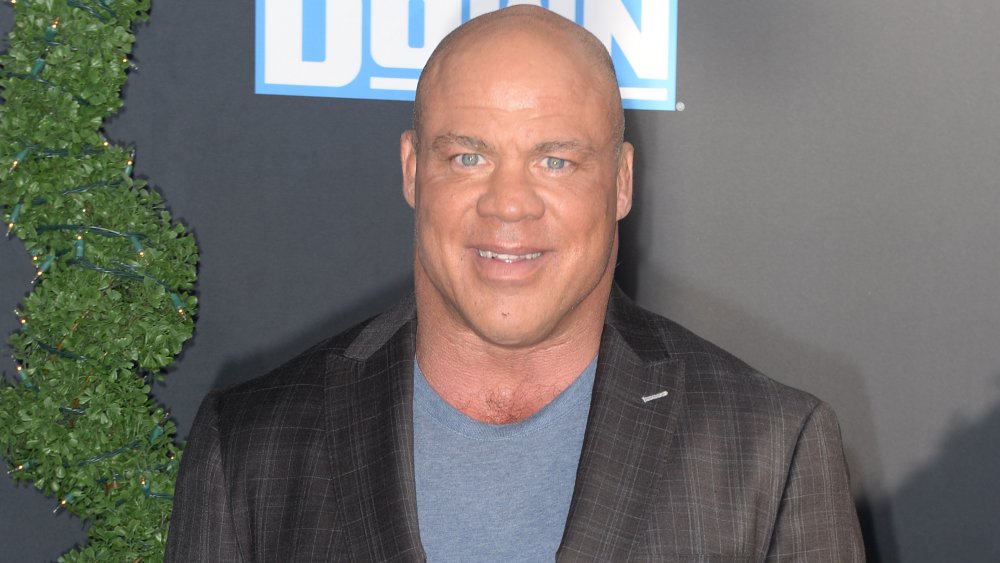 Jerod Harris/Getty Images
Per the Washington Post, in 1993 the U.S. Olympic Committee approved grants that would award gold medalists $15,000. Of course, Angle's Olympic victory was priceless. His gold medal and his broken freakin' neck would form the backbone of his pro wrestling persona and pave the road to golden memories. Fans no doubt remember Angle's three I's: intensity, integrity, and intelligence. Fittingly enough, there are also three I's in "Twenty-five million," which is the number of dollars Kurt Angle is worth, according to Celebrity Net worth.