All-Silver Kanye Leads Nativity Opera On A Boat
Kanye West has been at the "super into religion" stage of his career for a while now, and though the Guardian notes he has been flirting with the concept since the days of 2004's "Jesus Walks," it looks like we're well past the stage where Sunday church and scripture are enough to tickle Yeezy's fancy. Now, as People tells us, it's all about silver robes, face paint and nativity scenes. In an opera. On a boat. 
Wait, what?
Yes, Kanye has gone full opera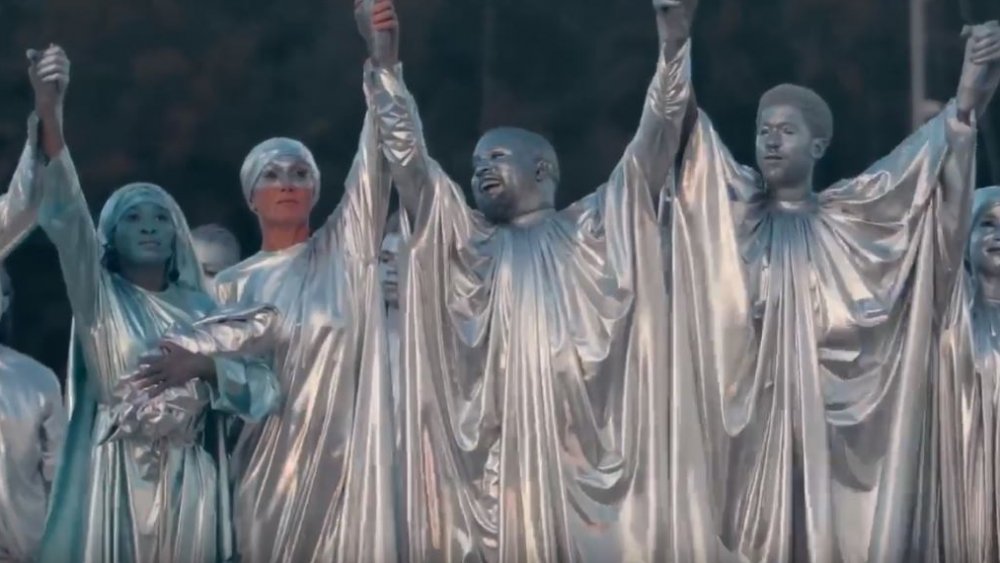 On December 8, 2019, Kanye West and his Sunday Service Collective spent their Sunday decked in silver face paint and robes, and closing out Florida's Art Basel festival with Ye's latest venture: a nativity-themed opera he calls "Mary," performed on a boat at the Miami Marine Stadium. The plot consisted of a dozen biblical scenes, soundtracked by both religious hymns and (of course) Kanye's own hits, with the man himself narrating the entire thing before emerging onstage in his own, silvery glory. Who else, after all, could be a suitable centerpiece in a nativity-themed scenario? 
Has the man finally lost it? Or has he really just found himself? Considering Gold Digger's classic status and his platinum records, maybe he's trying to hit for the cycle — gold, silver, frankincense and myrrh ...
To be fair, the show was followed by a more low-key church performance where the choir was clad in black and blue and Yeezy himself kept his sunglasses on. However, the extravagant ... silverness of "Mary" seems to be more in line with Kanye's previous Sunday Service sessions, which Naima Cochrane of Vice points out seem to make the rapper himself "the center and the object of this worship." Hey, maybe it's just a practice run for his rumored 2024 run for President.