Will Ferrell And Chad Smith's Relationship Explained
If you've ever seen a Red Hot Chili Peppers gig, you might have wondered why Will Ferrell is sitting behind the drums. Indeed, the RHCP drummer Chad Smith and comedy legend Ferrell share an uncanny resemblance, which they very much enjoy playing up at events such as their joint interview on Tonight with Jimmy Fallon, which they sat through in identical clothes, with similar body language, and nearly cracking up the whole time. It seems like a neat prank two siblings might make, so one can't help but wonder: Are Ferrell and Smith related? Identical twins, perhaps? Brothers? Surely, they're cousins, at least? 
The friendly rivalry of Will Ferrell and Chad Smith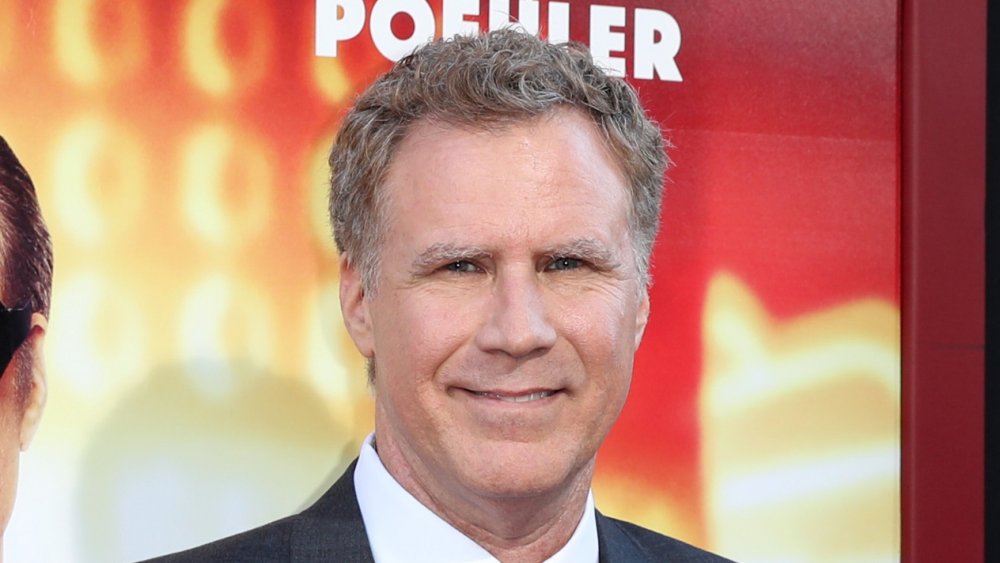 Neilson Barnard/Getty Images
Will Ferrell and Chad Smith are not related, despite their similar looks. The joke about them being celebrity lookalikes has been going on for years, and the two finally addressed the rumors in 2014. Rolling Stone reports Ferrell "revealed" in a Reddit AMA that he had actually been Chad Smith all along, while Smith started accusing Ferrell of impersonating him. They ultimately settled their differences with an interview and a drum battle at Tonight with Jimmy Fallon (no points for guessing who won). 
However, the "rivalry" has surfaced every once in a while over the years. As Rolling Stone tells us, they arranged a massively over-the-top sequel to their original duel by arranging the Will Ferrell and Chad Smith's Red Hot Benefit Comedy + Music Show & Quinceañera, a two and a half hour show at Los Angeles' Shrine Auditorium. The charity event involved comedy skits, appearances by the duo's famous friends and, of course, the coveted drum battle. This time, the two steered clear of the instruments themselves, instead bringing on a who's who of rock's finest drummers to do the battling for them. First, Smith brought in the Foo Fighters drummer Taylor Hawkins against Ferrell's random 14-year-old kid. Next, it was Motley Crue's Tommy Lee essentially throwing the match against Ferrell's fellow Saturday Night Live alum Fred Armisen. The final round was between Stewart Copeland of the Police and Mick Fleetwood from Fleetwood Mac, who ultimately went on to win the night for Ferrell with a massive marching band version of "Tusk." 
While this might be the last time Ferrell and Smith have battled each other, the jokes about their facial similarities remain — and so does their mock rivalry. As Live for Live Music tells us, in 2017 Smith jokingly stormed off stage in a huff when a heckler started screaming: "Will Ferrell."  So, who knows? Maybe Round Three of their drum battles is still coming.