Josephine Earp: The Truth About Wyatt Earp's Wife
Tales of the Wild West are rife with rugged gunslingers who put the "boom" in 'boomtown.' As iconic locations go, there's no town with a bigger bang for a buckaroo than Tombstone, Arizona. Now synonymous with the Gunfight at the O.K. Corral, this place was home to some of the largest of larger-than-life figures at some point or other. Horse-thieving policeman Wyatt Earp, hot-tempered dentist Doc Holliday, rabid bulldog-full-of-bull-crap Johnny Ringo, and others either killed their way to immortality or had such outlandishly fabricated reputations that people preferred to believe exciting lies more than boring realities.
The unpleasant reality of these western legends is that their exaggerated exploits have eclipsed some truly fascinating characters. Among them are the various female outlaws who've often been confined to a limited sliver history's spotlight — women such as Josephine Earp.
For Josephine Earp, the pen was mightier than the sordid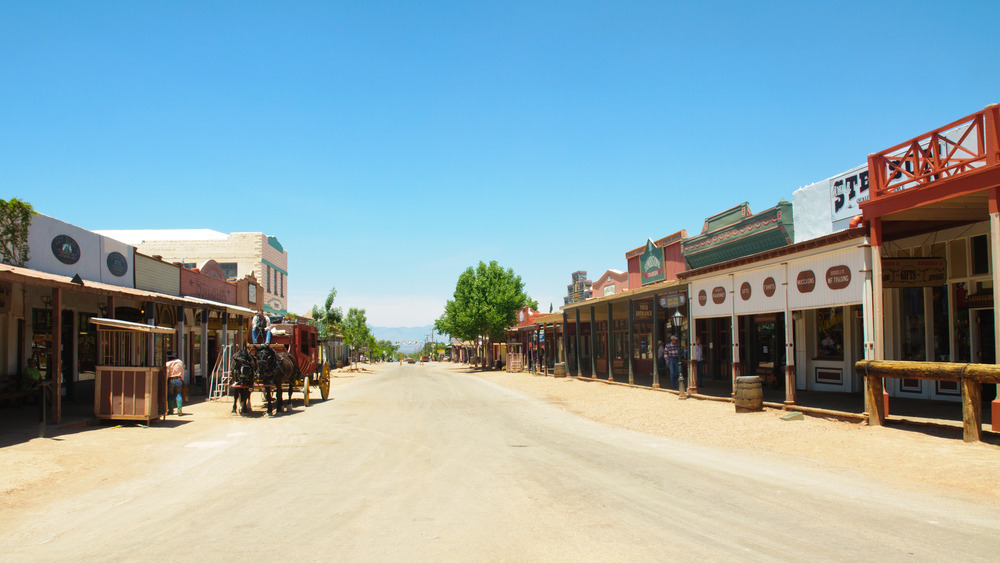 Shutterstock
The Jewish Women's Archive describes Josephine Sarah Marcus Earp as "impulsive, adventurous, and outspoken." The daughter of German-Jewish immigrants, she was born in New York in 1861 and moved to San Francisco with her folks at age seven. Allegedly a runaway, she's said to have left town with the Pauline Markham Theater Company at age 17. However, many things have been said about Josephine, and some of those claims contradict each other.
In "A Tale of Two Sadies," Roger Jay alleges that Josephine used the alias "Sadie Mansfield" and rather than traveling with a theater troupe at 17, she joined a troupe of prostitutes at a brothel years earlier. Jay argued that "Sadie" sanitized her background in her unpublished memoir, The Carson Manuscript, in which she claims to have traveled from San Francisco to the Arizona territory with "actresses" and a black maid. However, not everyone is convinced that it was just an act.
Author Ann Kirschner insisted that "given Josephine's pride and the option of appealing to her parents, it is unlikely that Josephine would have risked even a temporary stint as a prostitute." Whatever the case, she ended up in the arms of Johnny Behan, the former sheriff and future rival of Wyatt Earp. Behan had apparently promised to marry her but broke his pre-marriage vow. So a possibly jaded Josephine wrapped herself in Wyatt's loving mustache after meeting him in Tombstone.
Josephine would remain with Wyatt until he needed his own tombstone 47 years later. In the meantime they traveled throughout the West together and eventually settled down in Hollywood. After Wyatt died, Josephine tried to control how pop culture portrayed him with her Carson Manuscript. As one biographer put it, "The surviving manuscript is a wonderful blend of trivialities and obfuscation...no good deed goes unmentioned, no alibi untold."