The Untold Truth Of WWE Star Asuka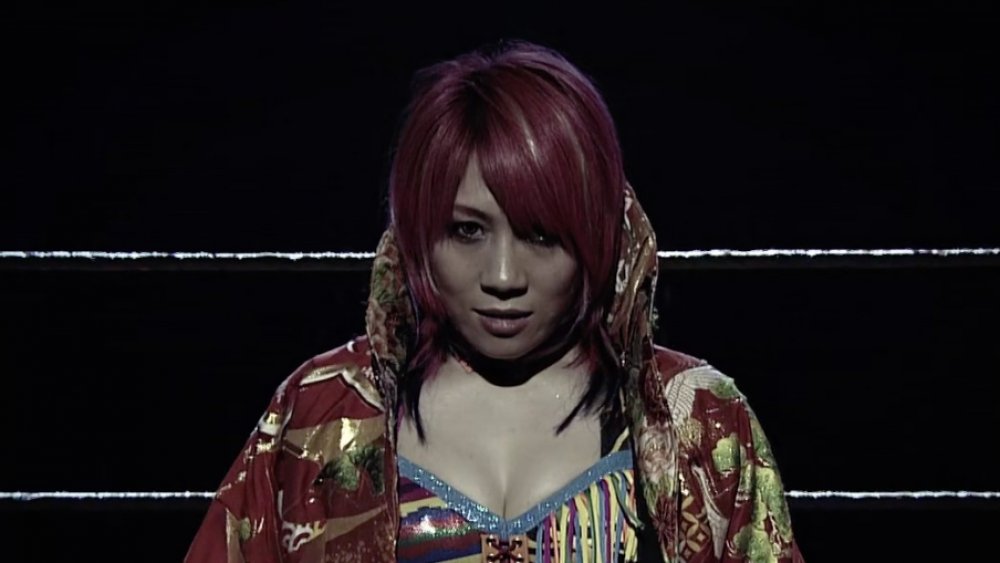 Long before she made her debut in WWE, Kanako Urai was one of the most well-respected wrestlers on the international scene. As Kana, her work in Japan, which was full of hard-hitting action and devious bad-guy tactics, showed off her incredible in-ring talent, and when she hit mainstream American wrestling under the name Asuka, she found a new level of success, one other Japanese superstars have struggled to attain.
But while the Empress of Tomorrow's in-ring skills speak for themselves, the story outside the ropes is every bit as fascinating as the action that happens within them. From a career that seemed like it was coming to an end before it had even gotten started to history-making performances on some of WWE's biggest stages, there's really only one question: Are you ready for Asuka? Find out as we dive into the true story of one of pro wrestling's greatest performers.
Asuka, the wrestler that almost wasn't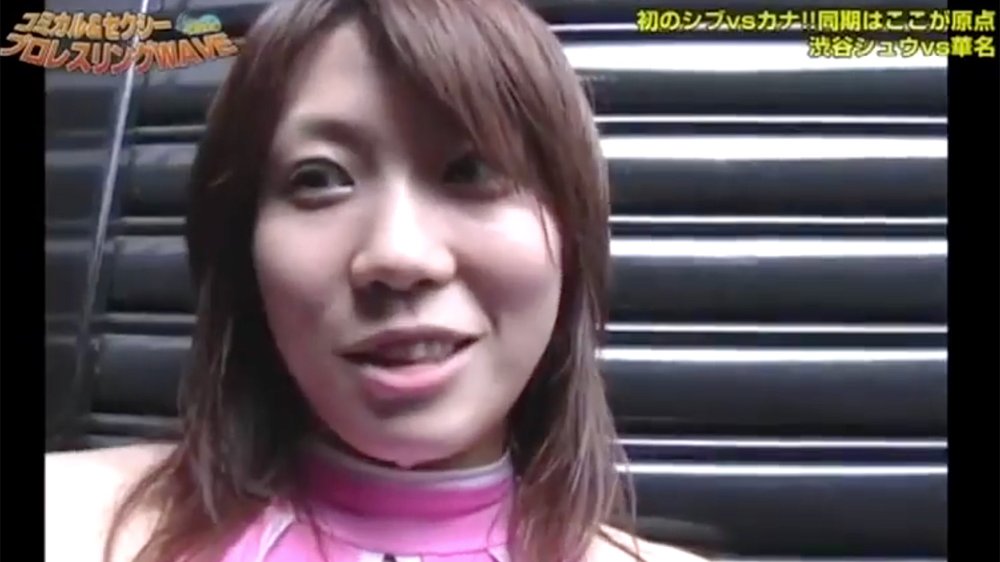 Considering that she's one of the most recognizable faces in the industry, it might be a little surprising to discover that in a 2011 interview, Kana said she was "never a fan of women's professional wrestling." That's especially noteworthy when you consider that unlike many American promotions, Japanese wrestling had a long, proud tradition of women in the ring, with a roster of legends that included Bull Nakano, "The Dangerous Queen" Akira Hokuto, Manami Toyota, and Meiko Satomura, and that Kana herself would frequently be mentioned alongside them in conversations about the best that joshi puroresu — Japanese women's pro wrestling — had to offer. Instead, her major athletic pursuits as a kid came in the form of figure skating, which she started when she was 10.
Maybe she was just subtly throwing shade at her competition by dismissing her entire division, but when she was asked about her influences and the performers that made her want to become a wrestler, none of those women were discussed. Instead, Kana would cite some of the big names that Japanese wrestling fans might expect. She was a fan of the likes of Keiji Mutoh, the legendary wrestler also known as The Great Muta, a truly international superstar known for his theatricality and vicious, bloody matches, and Antonio Inoki, the pioneer of "Strong Style" wrestling — which is basically a style that involves the performers hitting each other as hard as they can, for real. With her painted face, poison mist, and MMA-flavored striking, it's easy to see how those influences filtered into the Asuka we know today.
But that almost didn't happen. After she decided to pursue a career as a pro wrestler, she was forced to retire after less than two years due to a medical issue. In 2006, she was diagnosed with chronic nephritis, a kidney condition that can be caused — and exacerbated — by exactly the kind of strenuous exercise that comes with the job of being a wrestler. Considering all that she's accomplished in the years since that first "retirement," it's strange to think that it almost didn't happen.
Wrestling by design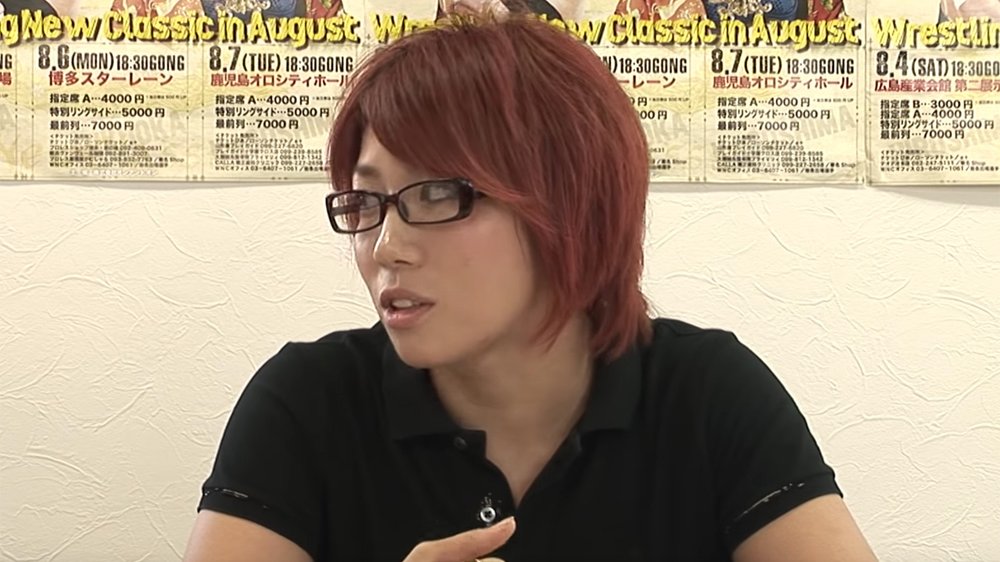 After leaving the ring in 2006, Kana was left with one simple question: what do you do when you're a wrestler who doesn't wrestle anymore? Fortunately for her, there was a backup plan already in place. Before she'd even debuted as a wrestler, Kana was already working as a graphic designer, and her time away from wrestling allowed her to combine that skill-set with something else that she loved: video games.
As her YouTube channel will attest, Kana is still an avid gamer. According to another pre-WWE interview, she got into it back in the day with Metroid, and wound up with a huge collection of over 5,000 games, going all the way back to the original Famicom. In the late 2000s, she parlayed that knowledge into doing design work for a handful of Nintendo DS titles, and even contributed to Xbox Magazine. In case you're wondering, her favorites back then were Red Dead Redemption and Okami, although one assumes she might've found another one in the decade since.
Her experience with games didn't stop on one side of the screen, either. In 2006, the same year that she walked away from wrestling, she did motion capture work for Virtua Fighter 5.
Asuka's return to the ring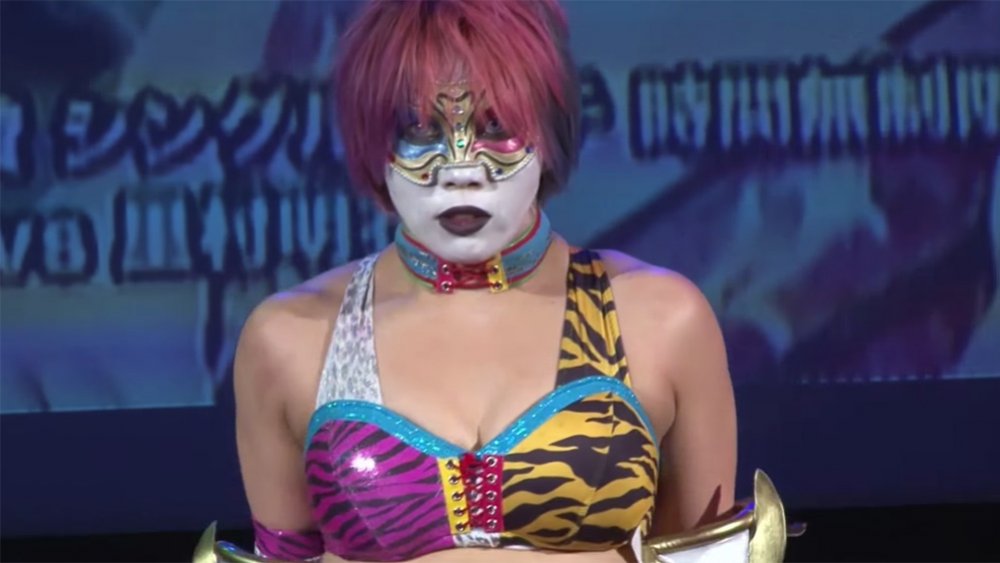 In pro wrestling, retirement — even a retirement forced by medical issues — usually doesn't last long, and Kana was no exception. After only 18 months, Kana returned to action.
It was during this period that she rose to fame among fans of Japanese wrestling on both sides of the Pacific largely because she was so prolific. While American wrestling has been dominated by a single company — WWE — since 2001, the Japanese scene is far more splintered, especially where joshi is concerned. The biggest promotion in the country, New Japan Pro Wrestling, doesn't feature women's wrestling at all, leaving a void filled by a ton of smaller companies. After she came back to wrestling, Kana worked for pretty much all of them.
She arguably found her greatest fame in Pro Wrestling Wave, where she was one of the company's top stars. It was there that she formed a (usually) villainous stable called Triple Tails alongside sisters Mio and Io Shirai, but she also began producing her own events during this time, starting with the appropriately titled Kana Pro. Needless to say, she wrestled in the main event, losing to Meiko Satomura — which makes sense, given that Satomura is arguably the best pro wrestler working today, regardless of gender. Four years later, at KanaProMania, Kana avenged that loss in one of her last high-profile matches before she left leave Japan for a new job in America, defeating Satomura in a fantastic, incredibly dramatic match.
AmeriKana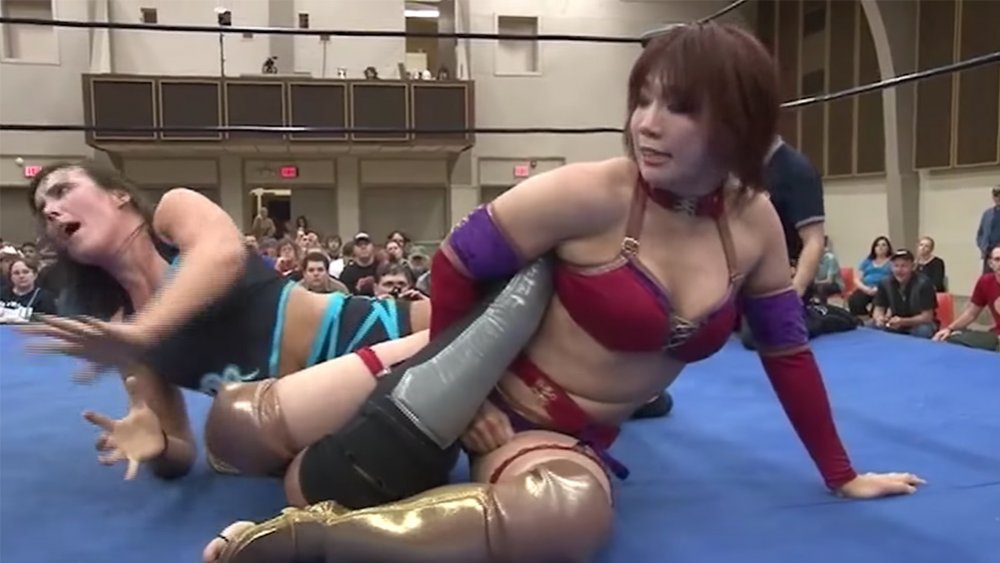 In America, mainstream women's pro wrestling was in pretty rough shape for most of the 2000s. Despite having a roster of incredibly talented performers — and the financial ability to hire and cultivate top talent — WWE focused largely on using women as props for stories that rarely rose above the level of stereotypes, and didn't devote any significant TV time to their roster of dismissively named "Divas." On the independent scene, however, things were very different. The late 2000s and early 2010s saw the rise of an entire generation of women working for smaller promotions, paving the way for the "Revolution" that WWE would start taking credit for around 2015.
That was the environment that Kana stepped into in 2011, when she wrestled her first matches in front of American audiences. The kind of obsessive fans who were keeping up with Japanese wrestling already knew that she was one of the top stars over there, but in four matches, two for SHIMMER Women Athletes and two for Chikara — a promotion influenced in equal measure by Japanese puroresu, Mexican lucha libre, and DC Comics — immediately established her as someone to watch in this country, too.
Kana would remain based in Japan, but from 2011 to 2014, she made frequent appearances working in America, winning over audiences and showing off her ability to perform in everything from brutal slugfests where she'd frequently be made up as a terrifying murder clown, and goofy comedy wrestling. It was at Chikara that she faced off with Sara Del Rey in another hard-hitting classic, where the two women basically took turns kicking the living bejeezus out of each other, to the point where Kana kicked Del Rey so hard that one of her boots came off. It's noteworthy for another reason, though. Not too long after that match, Del Rey would take a job as one of the head trainers for WWE's developmental system. It turned out that Kana wouldn't be far behind her.
Model behavior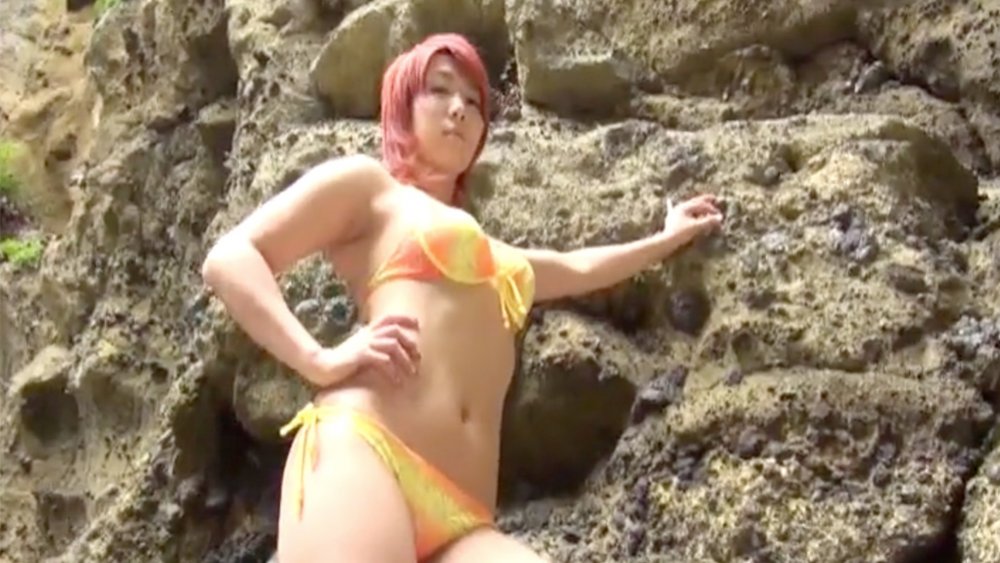 WWE's attitude towards "Divas" in the 2000s was often dismissed and criticized — and not without reason — for focusing on looks more than talent, cultivating a roster of women who were used as little more than props in TV storylines and promotion for the brand elsewhere with modeling gigs. The thing is, while WWE often drew a hard line between the women who seemed like they were there purely to be ogled and the women who were there to work in matches, those two ideas aren't necessarily mutually exclusive. Or at least, they weren't for Kana.
Between 2011 and 2015, Kana released three installments of Manifesto, a series of "gravure" videos. Those are basically sexy modeling videos, featuring Kana in a bikini doing things like lounging on a piano bench. It's essentially a Sports Illustrated Swimsuit Special sort of thing, and in Kana's case, she's wearing only slightly less clothing than we see her in while she's wrestling. They're not even really an uncommon thing for female celebrities in Japan.
They are, however, a little bit weird. Maybe it's that fans are so used to seeing Kana doing stuff like roundhouse kicking people's heads off or spitting poison mist in their faces than, say, making duck faces underneath a waterfall or sitting, fully clothed, in a bathtub full of water, which is strange under any circumstances. Still, it points to something that you can see throughout the non-wrestling parts of her career, from graphic design to her YouTube channel: she's always known how to market herself in a variety of ways.
Who's ready for Asuka?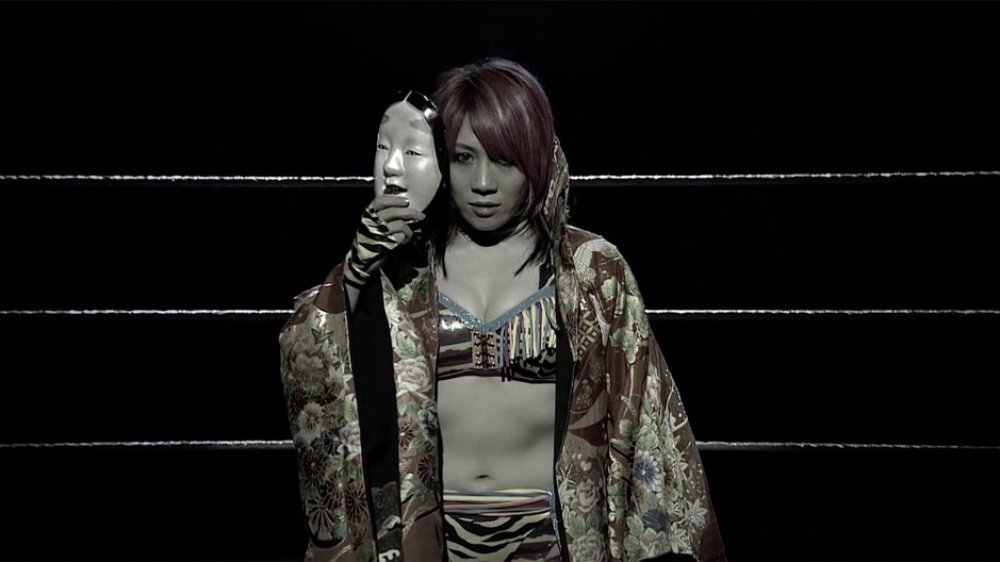 On August 22, 2015, WWE aired Takeover: Brooklyn, one of the first major events for NXT, the fan-favorite developmental brand that focused on younger, up-and-coming stars, or established wrestlers making their debuts in WWE. It's something like the equivalent of baseball's minor leagues — wrestlers are brought in, trained to get used to the WWE style and performing for their specific crowds and, once they've established themselves, they get "called up" to the main roster. Unfortunately, some wrestlers lose something in the process. For every wrestler who rises to the top on Raw or Smackdown — your Beckys Lynch or Kevins Owens — there's a handful of people like Tyler Breeze or the Ascension, beloved fixtures of NXT who were "promoted" to being what you'd charitably call "enhancement talent."
Back to Takeover: The main events of the evening were a brutal match for the NXT Championship and a Match of the Year contender between Bayley and Sasha Banks for the NXT Women's Championship, but one of the most interesting moments of the night came from the crowd. Shortly before the Women's Championship match, the camera showed Kana in the front row — right next to Ric Flair, with a caption identifying her as "Kana" — teasing NXT's latest signing.
Sure enough, in September, she debuted on NXT, initially introduced as Kana before revealing a new name, Asuka. Considering that she had 10 years of experience and was already regarded as one of the best wrestlers in the world at this point, it shouldn't be surprising that she was immediately put in place as NXT's top female star — and arguably their top star, period. In fact, she was considered so valuable that in the first round of discussions on whether or not to promote her to the main roster, Triple H — both a wrestler and the guy running NXT behind the scenes — told Vince McMahon that she was "the one person we can't afford to lose" and that Vince "could take everybody else you want to take – and trust me, he did – but I need her as an anchor. If I lose her [...] I'm doomed." The onscreen development backs that up: six months after her debut, Asuka would win the NXT Women's Championship, a title she'd hold for a record-shattering 510 days, and never actually lose.
Who's left?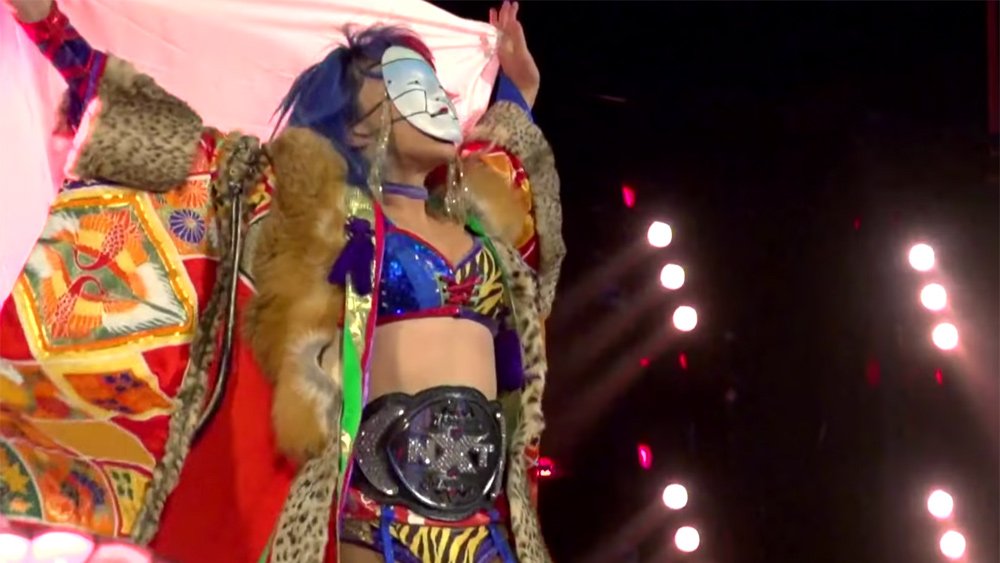 Winning streak gimmicks aren't exactly uncommon in pro wrestling, but it's rare for a company to commit to it with as much intensity as WWE did with Asuka. After her debut on NXT, Asuka remained undefeated in singles competition for two and a half years — and even when she was on the losing end of a tag-team or multi-person match, it was because someone else got pinned or submitted.
Asuka's undefeated streak was so intense that, as previously mentioned, she never actually lost the NXT Women's Championship. Instead, after breaking her collarbone in a match defending the title against Ember Moon — a match she won despite the injury — Asuka vacated the title and just moved on up to Raw, where she'd go on to continue the streak until it finally came to an end after 914 days and 240 straight wins.
For comparison, wrestling's previous most notable winning streak belonged to Bill Goldberg, who racked up his extremely dubious "official" record of 173-0 in 461 days before he was pinned. That streak was marketed by Goldberg challenging opponents with his catchphrase, "Who's next?" When Asuka was asked that same question at the height of her streak, her response was to roll her eyes and reply, "Who's left?"
Asuka at the Royal Rumble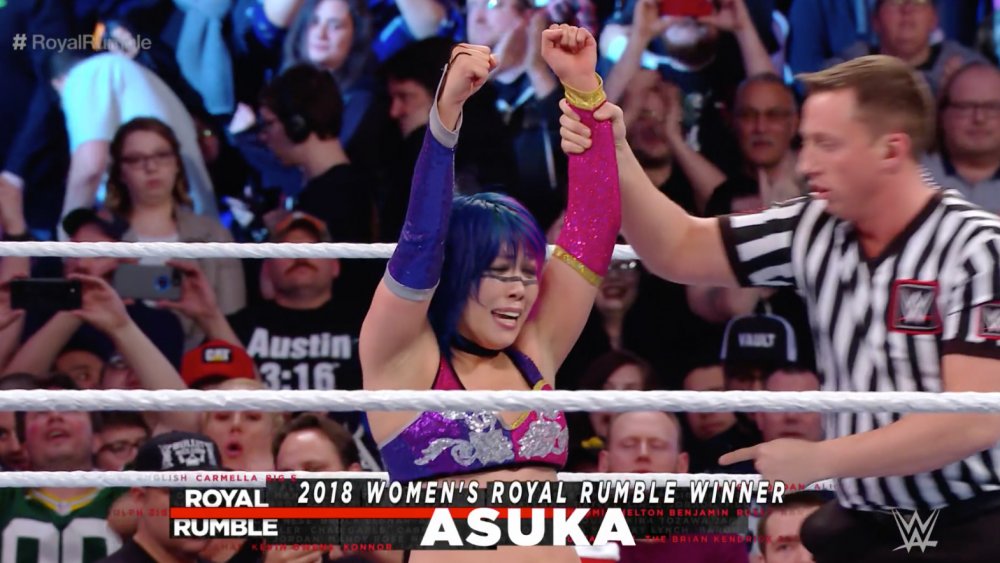 If the 240-match winning streak wasn't notable enough, one of Asuka's wins along the way was downright history-making for WWE.
One of the company's biggest annual events is the Royal Rumble, in which 30 wrestlers compete in a single match. Two start in the ring, and the other 28 enter one at a time at 90-second intervals, and are eliminated when they're thrown over the top rope and both feet touch the floor, with the winner (usually) going on to challenge for the company's top championship at WrestleMania. In 2018, 30 years after the Royal Rumble made its debut, WWE finally added a women's Royal Rumble to the annual card. There is, of course, only one chance for someone to be the first person to win an event like that, so naturally, fans watched the main event of Royal Rumble 2018 with keen interest.
Given the photo above, you might've already guessed who came out on top. After entering at #25, Asuka eliminated Nikki Bella to become the first woman to win a Royal Rumble match. At WrestleMania 34, she challenged Charlotte Flair for the Women's Championship, the match that finally put the first mark in the "Loss" column of Asuka's record.
Kabuki Warriors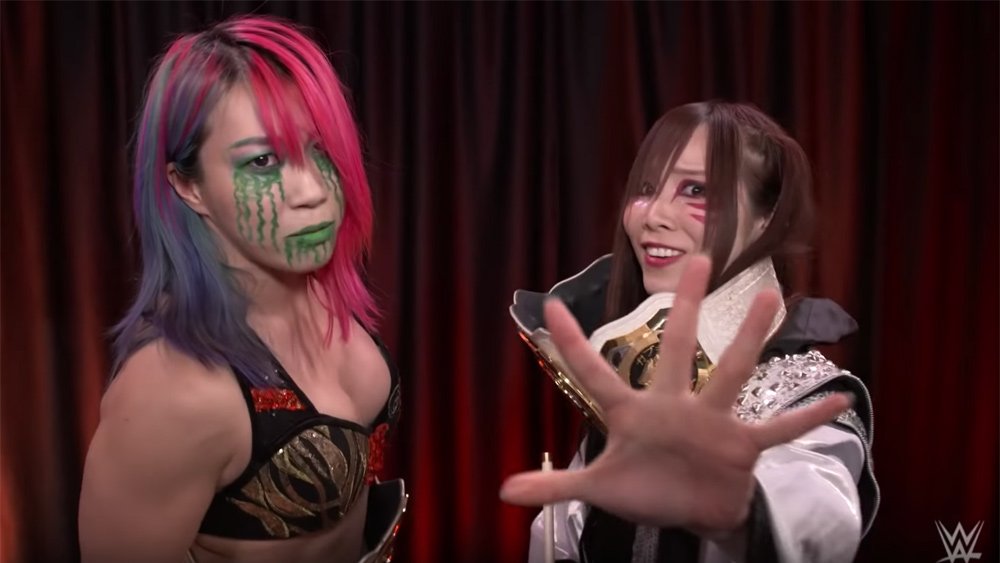 Asuka would eventually win the Women's Championship — holding it for 100 days before she lost it to her old nemesis, Charlotte Flair — but more recently, she's had another title belt around her waist.
In April of 2019, Asuka began teaming up with Kairi Sane, a tiny pirate with the best elbow drop in the history of pro wrestling. The team was dubbed the Kabuki Warriors — presumably because calling them the Noh Warriors would've lent itself to too many confusing "Who's on first?"-style puns — and before long, they'd captured the Women's Tag Team Championships for themselves.
Despite Asuka being a fan-favorite since day one and the sheer difficulty in getting anyone to hate an adorable flying sea captain who keeps her championships in a literal treasure chest, the Kabuki Warriors shifted pretty effortlessly into the role of heels. A big part of that came, of course, from Asuka. Not only did she have plenty of experience playing the villain in her pre-WWE career, but the heel turn was really sealed when she began using the legendary Poison Mist, painting her face to look like bright green sludge was oozing out of her eyes and mouth. It's a striking look, and second only to her murder clown look as far as terrifying versions of Asuka go.
Kana-Chan TV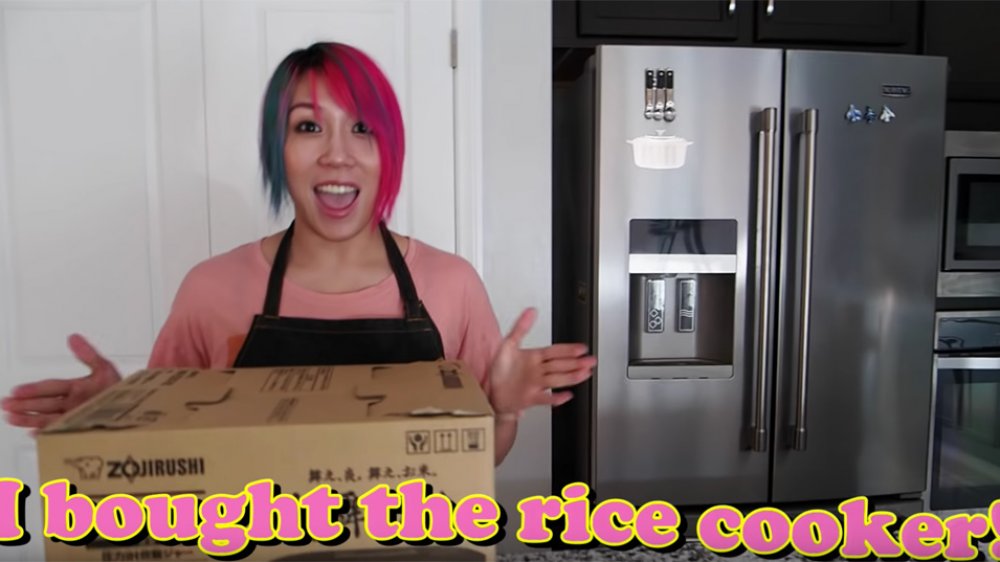 One of the more delightful and bizarrely compelling developments in Asuka's career of late didn't happen in the ring. It happened on YouTube with the launch of her channel, Kana-Chan TV. When it started, it was frequently billed as a gaming channel, not unlike Asuka's fellow wrestler Xavier Woods, whose Up Up Down Down YouTube show is probably as popular as his in-ring work.
While there's plenty of gaming content on there, though, there's a whole lot more that's... not. In addition to videos where Asuka has a good time playing Super Mario Maker 2, there's also a ton of videos where she cooks things up on a camp stove, like the appropriately titled "I consumed a lot of cabbage," in which she... well, you can figure that one out. She also camps out in her own gravelly back yard, or goes out to dinner with Japanese wrestler Kikutaro, who wears his slightly creepy mask the entire time. It's not at all the kind of content that you'd expect from the dominant, vicious, head-kicking wrestler whose blood may or may not be poison, but it is weirdly meditative and undeniably charming.
Seriously though, someone please plant a garden in that yard for her. It's a little bit depressing.