What It's Like To Live In The Richest Neighborhood In America
If you expect the richest neighborhood in the U.S. to be home to the richest people on Earth, you're mistaken. Despite boasting over $200 billion collectively, Jeff Bezos and Bill Gates don't live in a zip code that cracks the top five top-dollar neighborhoods in America. Rather, their Washington suburb of Medina is technically going broke from a lack of taxes. If you want a whiff of the ultimate wealthy neighborhood, a place so ridiculously rich that residents literally destroy their own mansions just to build bigger ones, then you have to go to the booming Bay town of Atherton, California.
Hoarders: the ultra-rich edition
Prior to the 1990s, "Atherton was a sleepy town," according to Coldwell Banker agent Pierre Buljan. Speaking with the San Francisco Chronicle, Buljan recalled that back in the '80s people preferred Hillsborough due to its proximity to San Francisco. But the ascension of Google and Facebook precipitated a sea change, and a flood of increasingly wealthy people flowed to Atherton. Now, it's the perfect picture of isolated opulence. "Mega-mansions line nearly every block," writes Business Insider. "Many homes have fences or landscaping that prevent prying eyes from looking in. Each lot feels like its own gated community." 
Atherton is short on shops and restaurants and has few sidewalks, which essentially keeps the rest of the Bay area at bay. It has no public school district of its own, and children enroll in nearby districts or attend private schools. Even the local police function "almost like private security," according to realtor Ken DeLeon. Not-so-fun fact: police can't afford to live there and spend their nights in what CBS describes as a "sleep closet" because the town ousted them from a house where they were sleeping.
Money out the Ath in Atherton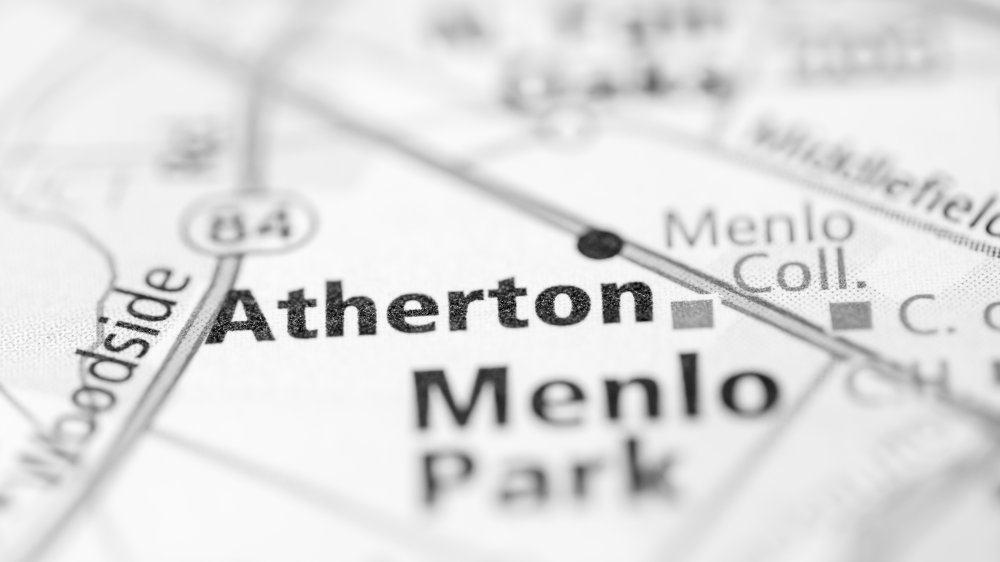 Shutterstock
Over the years, Atherton has attracted so many tech industry titans that Atherton Avenue earned the nickname "Google Avenue." Residents have included Microsoft founder Paul Allen, former Google chairman and current member of the U.S. Department of Defense's innovation board Eric Schmidt, and ex-HP CEO Meg Whitman. Big spenders of the sports world have also purchased properties, including legendary NFL wide receiver Jerry Rice and Golden State Warriors guard Stephen Curry. As of February 2014, the average household income exceeded $450,000.
Atherton's properties are preposterously expensive, thanks to the practice of demolishing already pricy homes to replace them with massive mansions. For instance, WhatsApp co-founder Jan Koum, reportedly spent $57 million to destroy five homes and create an enormous compound. Atherton almost sounds like an episode of Hoarders. Only instead of recoiling from the messy destitution of people to cling to everything while having nothing, viewers envy a group of wealth hoarders who throw away everything so they can cling to even more.