How Pablo Escobar's Former Hippos Are Ruining Colombia
To say that Colombian cartel kingpin Pablo Escobar was prone to excess would be putting it mildly. At the time of his death in 1993 Escobar was worth an estimated $30 billion and he was not one to conceal his immense wealth. While he did use some of that fortune to better the lives of his fellow Colombians, a pretty sizable chunk of change went into his luxury compound Hacienda Nápoles. There he built resort sized swimming pools, a private airport, and a zoo filled with exotic animals from around the world.
When authorities seized his assets most of the zoo animals were redistributed to legitimate institutions. Of those that evaded capture by were four hippopotamuses, which made a home for themselves in Colombia's verdant rainforests. Now almost thirty years later the invasive hippo population has ballooned from four to 80 and a new report on the ecological effects of the animals describes exactly the danger they pose to the country's ecosystem.
A humongous invasive species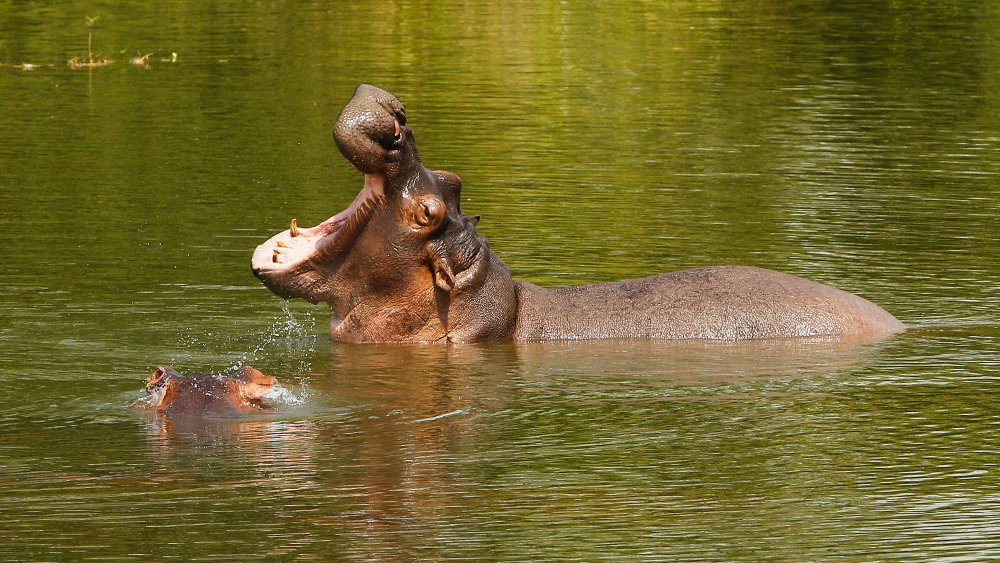 Shutterstock
First and foremost it should be noted that due to their aggression and massive size, hippos are some of the most dangerous animals on earth. But beyond the safety concerns, they are also altering the environment they've made their home. According to the report it's the hippo's daily routine that's causing problems. At night they trundle about on land grazing and during the day they pass the time relaxing and cooling off in lakes and rivers. When they submerge themselves they tend to bring organic detritus that has collected on their bodies during their nocturnal wanderings into the water with them. This acts as fertilizer for algae blooms and other disruptive natural occurrences. Their nutrient rich poop hasn't helped the situation, either.
In their native Africa this isn't a problem because it's all part of an ancient ecosystem. In Colombia, however, it's posing a danger to other plant and animal species, including humans. This problem will only compound the longer the hippos are left to proliferate. Jonathan Surin, one of the authors of the study, summed it up for Newsweek in an interview, "In the next couple of decades there could be thousands of [hippos]. This study suggests that there is some urgency to deciding what to do about them. The question is: what should that be?"
Something to think about while waiting for the next season of Narcos to drop on Netflix.