The Truth About Dennis Rodman's Professional Wrestling Career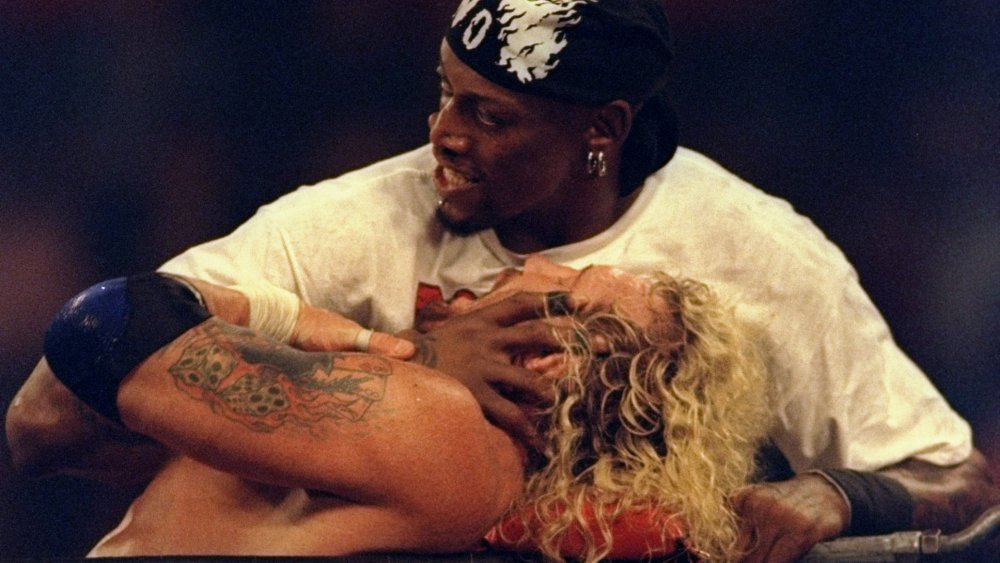 Elsa/Getty Images
In the late 1990s, few NBA players seemed more uniquely qualified to enter a pro-wrestling ring than Dennis Rodman. On the court, Rodman wasn't just a Chicago Bull; he was a pit bull, and a very bad boy at that. He was fearless, pugnacious, and liable to kick a cameraman in the crotch. Rodman had a perfect persona for pro wrestling: outspoken, rebellious, and aggressively flamboyant. Former WCW president Eric Bischoff agreed. As he told Sports Illustrated in 2017, Rodman "was a natural born wrestling character." 
Nothing in Rodman's NBA contract barred him stepping into the ring during the off-season. So when Bischoff received word from Hulk Hogan that Rodman expressed interest in working with WCW's rival, WWE, Bischoff decided to swoop in to create a match made in wrestling heaven. Rodman would join the ranks of Hogan, Scott Hall, and Kevin Nash as a member of the NWO.
Dennis Rodman went from winning rings to wrestling in one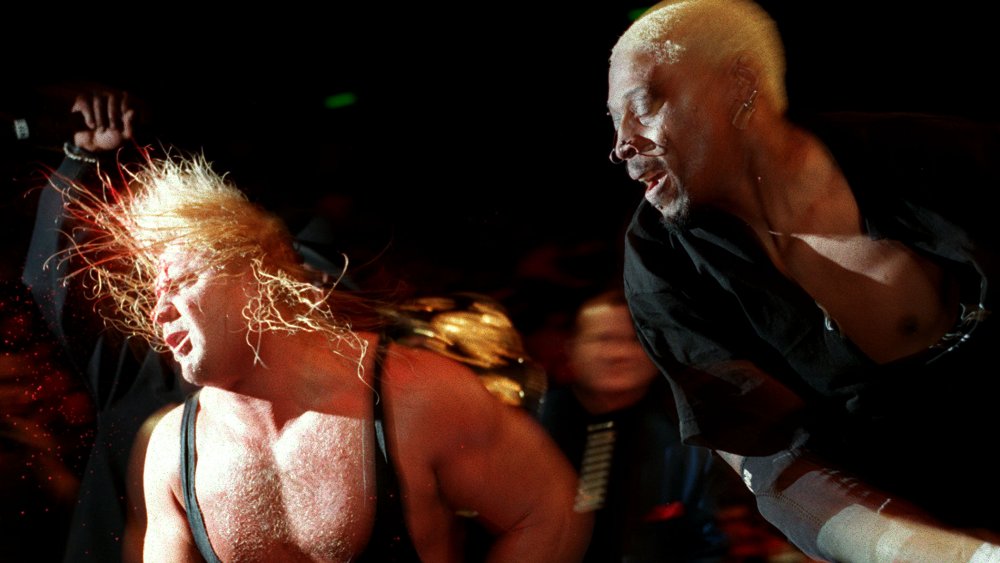 Adam Pretty/Getty Images
Wrestling Inc writes that Dennis Rodman wrestled matches for WCW in 1997, 1998, and 1999. And each contest was one in a million ... dollars. Eric Bischoff recalled in 2019, "The total fee was just a little over $1 million, like a million and change." That covered multiple appearances within a year and presumably included a delightful 1999 interview with Jay Leno during which Macho Man Randy Savage emerged and tackled Rodman over a chair.
In the ring, Rodman didn't disappoint. Kevin Nash had high praise for the NBA legend, telling an interviewer that Rodman "could make the transition" to pro wrestling. Perhaps if he had, Utah Jazz player Karl Malone would have joined him. Per Bleacher Report, Malone fell in love with wrestling as a kid and originally dreamed of competing in the ring rather than on the basketball court. So it's only appropriate that Malone was competing on an NBA court when he noticed WCW star Diamond Dallas Page in the stands. The athletes formed a tight friendship, and that connection led to a wrestling showdown between Rodman and Malone in 1998.
Fate couldn't have written a better script. That year, Rodman and Malone would collide at the NBA Finals, which were scheduled to end the month before their clash at the Bash at the Beach pay-per-view, where Rodman would team with Hulk Hogan to face Malone and Page. Rodman skipped a shootaround during the playoffs to kick off their in-ring rivalry. He even used a day off during the finals to make a WCW appearance. And on the day of the hotly anticipated match, both athletes performed admirably. In short, Rodman's brief wrestling career was a slam dunk.