The Reason Sylvester Stallone And Arnold Schwarzenegger Hated Each Other
Kevin Winter/Getty Images
When Variety asked Sylvester Stallone about the greatest regret of his career, the actor didn't hesitate: "Stop! Or My Mom Will Shoot. You sit there and you go, 'Okay, I was on drugs. I had to be. Someone put LSD in my toothpaste. This can't possibly have happened." For those of you who suppressed the memory of this happening, Stop! Or My Mom Will Shoot was a 1992 action comedy about a cop whose meddling, tough-as-nails mom comes to town and embarrasses him on the job but ends up helping him fight crime. To get a sense of how this panned out, just imagine Rocky Balboa trying to land a punchline without fists.
Film critic and insult maestro Roger Ebert couldn't stop taking shots at Stallone's laughless comedy, calling it "one of those movies so dimwitted, so utterly lacking in even the smallest morsel of redeeming value, that you stare at the screen in stunned disbelief." What could have possibly compelled the man who wrote the stunningly wonderful Rocky to star in such a clunker? Arnold Schwarzenegger.
Stop! Or Stallone will shoot himself in the foot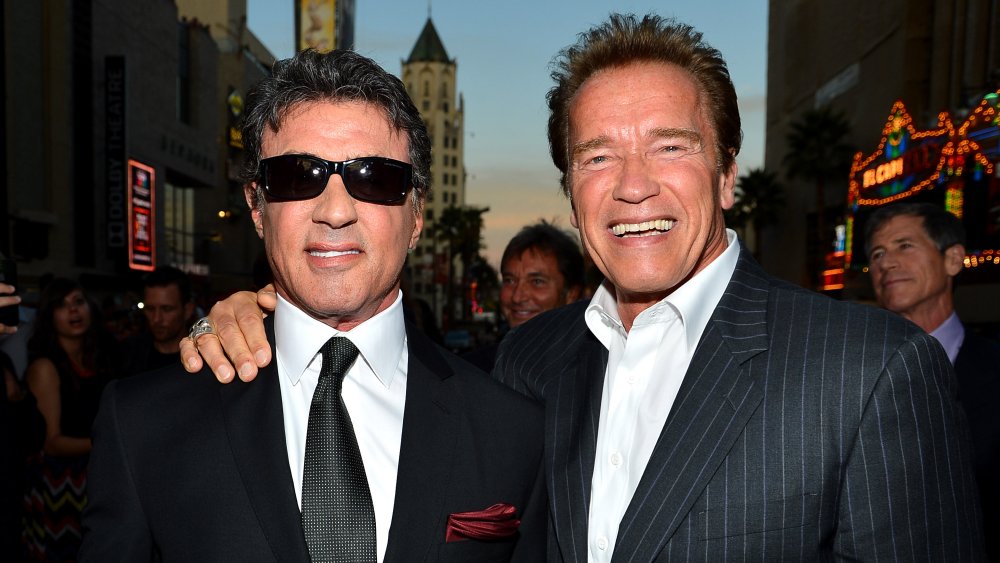 Frazer Harrison/Getty Images
Sylvester Stallone's biggest film blunder was an act of spite gone comically wrong. His longtime Hollywood nemesis, Arnold Schwarzeneggar said he intended to snag the lead role in Stop! Orr My Mom Will Shoot. He lied. A visibly pleased Schwarzenegger revealed on Jimmy Kimmel Live!, "I read the script, and it was a piece of sh*t. Let's be honest. I say to myself, I'm not going to do this movie." Instead he channeled his inner T-800 and tried to terminate Stallone's career by appealing to his pathological need to upstage Schwarzenegger. It was by far the funniest thing about Stop! Or My Mom WIll Shoot.
By that point the actors utterly despised each other. Stallone even described their antagonism as a "violent hatred." What caused all that animosity? As Cinema Blend recounts, Stallone said it all started at the 1977 Golden Globes. The actor was basking in the afterglow of Rocky, and Schwarzenegger was an up-and-comer hungry for the spotlight. Stallone introduced himself to the hulking Austrian, who allegedly flexed his ego and crowned himself Hollywood's new golden boy.
Rocky was up for seven awards that night, and Stallone wanted to collect as many wins as possible. But much like the lovable Southpaw he portrayed, the film kept coming up short before winning the award for Best Picture. Schwarzenegger needled Stallone, who furiously threw a bowl of flowers at his tormenter. Thus began their bitter rivalry. However, they eventually became close friends and co-stars. Why the change of heart? Stallone explained, "Now we realize we're the same person."