The Truth About Andre The Giant's Daughter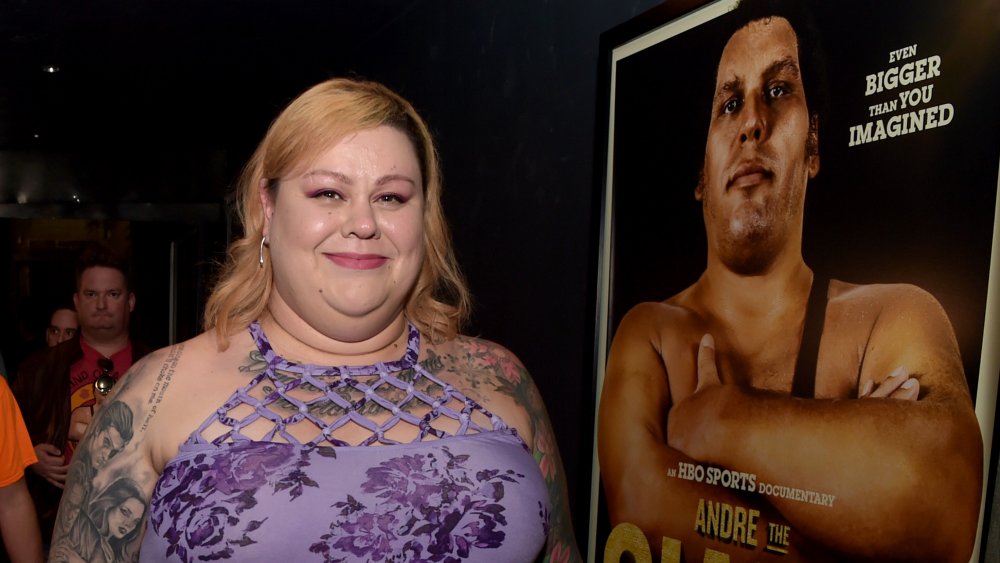 Kevin Winter/Getty Images
As Biography tells us, literal giant of the wrestling industry Andre "the Giant" Roussimoff never married. However, he does have a daughter. As CBS Sports reports, Robin Christensen-Roussimoff is Andre's only child, whose mother, Jean, was also involved in the wrestling business and met the Giant sometime around 1972 or 1973. Robin was born a few years later, but unfortunately, the father and daughter never managed to develop much of a bond. Andre's relationship with Jean was strained, to say the least, so Robin only remembers seeing her father a total of five times. Two or three of them were in the wrestling ring. The others were in court. 
The two were ultimately unable to form a proper father-daughter bond, which was reportedly one of Andre's greatest regrests, as he truly loved his daughter. Not that he didn't make an attempt to connect with her. He was wary of meeting Robin in public and subjecting her to giant dad-related gawking, so he tried multiple times to get her to visit his ranch in North Carolina. Unfortunately, this never came to pass, because Robin was quite young at the time and didn't want to make the trip without her mother ... and her mother and Andre weren't on good enough terms for Jean to tag along.
Robin Christensen-Roussimoff on her father
Though the above may come across like Robin Christensen-Roussimoff's mother actively tried to prevent her from seeing her father, she says that her mom merely encouraged her to form a picture of her father on her own, without buying into the media hype about, you know, Andre the Giant. In fact, Jean never attempted to stop their daughter from seeing Andre — Christensen-Roussimoff was merely too young to brave venturing out without her mother, so she vetoed such ideas herself. 
Christensen-Roussimoff nevertheless kept in contact with Andre, mostly over the phone. The last of their conversations was in December 1992. Andre the Giant died shortly afterwards, and though Christensen-Roussimoff didn't attend either of his two memorial services, she did keep her father close to heart. As she grew into adulthood, she started trying to uncover more and more information about Andre from his old wrestler colleagues, which was incredibly difficult due to the fact that she comes from outside the industry, and from his Princess Bride co-stars, which was significantly easier. In fact, as of 2015, the movie's star, Cary Elwes, still kept in regular touch with her due to their shared connection with Andre. 
These days, as Mandatory and 411 Mania tell us, Christensen-Roussimoff is cool enough with her father and his legacy to appear on the occasional wrestling-themed podcast to discuss their relationship, and to speak at New York City Comic-Con about him.