The Truth About How UPS Got Started
Seattle has always been a city of industry and innovation, something that teenagers Jim Casey and Claude Ryan knew all too well. In 1907 they borrowed $100 from an acquaintance and founded the American Messenger Company. This modest courier service may have got its start in a subterranean office in the Pacific Northwest, but by the end of the century it had morphed into the shipping giant we know today as the United Parcel Service, or UPS.
In the early days the company was mostly delivering messages to and from businesses, and even specialty mail thanks to one of its biggest clients, the United States Post Office. Deliveries were mostly done on foot, and occasionally by bicycle. The company grew in the 1910s by investing in its first delivery vehicle: a Model T Ford. It was around this time that commercial package delivery became the norm, and in 1919, after expanding to Oakland, California, they started using the name United Parcel Service.
The company grows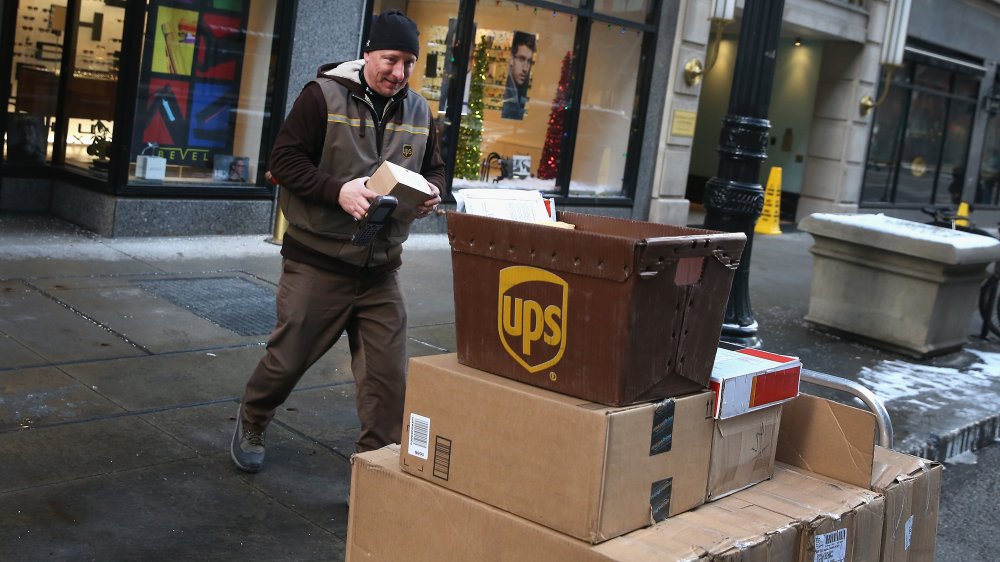 Scott Olson/Getty Images
After another expansion to the east coast, UPS was thriving. But by the 1950s they faced an unexpected hurdle. Now that personal car ownership was growing there was less and less need for third party commercial parcel service; when people went shopping they delivered their parcels to their home themselves in their own vehicles. So UPS pivoted. Instead of merely offering a commercial service, they began expanding what's called common carrier service, something they already provided in California. While they previously worked on behalf of business, this meant that anybody, from corporations to private citizens, could use UPS to deliver parcels for them.
There were many legal hurdles to expanding the company's common carrier service and it took them until 1975 to maneuver through the regulatory roadblocks to offering the service to all 48 contiguous states. By then they had already successfully launched an air delivery service (after the Great Depression stalled their first attempt to do so in the 1930s) and had established themselves as one of the most reliable parcel delivery operations in the country. By the 1980s they had transformed into the UPS we know today. Founder Jim Casey, who started the business when he was 19, saw his company through all of this. He was active in UPS management until his death in 1983.