The Truth About Bruce Lee's Parents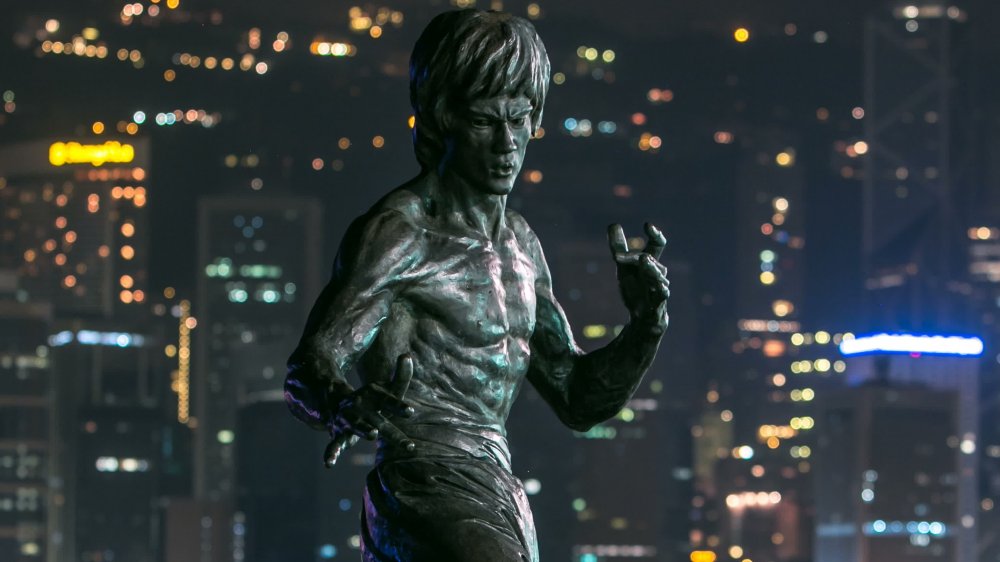 Shutterstock
Bruce Lee holds a special place in the hearts of martial arts fans worldwide, both for the Jeet Kune Do style he developed and his roles in iconic films like Enter the Dragon and Fist of Fury. Although he's most remembered for his Hong Kong action films and for his untimely death, Lee was a child actor before he even began to practice martial arts. This is likely because Lee grew up in a show business family. The story of his parents is often overshadowed by the successes and scandals of Lee's life, but they were each fascinating people in their own right.
Meet Bruce Lee's parents
Lee's father was Lee Hoi-chuen, a well-respected star of the Cantonese opera in Hong Kong. At the time of Bruce's birth in 1940, his parents were in the United States while his father toured with the Cantonese Opera Company. Because of this, Lee was born in San Francisco and was given the English name "Bruce" by a nurse at the hospital (although his parent's didn't call him this).
Lee's mother, Grace Ho (pictured), was a member of the influential Ho-tung Bosman family who were known for their business dealings and philanthropy in Hong Kong. Although it was long erroneously reported that she was half-German, immigration documents from the family's trip back to Hong Kong shortly after Lee's birth reveal that Grace identified her mother as British.
Before returning to Hong Kong, Lee's parents arranged something prophetic for their infant son. In 1941, he made his film debut in director Esther Eng's Golden Gate Girl. (Eng was a pioneering female director and a friend of Lee's parents while they lived in San Francisco.) In total, Lee acted in over a dozen films during his childhood, including 1950's The Kid which he co-starred in with his father.
During his childhood Lee also frequently found himself in street fights. This led him to study martial arts under the Wing Chung master Ip Man. Although according to Bruce Thomas' biography of Lee, Bruce Lee: Fighting Spirit, several of Ip Man's proteges refused to train Lee when they learned that he had European ancestry through his mother's side, the young man persevered to become one of the most revered martial artists of his era.
Lee Hoi-chuen died of a heart attack in 1965 at the age of 64, just six days after the birth of Bruce's son with Linda Lee Caldwell, the actor Brandon Lee. Other than a one-time interview with a young Geraldo Rivera, Grace Ho remained out of the spotlight for the remainder of her life. She died in 1996.