Pita Taufatofua: The Untold Truth Of The 'Shirtless Tongan'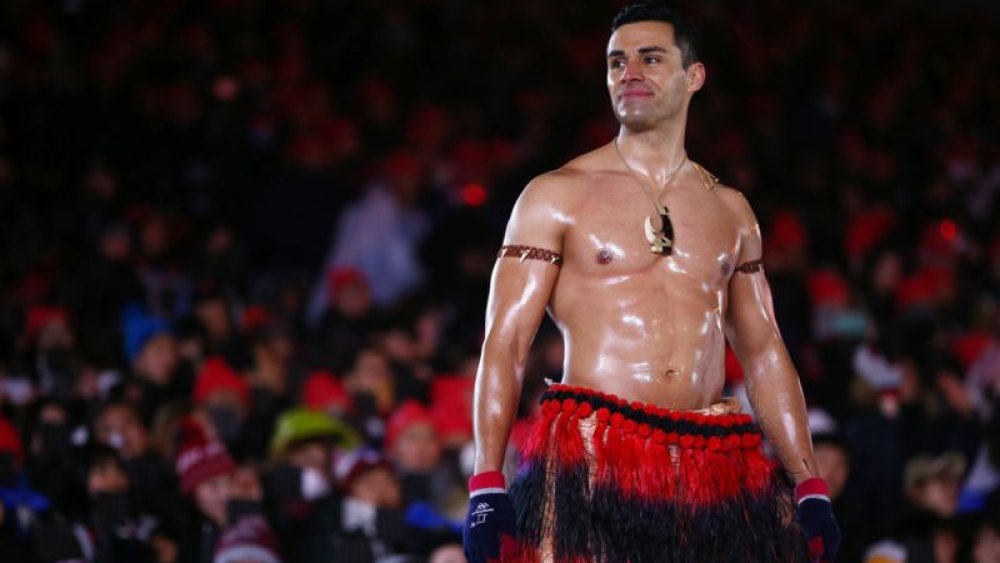 Dan Istitene/Getty Images
Looks like there's about to be a run on coconut oil in Tokyo. The famed "shirtless Tongan" from 2018 is heading back to the Olympics for the third straight cycle, and we can only assume his recent qualification includes plans to lube up and wave that Tongan flag. Right about now you might be asking yourself, "Who is this shirtless Tongan? And why should I care?" Well let me give it you direct: The shirtless Tongan is Pita Taufatofua, and you should care because he's the most telegenic martial arts master this side of Steven Seagal.
Taufatofua is a multi-sport Olympic athlete who made his glistening, flag-bearing debut in 2016 at the Summer Games in Rio de Janeiro. That year, he represented his small island nation competing in taekwondo, but was eliminated in his first bout by Iran's Sajjad Mardani. While he didn't exactly make headlines with his athletic performance, he certainly did with his exuberant shirtless flag waving at the head of Tonga's tiny delegation during the opening ceremonies.
After 2016, Taufatofua might have been relegated to a historical footnote if he hadn't then qualified for the 2018 Winter Olympics as a cross-country skier. Given the temperatures in PyeongChang for the games, nobody thought Taufatofua would recreate his show stopping performance from 2016, but repeat it he did. This go around, Taufatofua was the only athlete in the Tongan delegation, but he braved the winter weather to wave that flag in all his shirtless glory.
The shirtless Tongan plans to qualify in three events for 2020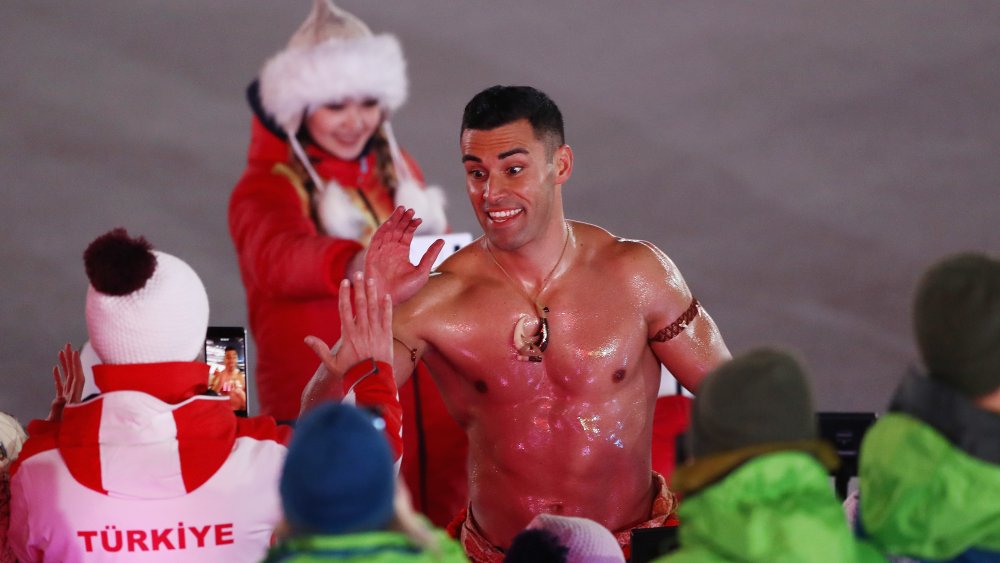 Ryan Pierse/Getty Images
According to Yahoo! Sports, Taufatofua had set a personal goal to qualify for three separate events in the 2020 Summer Games (beginning July 24th in Tokyo, Japan, coronavirus permitting). He clinched his first spot in taekwondo at a recent qualifying event in Australia. He was one of only two competitors in the weight class, but he bested Papua New Guinea's Stephen Tommy to earn his ticket to Tokyo. He will attempt to qualify for the kayak sprint at another event later this spring.
As good as Taufatofua looks in coconut oil, he's much more than just his chiseled physique. Taufatofua grew up in a single-bedroom house on the Island of Tonga, a home that was swept away by a tropical storm, according to BBC Sport. He now splits his time between his native island and Brisbane, Australia where he serves as a UNICEF ambassador focusing on the issues of homelessness and climate change. Watch for his notable flag-bearing when the island nation is called during the opening ceremonies later this year.