Here's How Much Money Bill Goldberg Has Made From Wrestling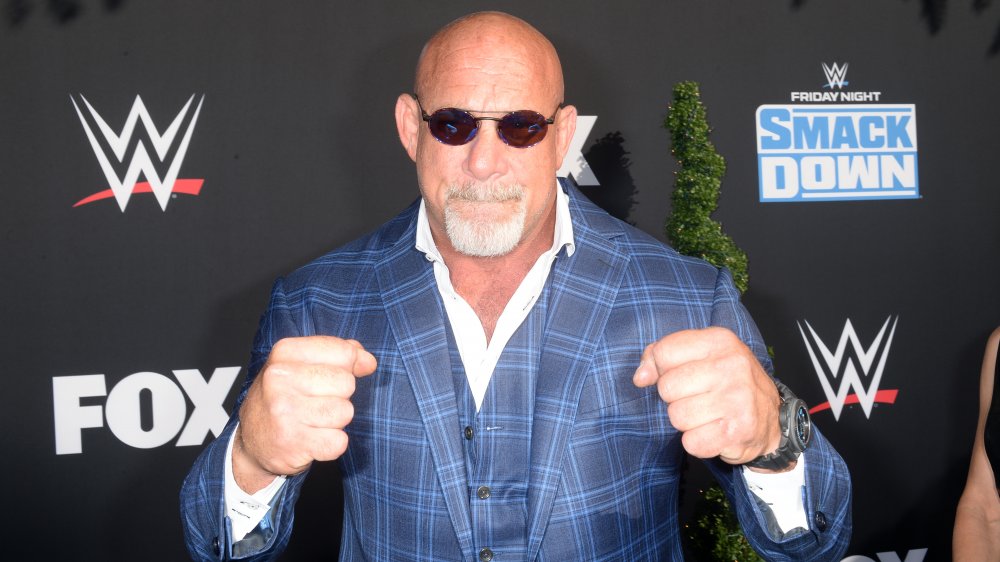 Jerod Harris/Getty Images
Bill Goldberg entered the world of pro wrestling as a man of few maneuvers and even fewer words. Luckily for Goldberg, he never had to do much to win a fight. This was also true during his NFL days. According to Sports Illustrated, back when he played for the Atlanta Falcons, Goldberg settled locker room disputes for "Prime Time" Deion Sanders. Usually, disagreements involved brawling in an improvised ring, but as Falcons defensive end Chuck Smith recalled in 1999, "Goldberg was Deion's ace in the hole. So anyone who wanted to deal with Deion would have to go through Mr. Goldberg. He'd walk into the ring, and nobody would mess with him."
When Goldberg finally walked into a WCW ring in 1997, he messed up everybody in his path. A WWE video recapping his first five matches looks like footage of a brawny wrecking ball demolishing building-sized men. His fifth contest lasted just 22 seconds. Obviously, it was scripted, but the seething, silent, almost primal presence that he brought to the ring was legitimately intimidating. Just as he had shown with Deion Sanders, Goldberg was built for prime time.
Goldberg the goldmine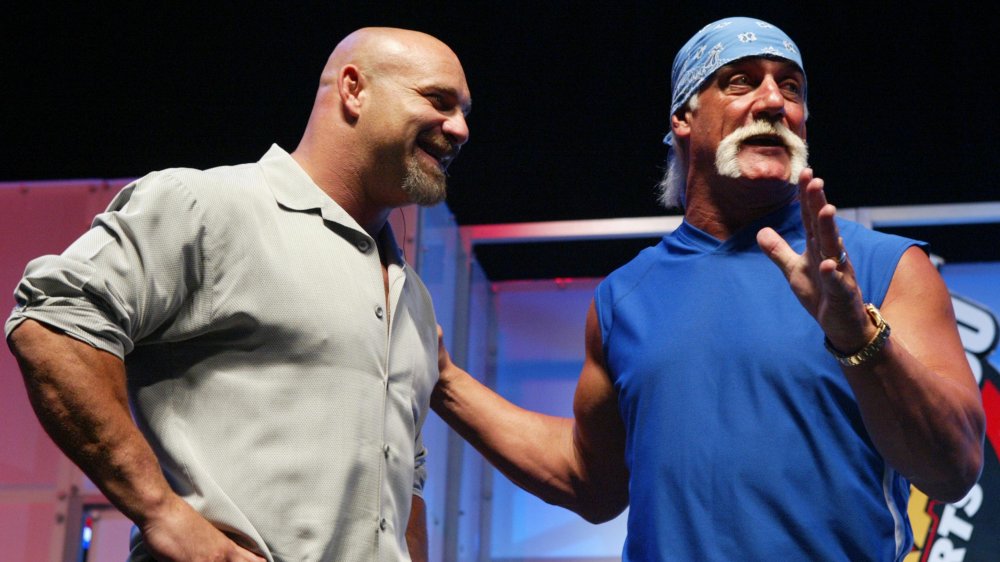 Frazer Harrison/Getty Images
Goldberg was billed as an absolute world-beater at WCW, racking up an apocryphal 173 straight victories before falling to Kevin Nash in 1998. As WWE star the Miz recalled, "One day he would have like five wins, then the next week he'd have 15 wins." Goldberg's salary also increased by a preposterous amount. Between 1997 and 1998 WCW paid him $627,968, which might sound like plenty already, but looks like a pittance compared to Hulk Hogan's pay, which was $3.6 million higher. By the time WCW went belly up, Goldberg earned a guaranteed annual salary of $2.5 million, via CBS. The Orlando Sentinel writes that when Vince McMahon acquired WCW in 2001, Goldberg still had roughly $6 million left on his contract, which former owner Ted Turner agreed to pay. 
Goldberg's WWE career has also paid off. After leaving the company in 2004, he has returned sporadically to compete in high-profile, top-dollar contests. Now in semi-retirement, he receives as much as $2 million for each match he wrestles in Saudi Arabia, according to Forbes. In 2020, he defeated perennial wrestling bridesmaid Bray Wyatt for the Universal Championship in Saudi Arabia, per Bleacher Report, setting up a WrestleMania XXXVI showdown with Roman Reigns. It's not clear how much he'll earn for competing at the show of shows, but the master of the Jackhammer has already hit the jackpot.