Joe Exotic's Net Worth Is Higher Than You Might Expect
Netflix
As the nation is captivated with the Netflix docuseries Tiger King and its eccentric and, uh, less than law-abiding central character, Joe Exotic, many aspects of the world's most famous mullet-wearer have been made public. Truly, the man is an onion, whose each layer is more perplexing than the last one. In fact, as many twists and turns as Tiger King viewers were exposed to, it seems that new strangeness continues to surface. Did you think that the tiger breeder's side gig as a cheesy, yet golden-voiced country singer was a little perplexing, considering his drawling speaking voice? Well, it turns out that his music career wassn't quite what it seemed. Did you think that his early gig as an animal-themed magician was just a passing, comparatively uninteresting phase? Well, the true story behind that involves explosions and a sheep that was spray-painted to resemble a tiger.
Here's one thing that bugs us, though. The show made a whole bunch of noise about how expensive Exotic's tiger antics were, and how he was seemingly constantly hovering at the brink of utter financial ruin. How much money does the guy actually have? And where did he get all the money to finance his huge wild animal park in the first place? Could it be that Joe Exotic's net worth is higher than you might expect?
Inheritance and tigers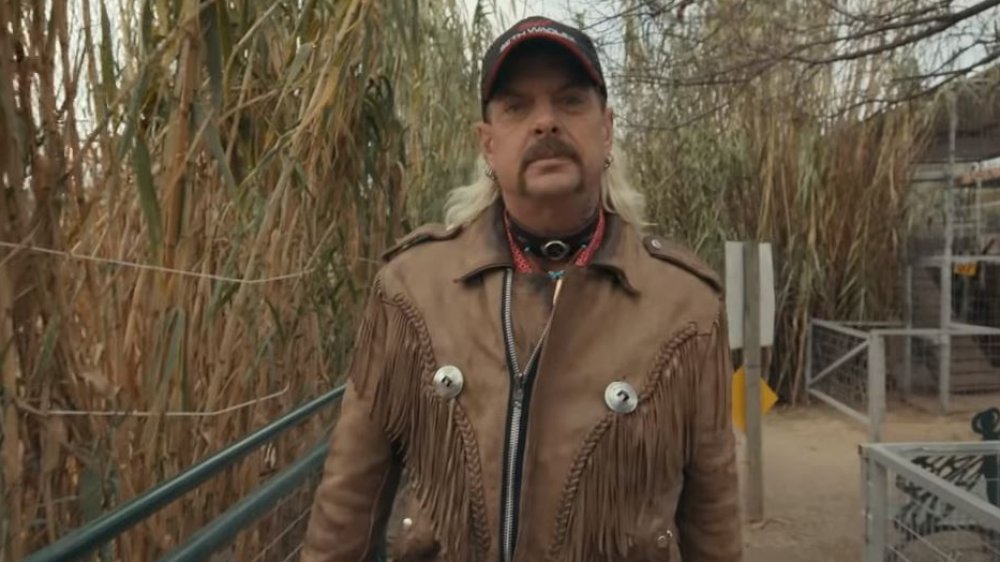 While the Tiger King's hillbilly aesthetic might suggest that while he made his name operating a large, tiger-themed business, he might not personally not walk the path of the wealthy. Then again, chokers like that cost money. Shuvrajit Das Biswas of the Cinemaholic has made a valiant attempt to estimate Joe Exotic's earthly possessions, and he thinks Exotic could be worth as much as $10 million. Das Biswas notes that Exotic had a nice nest egg when starting his business, given that he inherited a cool $250,000 from his grandfather. Presumably, he also received a chunk of the $140,000 his family won suing a trucking company in the aftermath of his brother's death in a highway accident. Per Texas Monthly, his park was also a surprisingly lucrative business that brought in hundreds of thousands per year.  
Sure, Exotic's funds have been stretched a bit due to his legal battles with his nemesis, Carole Baskin, who famously won a $1 million civil suit against him in 2013. It's also true that in 2018, he was slumming it in Florida, working two jobs and applying for a third when he was arrested for ... well, we won't spoil this if you haven't watched the show yet. Still, since that was reportedly just an attempt to let go of his previous life, and because he's nothing if not unpredictable, one might be forgiven for thinking that Exotic still has a buck or a two (million) up his sleeve.