The Real Reason Amazon's VP Just Resigned During The Pandemic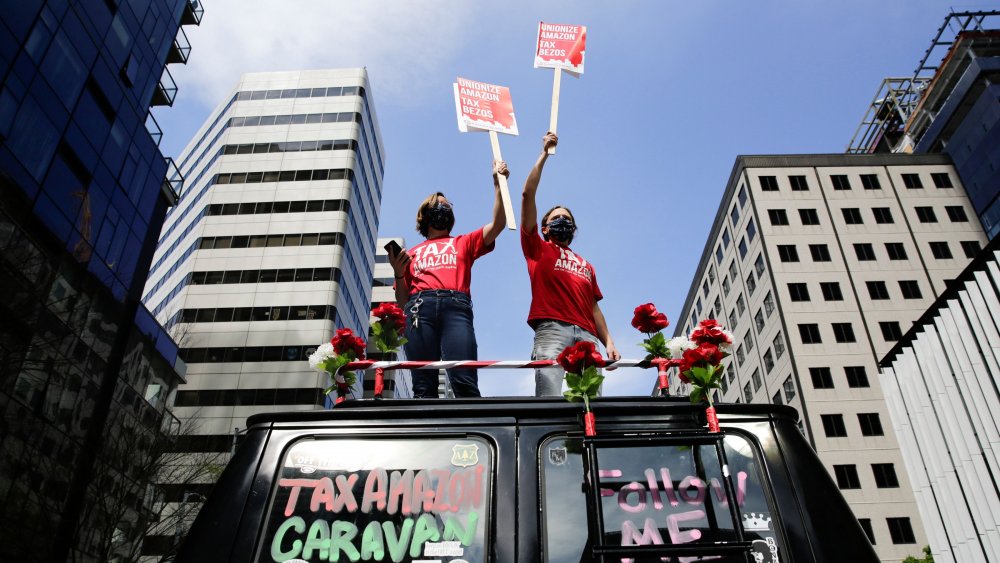 Jason Redmond/Getty Images
Amid the COVID-19 pandemic, the U.S. has seen a wave of gestures celebrating essential workers who save lives by risking their own. CNET notes that Amazon founder Jeff Bezos penned a thank-you letter to his employees. And USA Today reports that Mattel rolled out a line of #ThankYouHeroes action figures and toys honoring nurses, grocery store workers, fast food employees, and delivery drivers. But a lot of essential workers are essentially saying, "No thanks" to what they perceive as hollow gestures.
Business Insider points out that many employees deemed essential go to work out of necessity, and the thanks they get from employers often comes in the form of low pay, poor protection, and even poorer expressions of gratitude. Nelson Santiago, for instance, quit his job at Wendy's after receiving a thank-you bag of candy from his boss instead of a sweeter paycheck and benefits. Santiago felt "disrespected and humiliated." And he isn't alone. Per NPR, workers at Amazon, Instacart, Target, and other companies that provide essential services have organized protests against dangerous conditions and inadequate compensation.
Unfortunately, not all bosses seem eager to rescue the heroes they publicly praise. Amazon has fired multiple employees who've led demonstrations or other forms of protest. Vice President Tim Bray found Amazon's actions so distasteful that he protested by resigning.
Bray's demonstration of dismay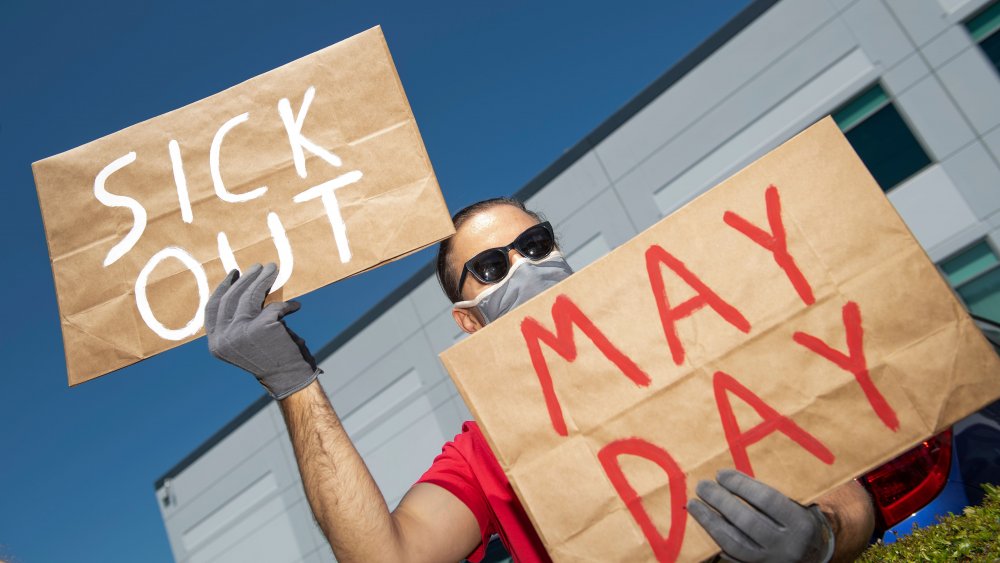 Valerie Macon/Getty Images
Tim Bray loved his Amazon job. The now-former VP described it as "the best job I've ever had," according to the Seattle Times. Also a "distinguished engineer," he received over $1 million in pretax income. But money can't buy you integrity, and Bray felt that Amazon was sorely lacking in that department after it gave Maren Costa and Emily Cunningham the boot. Both women launched petitions for Amazon to create safer conditions at warehouses during the pandemic.
Bray decried the firings of protesters as "evidence of a vein of toxicity running through the company culture. I choose neither to serve nor drink that poison." Of course, Amazon didn't claim it terminated Cunningham and Costa for protesting, instead alleging that they violated company policies. But Amazon may have shown its hand in the case of Chris Smalls. As Vice describes, leaked notes from a meeting attended by Jeff Bezos revealed a plan to tie Amazon worker demonstrations explicitly to Smalls, whom company execs called "not smart or articulate."
Smalls said he led a strike after management refused to sanitize the warehouse where he worked. He also accused the company of trying to mask how many employees were infected with COVID-19. Amazon's official stated reason for terminating Smalls was that he violated a 14-day quarantine after interacting with an infected co-worker. But at the Bezos-attended meeting, company higher-ups expressed high hopes that making Smalls "the face of the entire union/organizing movement" would undermine it.