The Real Reason Insane Clown Posse Sued The FBI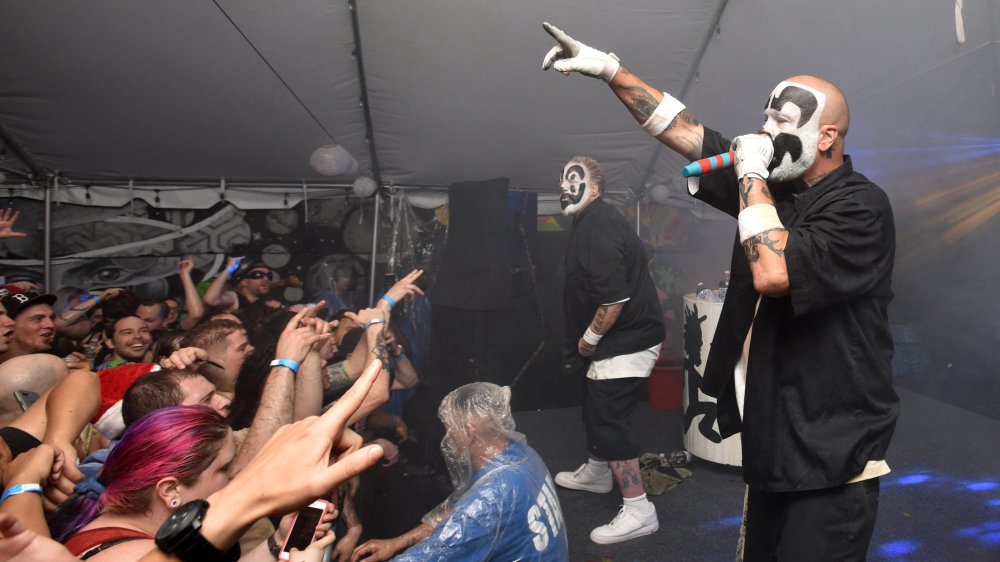 Bryan Bedder/Getty Images
If you're feeling insane in the membrane and need a little magic in your life, watch the video for Insane Clown Posse's "Hokus Pokus," think of nineties hip-hop, and presto change-o: you'll see a circus-like version of Cypress Hill's "Insane in the Brain." If Violent J and Shaggy 2 Dope's magic is just too dope for you to resist, you might become one of their devoted Juggalos. ICP refers to their fans as family, and did so lyrically in "Juggalo Family," as part of the hip-hop supergroup Dark Lotus, according to AllMusic. Like an edgy Sister Sledge, they said, "Mass murder makes me happy! Dead bodies make me happy! Say what you will of me. I'll always have Juggalo Family!" 
In 2011, the feds sledgehammered that family's reputation. As Billboard describes, the FBI's National Gang Threat Assessment categorizes Juggalos as a "loosely organized hybrid gang." That incendiary label predictably drove the clown posse insane. They accused the FBI of "trying to kill our band," adding, "we have to fight back." 
Painting clowns with a broad brush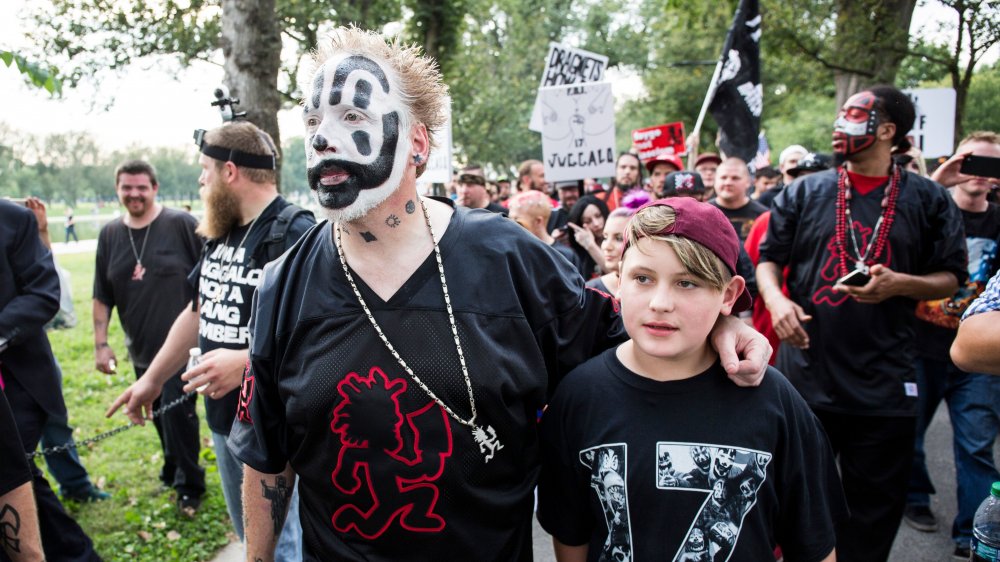 Afp Contributor/Getty Images
The FBI's 2011 National Gang Threat Assessment says hybrid gangs are "non-traditional gangs with multiple affiliations." Their size and structure fluctuate, and they have a diverse gender and racial makeup, making them harder to identify. They resemble textbook street gangs in their "identifiers, rules, and recruiting methods", and "commit a multitude of street and violent crime."
The assessment attempts to link Juggalos to shootings, theft, and drug dealing. The Guardian notes that people sporting the Juggalo-liked Hatchetman tattoo were involved in a killing and a meat cleaver assault. However, given the inherently vague nature of hybrid gangs, one might argue the FBI is, ironically, acting like clowns, painting Juggalos with a broad brush. For example, when musician Laura King was caught driving under the influence, officers considered her a gang member, due to her Hatchetman tattoo. In reality, King had simply found the band a lifeline after being raped at 16, shamed by peers, and spiraling through substance abuse, finally discovering a far healthier solace in ICP's music.
They fought the law and the law won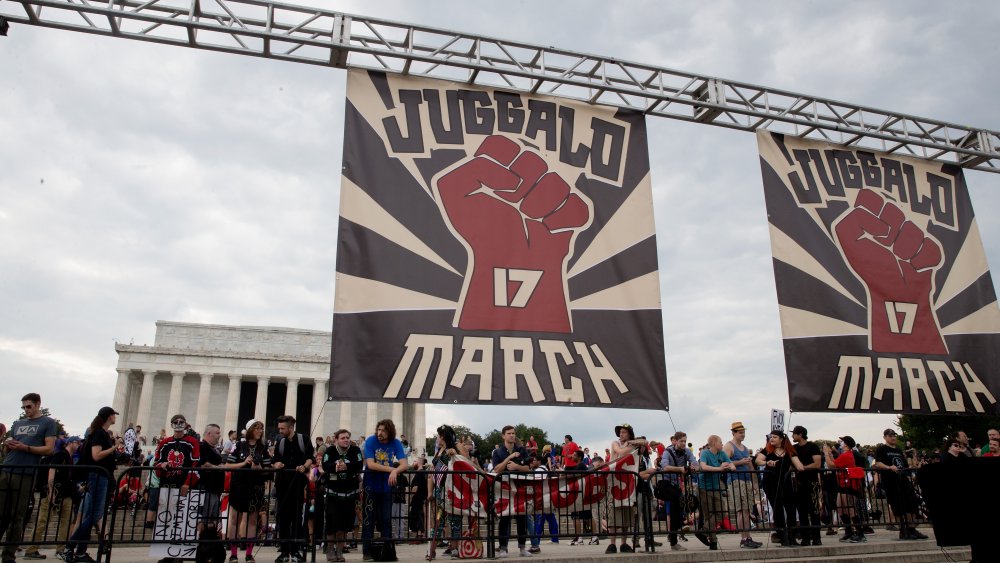 Tasos Katopodis/Getty Images
Being branded a criminal entity reportedly wreaked havoc on the lives of Juggalos. According to Rolling Stone, ICP alleged in a lawsuit that fans lost their jobs, were ousted from the military, and evicted because of their Juggalo affiliation. However, in 2014, a court dismissed ICP's lawsuit, claiming they hadn't demonstrated "injuries suffered." An appellate court overturned that verdict, allowing the suit to proceed.
In 2017, leading up to to their legal rematch with the FBI, Juggalos held a Million-Clown March at the National Mall. Organizers deemed it "a success," per PBS. However, Bobby Fuller explained long ago that when you fight the law, the law wins. The Sixth Circuit of Appeals ruled against the band, according to Rolling Stone, arguing that the FBI's assessment isn't legally binding and can't be contested in court. Instead, Juggalos remain at the mercy of the court of public opinion.