The Real Reason Mike Tyson Is Returning To Boxing At Age 53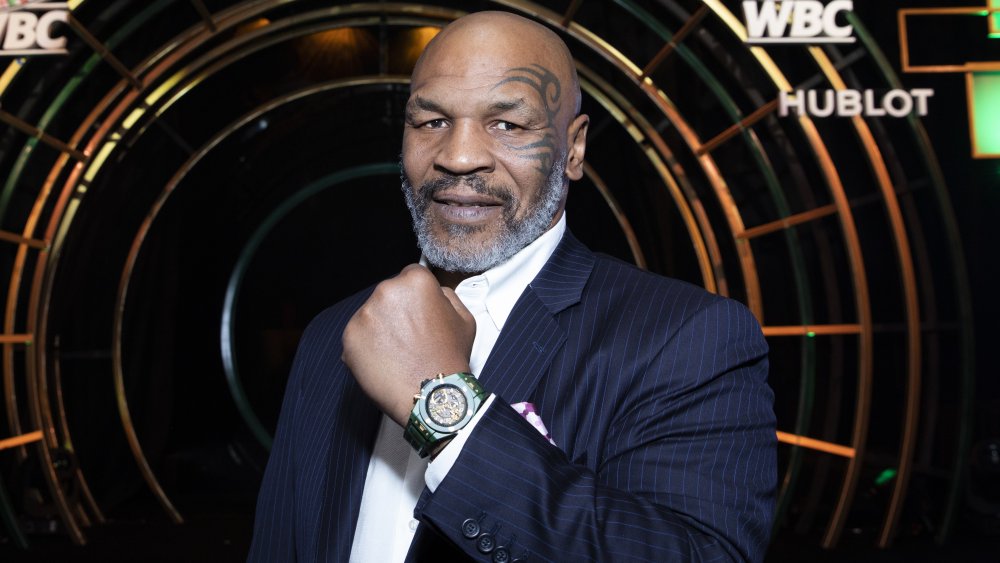 Handout/Getty Images
Don't call it a comeback. He's been here for years, specifically 53 years. But that's not why you shouldn't call it a comeback. No one knows yet whether Iron Mike is actually coming back to the ring. That might seem counterintuitive, considering that Mike Tyson posted an Instagram video of himself beating the bejesus out of pads and proclaiming, "I'm back," as reported by the Guardian. But as of this writing, the BBC says that Tyson's in-ring return is unconfirmed and only rumored to be on the horizon. It could be a publicity stunt, in which case, it worked.
Even if Iron Mike does start tenderizing men with his meat-mallet fists, he doesn't appear to be gearing up for George Foreman-esque championship run. So if you were hoping to see him finally eat Lennox Lewis's children in a hotly anticipated conclusion to their verbal blood feud or whatever, dream on. But that dream probably won't come true. Rather, the word on the rumor mill is that Iron Mike would have yet another rematch with Evander Holyfield to raise money for charity.
A bout that rings a bell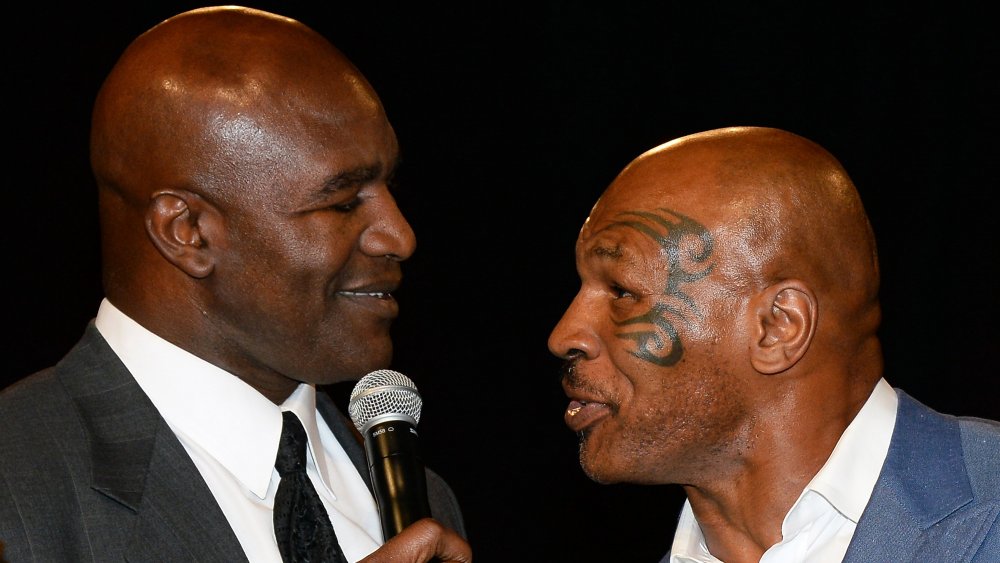 Ethan Miller/Getty Images
Per the BBC, in 2020, the 57-year-old Holyfield announced his return on Twitter: "Are you ready? The moment you've all been waiting for... The Champ is back! I'd like to announce that I will be making a comeback to the ring. I will be fighting in exhibition matches for a great cause." Perhaps not-so-coincidentally, around the same time, Tyson announced on T.I.'s podcast that he was "hitting the mitts." Obviously, that talk of those two trading blows again caught the ears of a lot of people, probably Holyfield most of all.
In one of the craziest sports moments in modern memory, Tyson rabidly snacked on Holyfield's ears when he realized he had bitten off more than he could chew when going toe to toe with the Real Deal. And getting repeatedly headbutted by Holyfield might have had something to do with it, but who knows? Given that hungry, hungry history, people can practically taste the excitement, most of all Tyson. Will it actually happen? Time will tell, and maybe it will tell those knockout artists that their time has passed. It doesn't take a sweet scientist to figure out that they aren't getting any younger.