The Reason Napoleon's First Wife Was Nearly Executed
In 1796, Napoleon Bonaparte penned a passionate letter to his wife Josephine which read in part: "You are going to be here beside me, in my arms, on my breast, on my mouth? Take wing and come, come!" It concluded with: "A kiss on your heart, and one much lower down, much lower!" Napoleon signed the love letter with the letter B, which undoubtedly stood for "Boner part," the part of himself he wanted to give to Josephine. Napoleon was clearly still in the honeymoon phase.
PBS explains that mere days after Napoleon said "I do you" to Josephine at the altar, he traveled to Italy to assume command of the French army. So he hadn't had many opportunities to French kiss his new bride below her heart. Just a Major-General at the time, per PBS, the future emperor saw greatness on the horizon. As a wedding gift, he gave Josephine a gold medallion with the inscription: "To Destiny." And perhaps it was kismet. Because if it weren't for a crazy twist of fate, instead of marrying Napoleon, Josephine would have gotten a forced divorce from her own head.
Josephine's date with destiny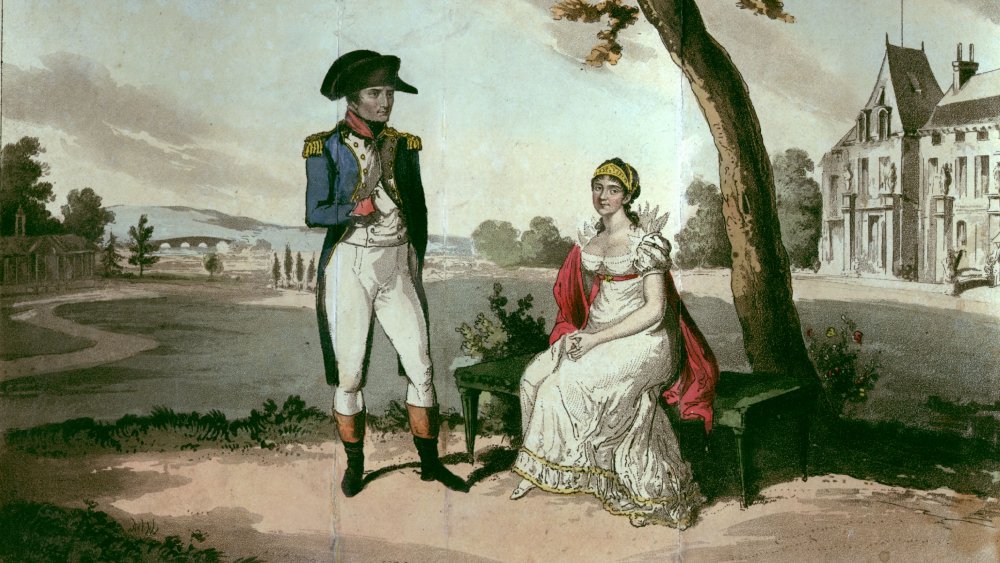 Hulton Archive/Getty Images
Born Marie-Josèphe-Rose Tascher de La Pagerie in 1763, Josephine Bonaparte grew up with her two sisters, Edmee and Catherine, on a hurricane-ravaged plantation in the Caribbean, according to PBS. Their father sought to ease the family's financial hardships by arranging for them to marry wealthy men. Edmee became the mistress of a very well-to-do Frenchman named Francois de Beauharnais, and his son, Alexandre, planned to marry 12-year-old Catherine. Catherine passed away, so Josephine took her place at the altar without warning Alexandre, who just rolled with it.
Josephine and Alexandre had two kids, but that's pretty much all they shared. Essentially living separately, they almost died together during the French Revolution when both were condemned to the guillotine. While Alexandre died, Josephine was saved by the timely downfall of Maximilien Robespierre, who headed the council behind the beheading frenzy during the Reign of Terror, per the Encyclopedia Britannica. So instead receiving the Queen of Hearts treatment, she became empress of France and the ruler of Napoleon's heart.
Napoleon's passion went unrequited, however, and the Encyclopedia Britannica notes that Josephine didn't bother to respond to his love letters. Plus, she flirted with an army officer "in a most compromising manner." Ultimately, she convinced Napoleon to annul their marriage and find a new wife: Marie Louise, the great-niece of Marie Antoinette, according to PBS. Though Napoleon and Josephine's marriage failed, it's better to have loved and lost and even better not to have lost your head.