The Truth About John Lennon And Paul McCartney's First Meeting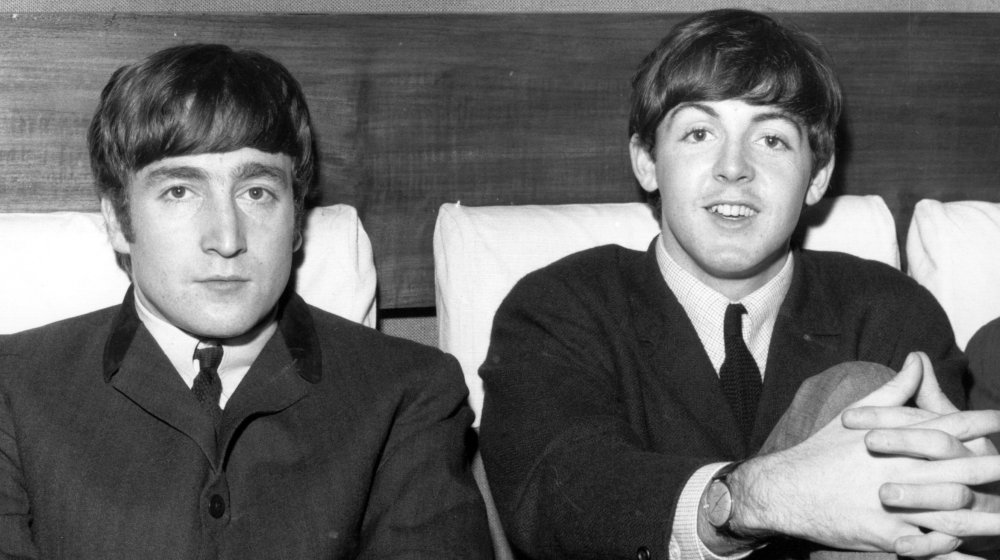 Fox Photos/Getty Images
The Beatles could easily be considered one of rock and roll's most significant influences. Their talented songwriting defined the music of their time, and the group that featured John Lennon, Paul McCartney, George Harrison, and Ringo Starr shaped the industry and culture as the world knows it today. 
However, the English rock band would have never happened if it wasn't for John Lennon and Paul McCartney. McCartney and Lennon alone were responsible for writing over 200 Beatles songs, according to NPR, such as She Loves You, In My Life, All You Need Is Love, and more. The musical duo began writing songs together in 1957, after meeting for the first time, and these early songs included classics like Too Bad About Sorrows, Just Fun, and Hello Little Girl. They would become as close as brothers, but they weren't always that way — in fact, McCartney and Lennon initially met by chance.
First impressions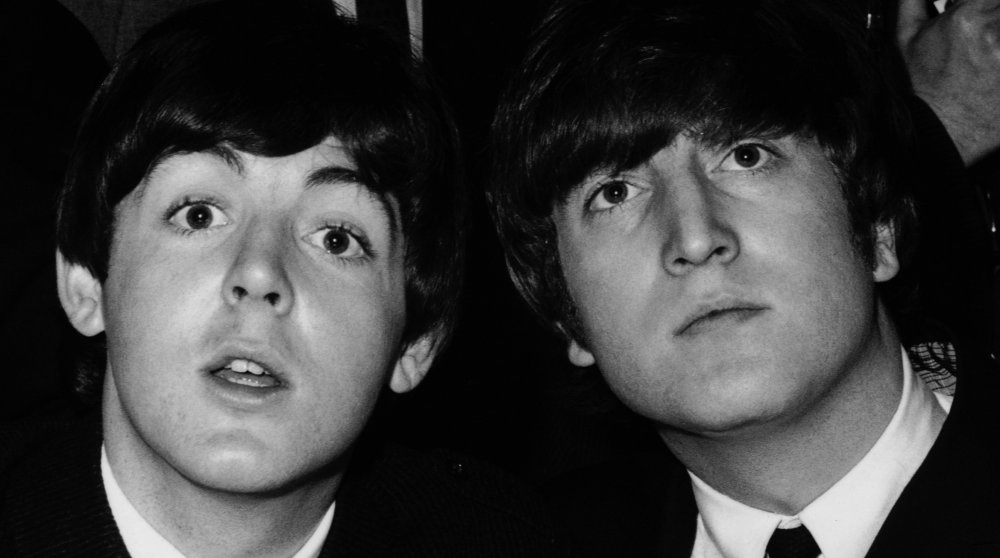 William Vanderson/Getty Images
In the summer of 1957, A fifteen-year-old Paul McCartney attended a parade and outdoor fair for a local church. Coincidentally, the seventeen-year-old John Lennon's band, the Quarrymen, were set to play the festival. McCartney stumbled upon the Quarrymen in action, and McCartney was mesmerized by Lennon's guitar skills, according to History, impressed by how he was able to capture the crowd with his music entirely. He knew he had to meet him.
After the show, McCartney was introduced to Lennon by a mutual friend. McCartney then showed Lennon his own guitar skills, and played Eddie Cochran's "Twenty Flight Rock." Lennon was equally as impressed with McCartney, and even took a few pointers from him on how to tune his guitar for a better sound. Just two weeks after they first met, Lennon invited McCartney to join the Quarrymen. The two immediately began to work on songs together. "I had a little school-exercise book where I wrote those lyrics down. And in the top right-hand corner of the page, I put 'A Lennon-McCartney original.' It was humble beginnings," McCartney told Rolling Stone in a 2016 interview. "We developed from that."
Of course, Harrison eventually joined their band, but when the rest of the members of the Quarrymen broke apart in 1959, McCartney, Lennon, and Harrison were on their own, according to Ultimate Classic Rock. Although, they wouldn't be for long — as they would soon meet Ringo Starr, and form the Beatles.
The rest, as they say, is musical history.