The Tragic Death Of Metallica's Cliff Burton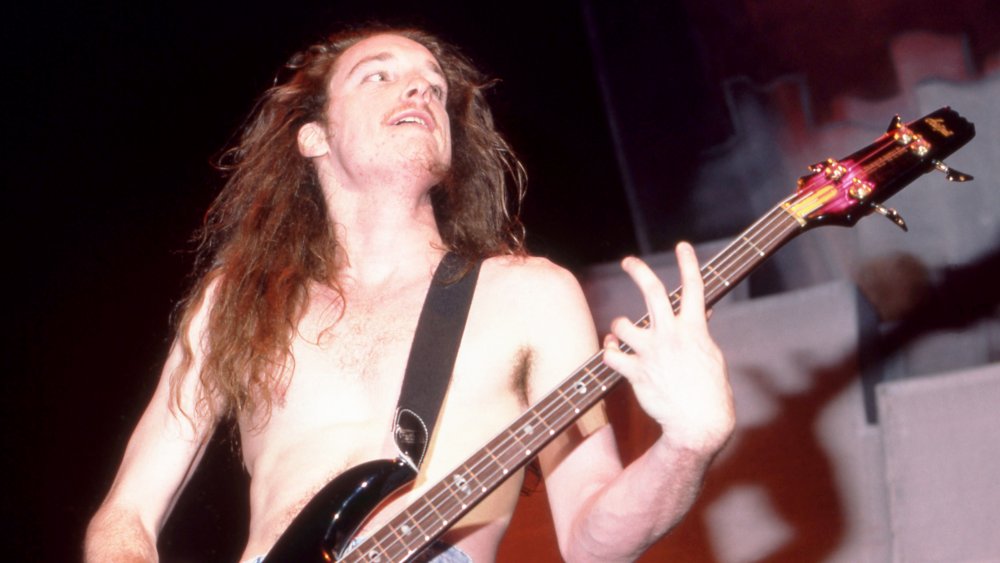 Icon And Image/Getty Images
For a band as longstanding and storied as Metallica, they have not been without ups and downs. From the early days of struggling to record original material for their 1982 demo No Life 'Til Leather, to their 2000 suit of early file-sharing platform Napster, to the supposed hazing of bassist Jason Newstead and the band's near-collapse when he left in 2001, to 2003's critically brutalized St. Anger, Metallica's legacy and repertoire of mega-hit albums like Master of Puppets (1986) and Metallica (1991), have helped them endure and continue to sell out stadium after stadium.
No event had such a dramatic impact on Metallica's history, though, as the death of the bassist Cliff Burton. Following the success of their debut Kill 'Em All (1982) and its followup Ride the Lightning (1984), Metallica went on a worldwide Damage, Inc., tour in 1986 in support of Master of Puppets. Their fame had exploded during the preceding years, and by September, 1986 the group was on the European leg of its tour passing through the countryside of Dörarp, Sweden, as cataloged by Virtual Globetrotting. The band had been complaining to each other about the bus' sleeping accommodations and playing card games to choose bunks, and, according to Loudersound, singer James Hetfield had moved away from the bus' windows to prevent the cold air from affecting his throat.
At some point in the early morning on September 27th, the tour bus hit a patch of black ice, skidded out of control, and flipped onto the nearby grass. The band members were thrown around like rag dolls, and Cliff Burton flew out of the window. The bus landed on him, and when a crane attempted to lift the bus off of his body its grip slipped, and Burton was gone forever.
The thing that should not be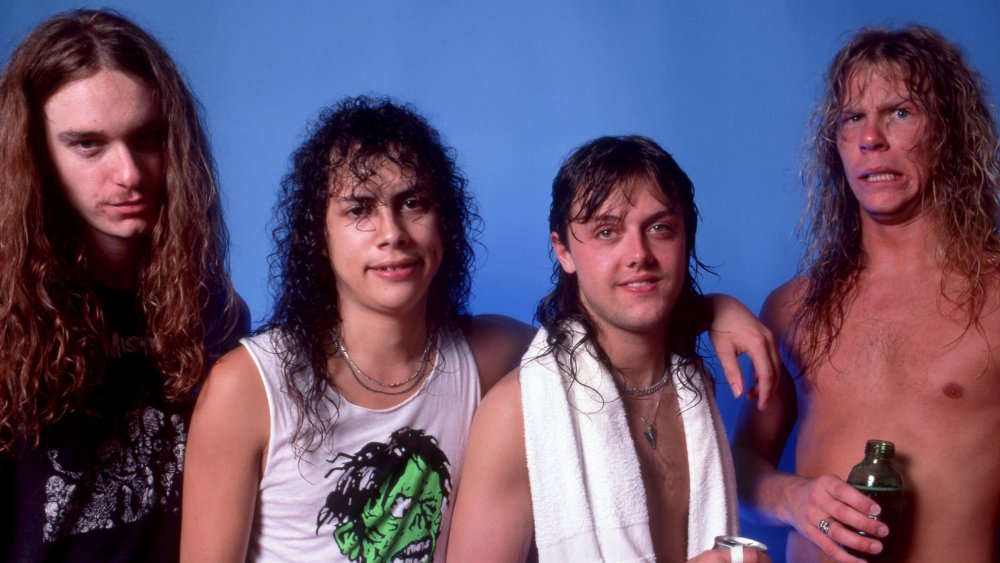 Icon And Image/Getty Images
Anthrax was touring with Metallica at the time of Cliff's death, and, as reported by Loudwire, guitarist Scott Ian describes the events of that very day: the feeling of absolute shock and unreality; the cancelling of Metallica's show that night; the fans showing up at their hotel to show support. Lars Ulrich, Metallica drummer, was hospitalized with a broken toe. Hetfield and guitarist Kirk Hammond returned to their hotel absolutely trashed, and Hetfield had also been heavily sedated because he was a complete wreck. 
Hetfield confirmed all this in a 2016 interview with Loudersound, where the surviving band members described their first emotion as anger. They wanted something to blame, and they initially accused the bus driver of drinking. Ultimate Classic Rock describes Hetfield as walking up and down the road in his socks in frozen weather, looking for the black ice that the bus had slipped on. In the 2016 book Metallica: Back to the Front, the band describes still missing Cliff, stating that he was a "great human being" with positive energy that could light up a room. As reported in Revolver, Hetfield had the bassline for "Orion," an epic, 9-minute instrumental track on Master of Puppets, developed in large part thanks to Cliff, tattooed on his arm.
Cliff, who studied music theory in college, had helped expand Metallica's songwriting on Ride the Lightning and Master of Puppets, and was responsible for co-writing numerous standout tracks such as "For Whom the Bell Tolls," "Fade to Black," and, "Master of Puppets." It's impossible to know exactly how Metallica might have evolved over the years if Cliff had lived, both as a band and as individuals. As it stands, though, Burton's legacy and spirit live on through his music.