Why The Star Of Wynonna Earp Looks So Familiar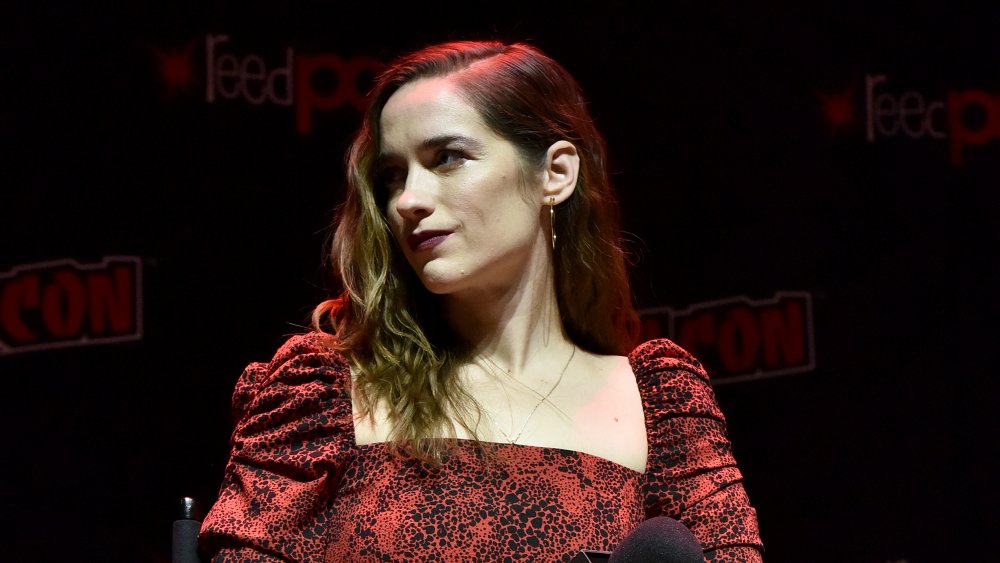 Eugene Gologursky/Getty Images
Wynonna Earp tells the story of one of Wyatt Earp's descendants, tasked to rid the world of demons, and to end the curse that got her family stuck fighting said demons in the first place. Wynonna, along with her sister Waverly, her sister's girlfriend police officer Nicole Haught, and even Doc Holliday, team up to save the world. Who is the actress playing the show's lead, though? And why does she look so familiar? 
That's Canadian actor Melanie Scrofano, who has been an actress since 1999. Scrofano played one of the deranged family members in the 2019 movie Ready or Not, as the always stoned sister-in-law, a performance which Syfy Wire said earned  the biggest laughs in the film. Scrofano also guest-starred in several episodes of the show Designated Survivor, and is a series regular on the Canadian sitcom Letterkenny. And if you know anything about Canadian actors, most of them have appeared in one or two iterations of Degrassi, and Scrofano is no different: she was in two episodes of the teen soap in 2013.
Sci-fi fans also know that Scrofano played one of the incarnations of Alice in the cult show Warehouse 13.
She got the show to write in her pregnancy
Frazer Harrison/Getty Images
However, Scrofano truly shines as the hard-drinking, gun-slinging, wise-cracking protector of mankind Wynona Earp. Scrofano is so dedicated to the role that she even kept shooting while she was pregnant, writes Calgary Herald. The show wrote in Scrofano's pregnancy during the second season, and she still kept doing much of the kicking ass scenes. She told Variety that she took yoga and ballet classes to stay in shape while filming even though she was pregnant.
Scrofano will be back as Wynonna when the show returns for its fourth season. The show almost was cancelled — but fans, called Earpers, campaigned to save it. E! Online reports Earpers bought time to advertise the show in a billboard in Times Square to pressure Syfy and NBC, the show's producers, to give it another season. These efforts succeeded, and now Wynonna Earp will be back in July, per Entertainment Tonight.
So buckle up Earpers, Scrofano will be back, shooting up revenants and making those good ol' Wyatt Earp myths proud.