What You Need To Know About Bubba Wallace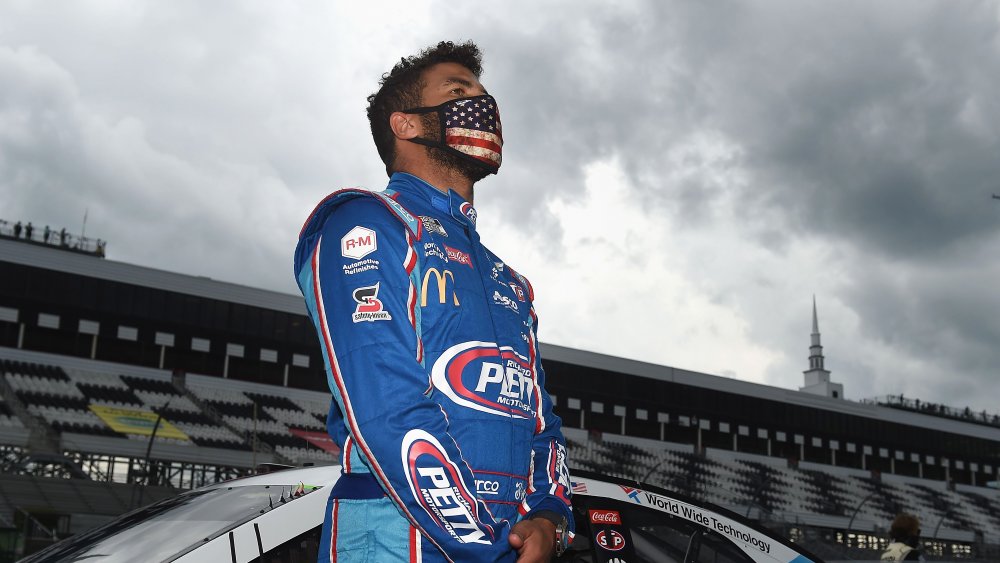 Jared C. Tilton/Getty Images
A pervasive image of NASCAR is a sea of Confederate flags. So when the organization behind NASCAR announced on June 10, 2020 that it will from henceforth ban Confederate flags from its races people grew interested, not least in the driver who called for the ban: Bubba Wallace.
Born in Alabama and raised in North Carolina, Darrell "Bubba" Wallace Jr. is one of a strikingly small number of Black stock car racing drivers to have participated in NASCAR. In the division he drives in, the Nascar Cup Series, Bubba Wallace is, in fact, the only racer, per the San Francisco Chronicle. So, shortly after the George Floyd Protests broke out in May, he called on the organization to outright ban a symbol for the systemic oppression of Black people: "No one should feel uncomfortable when they come to a NASCAR race. So it starts with Confederate flags. Get them out of here. They have no place for them." This was the call that prompted the total ban, though, to be balanced, the New York Times states NASCAR has been asking people to stop bringing Confederate flags since 2015. They just haven't enforced it.
Though some drivers — *cough cough* Ray Ciccarelli — have reacted poorly to the point of leaving the sport because of this, others have come out to support the initiative pushed by Bubba Wallace, saying, "It says in the Bible, 'Look at yourself before others,' and I think you need to fix your heart, find your heart, know what's right."
Was it that easy?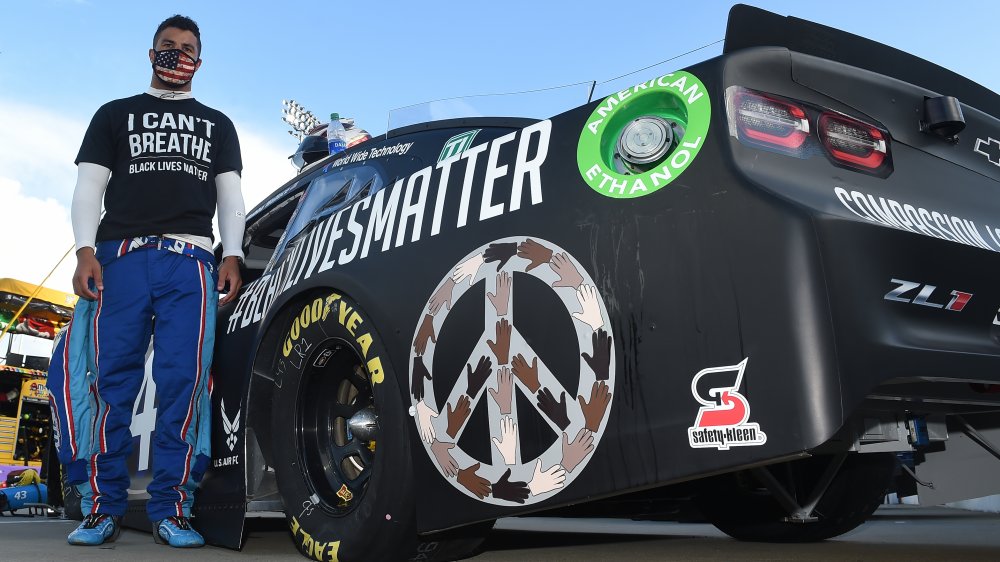 Jared C. Tilton/Getty Images
So, everything seemed to be going right. Bill Lester, who also was once the lone Black race car driver, congratulated Bubba Wallace, commenting on how, unlike the time when he was racing, "NASCAR was [now] receptive, as a lot of the country is receptive to change." 
But eleven days later on June 21, one of Wallace's team members found a noose in his garage. With, well, everything going on, it's easy to see how charged this is. So the FBI and the U.S. Attorney for the Northern District of Alabama got involved as well as NASCAR. Two days later they released a joint statement saying that video evidence shows the noose in that garage since October 2019, meaning it wasn't a message directed at Bubba Wallace in some form of intimidating retaliation. However, NASCAR still posted the image of the noose to show critics that both the noose and their concerns were still very real.
A lot of progress still has to be made, but the seriousness with which the potential threat was treated and responses like racing legend Dale Earnhardt Jr.'s simple "Hope Bubba wins it tomorrow," again show an increased receptiveness for the need to change. However, Wallace's response to it remains the most clear-sighted: "There's a lot of work left on the table [We'll] walk hand-in-hand together and conquer the good fight we're trying to fight."