The Real Reason Steven Adler Was Kicked Out Of Guns N' Roses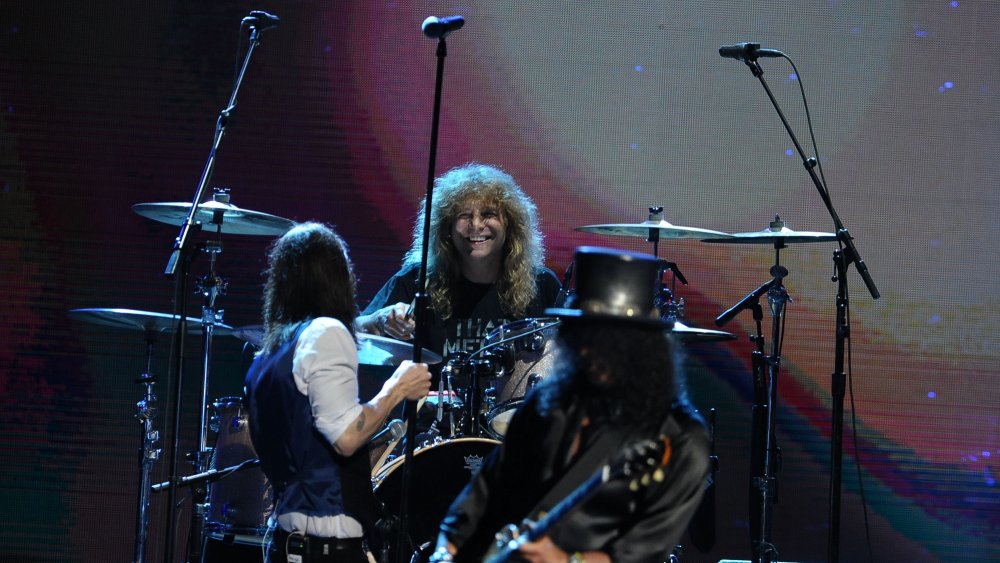 Michael Loccisano/Getty Images
The marketed idea of the artist usually includes some kind of drug dependency, either a sexy kind or the soulful one. However, this only works when the artist in question is still capable of working. When they aren't, like Guns N' Roses drummer Steven Adler, then the mystique becomes pathetic.
By 1990, Steven Adler was a bit of a mess, even by rockstar standards. While the rest of the band were drugged most of the time, Adler had a serious misstep in even getting to his drum set during one concert, as Slash, his high school friend, would note later in his autobiography: " I assume he was planning on landing next to his kit, but his depth perception and reflexes were clearly impaired, so he ended up landing about four feet short." — a more toned down version of his earlier description:"We took [Adler] to Indiana, to play Farm Aid, and he jumps on the drum riser and almost breaks his f***ing neck." Adler's theory, in his own book, is that "they wanted me to f*** up on live TV."
Such irritation peaked during the recording of "Civil War." Having waited for eighteen months for a sober recording, in which, in Adler's words, he did his best, but "had to play, like, 25 times," via Loudwire. The anti-opiates he was taking for his heroin addiction kept him from being able to keep up with the music, so the band fired him.
Civil War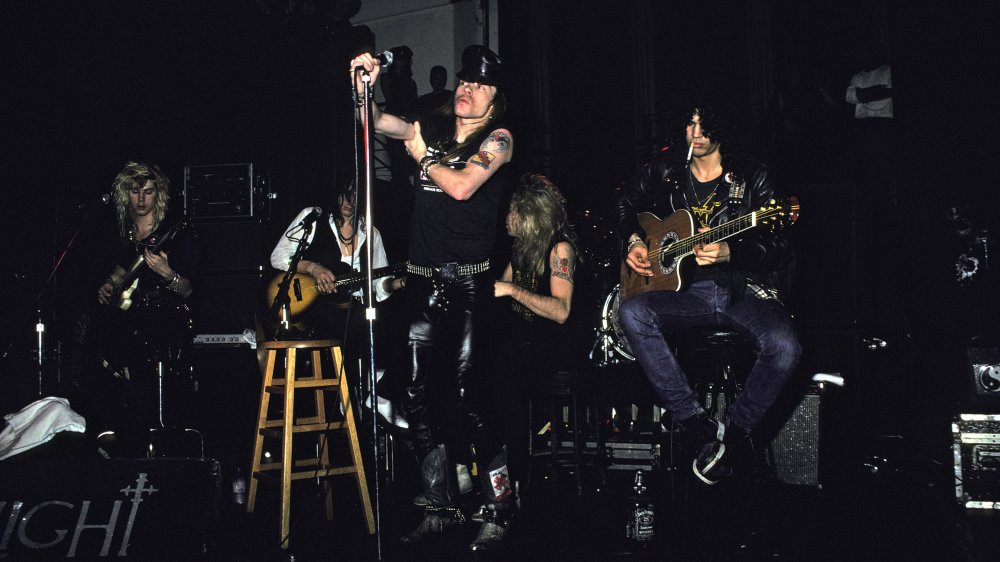 Larry Marano/Getty Images
Guns N' Roses didn't seek to fire Steven Adler, according to former guitarist Izzy Stradlin's unofficial fan site: "I would have preferred to continue with Steve, but we'd had two years off and we couldn't wait any longer. It just didn't work for Slash to be telling Steve to straighten out. He wasn't ready to clean up." The songs they played were written specifically for Steven Adler's style of playing, so replacing him would have been difficult, if not impossible.
However, for whatever reason, people don't like being fired, especially from successful rock bands. So, Adler brought a lawsuit against Guns N' Roses for losing patience with him for following through with their request to kick his addiction, namely the opiate-blockers that hampered his performance. Eventually he would win $2.25 million, according to GNRCentral. 
Following his dismissal, Adler grappled with his substance abuse and formed various bands including Adler's Appetite and Adler. But the story of Adler and Gun's and Roses really ends with the band's 2012 induction into the Rock and Roll Hall of Fame where all band members, excluding Axl Rose who refused to attend because... Axl Rose? But before Rose didn't show up, Adler explained to Rolling Stone: "The drama hasn't stopped for 25 years. I don't foresee it stopping, but I know there's love between all five of us. I know there is. Not just four of us, five of us. Five."