Inside Regis Philbin's Time At Notre Dame University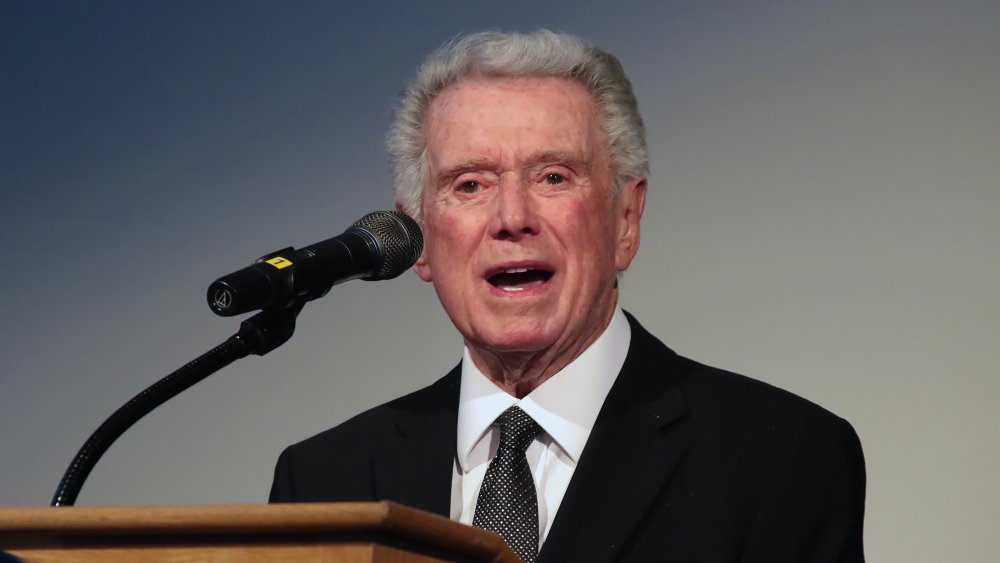 Donald Kravitz/Getty Images
While the public was still in mid-reel over the news of the death of the TV presenter Regis Philbin, WSBT, the CBS-Fox affiliated channel in South Bend, Indiana, announced on July 26 that at a date still uncertain, Regis Philbin would be buried on the campus of The University of Notre Dame. As the Notre Dame's sports news site, the Fighting Irish Wire, explained, Cedar Grove was until recently a burial site solely for faculty and staff. However, in recent years, the "Coming Home" initiative has expanded that policy to include alumni.
Upon announcing that Notre Dame will house the remains of Regis Philbin, Reverend John I. Jenkins, President of the University, issued a eulogic statement:  "[Philbin] will be remembered at Notre Dame for his unfailing support for the University and its mission, including the Philbin Studio Theater in our performing arts center. He likewise was generous with his time and talent in support of South Bend's Center for the Homeless and other worthy causes." Such an arrangement would probably be to Philbin's liking. In an interview with Jeff Jeffers on WNDU, the NBC affiliate of South Bend, Philbin raved about the feeling of entering the campus: "You know you work in the heart of New York City with all of the hustle and bustle and all of the sirens and everything else. You come back to Notre Dame. I swear to you, I don't want to get dramatic about this but it's almost like entering heaven."
Philbin's father and Notre Dame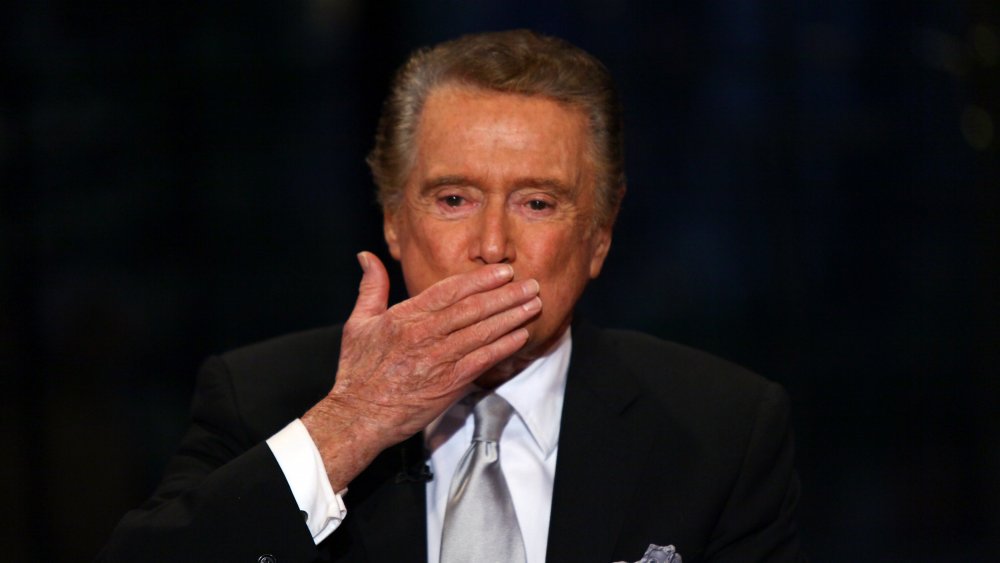 Neilson Barnard/Getty Images
The figure of Regis Philbin's father and his relationship with Catholicism explains a lot about how Philbin eventually attended Notre Dame. In the Catholic News Agency's obituary of Regis Philbin, the story of how Phiblin received his somewhat unusual first name was recounted. According to Regis Philbin himself "my father was asked to leave Regis High School in Manhattan during his sophomore year... Years later, he was so sorry about what had happened that he and my mother named me Regis when I was born."
However, his father's influence did not end there as he seems to have been the main impetus for Philbin to attend the University of Notre Dame. In 2015, Regis Philbin visited Notre Dame campus to talk about his life for the students of his alma mater. Scholastic, Notre Dame's student newspaper, noted his description of how he came to Notre Dame: "My father said, 'You're gonna go to Notre Dame. You got to go to Notre Dame.' So I said, 'Sure!'" While the story was made humorous for the benefit of his audience, his father's insistence does track when you consider he named his son Regis.
Still, his love for the school obviously extended far beyond any paternal influence as sources like the Orlando Sentinel consistently noted, he was a diehard fan of the Fighting Irish. The campus makes for a fitting final resting place for the beloved presenter.