The Truth About Eddie Vedder And Dennis Rodman's Friendship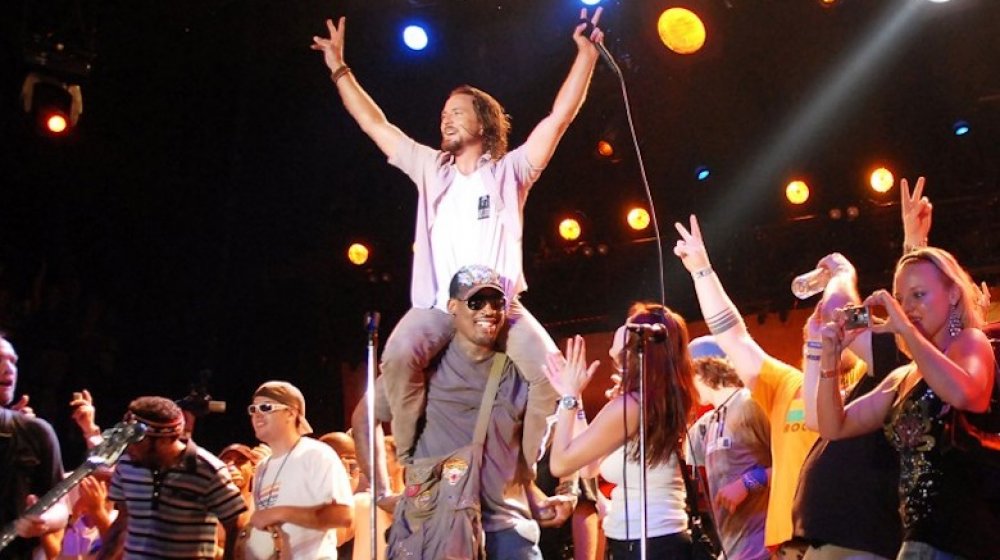 Kevin Mazur/WireImage
At first glance, you might not expect Pearl Jam's Eddie Vedder to befriend former Bull's player Dennis Rodman. Although the two are a seemingly odd pair, they are actually great friends in real life. Vedder and Rodman first met when both Pearl Jam and the Chicago Bulls were dominant forces in pop culture; champions of their respective fields. Vedder, being from Chicago, was an avid Bull's fan, and his fame in Pearl Jam awarded him access to the team, where he would meet Rodman.
"That was the beginning of a long, long, deep friendship," Vedder said in an episode of The Bill Simmons Podcast earlier this year. "And it was a little nerve-wracking at the beginning there — it was like, 'Who the [explicit] is this guy?' But the music, it fueled him." Perhaps Vedder fell under the same magnetic charm that Kim Jong Un did — another close friend of the fast living baller.
Two peas in a pod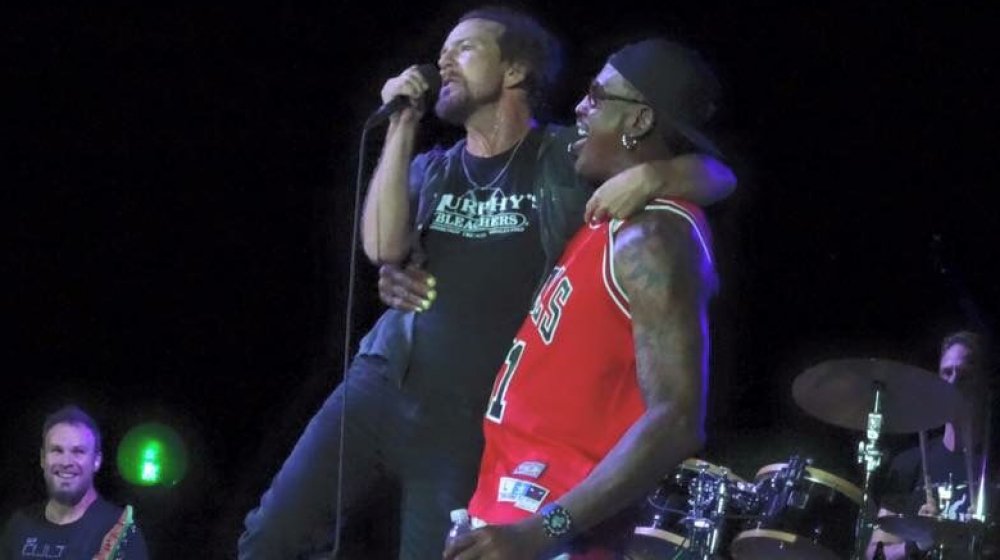 Vedder recalled in the podcast that their friendship always took surprising turns, like the time they spontaneously went to a Jane's Addiction show together. Vedder said that Rodman's manager had tickets to that particular night's show—the only problem was that Vedder and Rodman were in Seattle since the Bulls were scheduled to play against the Supersonics the next day, and the concert was in Las Vegas.
On a whim, Vedder and Rodman decided to go to the show anyway, making the plane in the nick of time and getting backstage just before Jane's Addiction started to play. "Dennis looks over at me, and he goes, 'It's relaxing, right?'" Vedder recalled. 
Music has brought the duo together, and Rodman can sometimes be seen in the crowd at a Pearl Jam concert. During one particular show in 2016 at Chicago's Wrigley Field, Vedder even brought Rodman on stage where Rodman proceeded to pick him up while still singing Black, Red, Yellow.
Call it a quirky friendship, if you will, but the two are definitely friendship goals.