Here's How Steven Seagal And Vladimir Putin Became Friends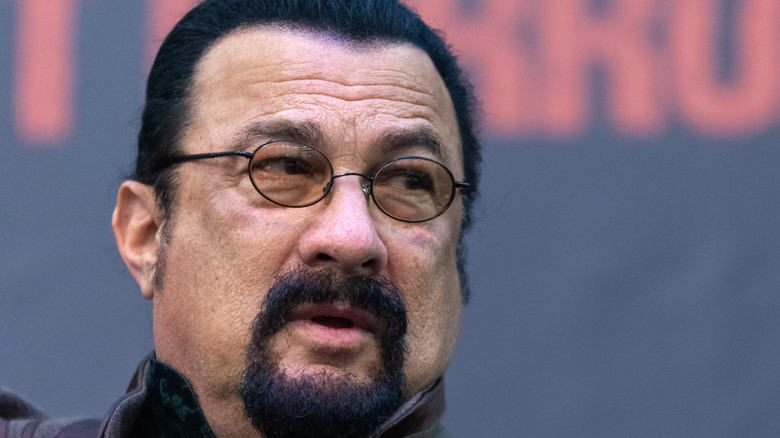 Markus Wissmann/Shutterstock
There have been some strange pairings over the years between world leaders and celebrities who became unexpected friends. Former NBA player Dennis Rodman and North Korean dictator Kim Jung Un friendship immediately jumps to mind, but there's another unusual celebrity-world leader relationship, this time between American action movie star Steven Seagal and Russian President Vladimir Putin.
While his box office stock has fallen off significantly in recent years, Steven Seagal made a fair pile of money for the movie industry back in the '90s, and still makes movies to this day, though not with the frequency he did at his peak. He's even done reality TV for A&E, on "Steven Seagal: Lawman," which relayed his adventures as a reserve deputy in Louisiana, says Biography. His action hero status is based at least in part on his expertise in the martial art of aikido.
Vladimir Putin is a former KGB agent who's served as president of Russia since 2012. (He'd held the job before, from 2000-2008, and in between he was Prime Minister — again, from Biography.) Given his actions in relation to the Crimea, Syria, and a number of other instances, there seems to be pretty conclusive evidence that Putin was "personally involved" in attempts to hack America's 2016 presidential election, reports USA Today. So how did Vladimir and Steven — the latter often playing patriotic American military or retired military figures — end up as close friends?
The unlikely friendship was brokered by Bob Van Ronkel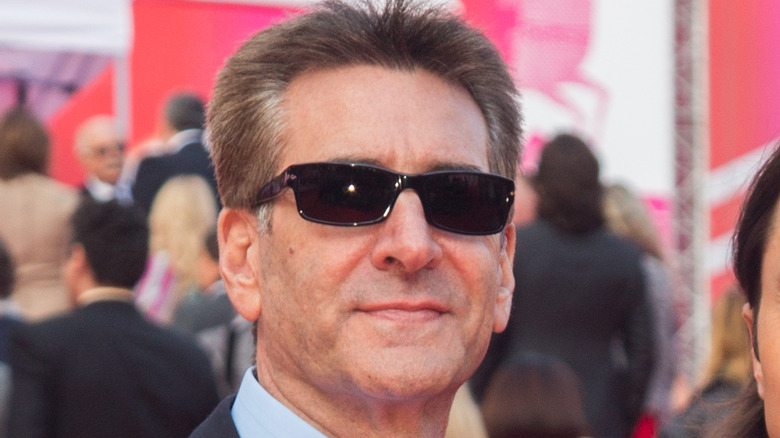 magicinfoto/Shutterstock
NPR gives credit to Bob Van Ronkel (above) and his company "Doors to Hollywood," with a very special business niche: bringing "American celebrities to Russia and other parts of the former Soviet Union." There are powerful figures in Russian who try to enhance their image as major players by developing relationships with American celebrities. According to his website, Van Ronkel was responsible for bringing Richard Gere to Russia in 2018 so the actor could speak at a global forum, and for getting Arnold Schwarzenegger for another global forum — Van Ronkel is apparently big on global forums — held in Saint Petersburg. The list of guests he has taken to Russia is extensive and wildly diverse. It includes celebrities ranging from Paul Anka to Jim Carrey, and Katy Perry to John Malkovich.
"It took almost two years. But he got in there with the Russian government and got the thing done ... As bad as the relationships got between the governments, they always liked American celebrities. And Bob was always very wired in Hollywood," said Larry Jacobson, a television producer who was a partner of Van Ronkel's on the proposed show.
Van Ronkel lived in Moscow for 15 years, says The Washington Post, but he currently resides in the United States while he still works to offer his own brand of United States-Russian diplomacy. As far as his motives are concerned, Van Ronkel lays it out clearly. "I'm not a political guy, I'm a deal guy," he said.
Putin gave Seagal a Russian passport in 2016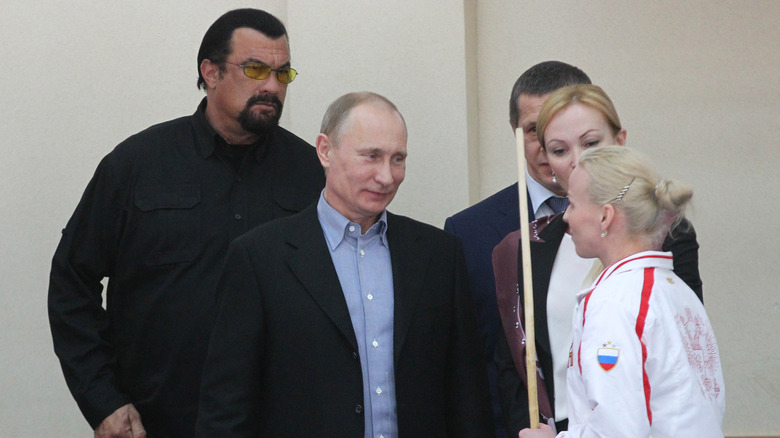 Sasha Mordovets/Getty Images
In Russia, Seagal met Putin at an after-party and the two became fast friends. Putin even gave Steven a Russian passport in 2016. Seagal has declared that Putin is "one of the greatest world leaders, if not the greatest world leader, alive today." According to NPR in 2017, Seagal stood up for Putin amid claims that the Russian government had meddled in the 2016 United States presidential election, telling British TV, "For anyone to think that Vladimir Putin had anything to do with fixing the election, or even that the Russians have that kind of technology, is stupid."
Vanity Fair reports that in 2018 Seagal was named an unpaid "official representative" to "improve humanitarian relations between the two countries and deepen cultural ties." For Seagal, says Van Ronkel, "Russia is a place to re-brand himself." 
Steve Hall, the C.I.A.'s former head of Russian operations, said these relationships not only benefit a celebrity's branding, but also Russia's. "It looks very good for Russia because it shows that they are not alone in the world. They haven't been isolated, they indeed have these cultural connections. And they use it to basically increase their validity to the West," Hall said. "And it's a very clever move that they've done for a long time."
However, business has died down for Van Ronkel in recent years, citing economic sanctions, oil prices, and the value of the Russian ruble. "Russians that would give me a million dollars to bring Mariah Carey, KISS and a lot of others like that — they didn't have the money. It would cost them twice as much in rubles."