How Tenzing Norgay Became A Mountaineering Legend
Baron/Getty Images
Tenzing Norgay, the legendary Nepali-Indian mountaineer who made history after scaling Mount Everest, remains a mystery to many today. A lot is known about his life, yet some stories remain misunderstood or unknown. The friendly, nimble, good-looking athlete was astute and quick on his feet, identifying roadblocks with an expert eye and repeatedly traversing Everest. He is perhaps the most famous Sherpa there ever was, an inspiring daredevil who carved a pathway for scores of aspiring mountaineers around the world.
While Norgay came from humble beginnings and started small, he went on to achieve incredible things, constantly persevering and climbing unforgiving peaks with grit and determination, overcoming many obstacles along the way. However, so many questions need to be answered: What was his life really like? How did he manage to climb Everest, the mightiest peak of them all? What were his struggles and obstacles? Here's a glimpse into the life and times of one of the most famous climbers around the globe.
Tenzing Norgay's early life is up for debate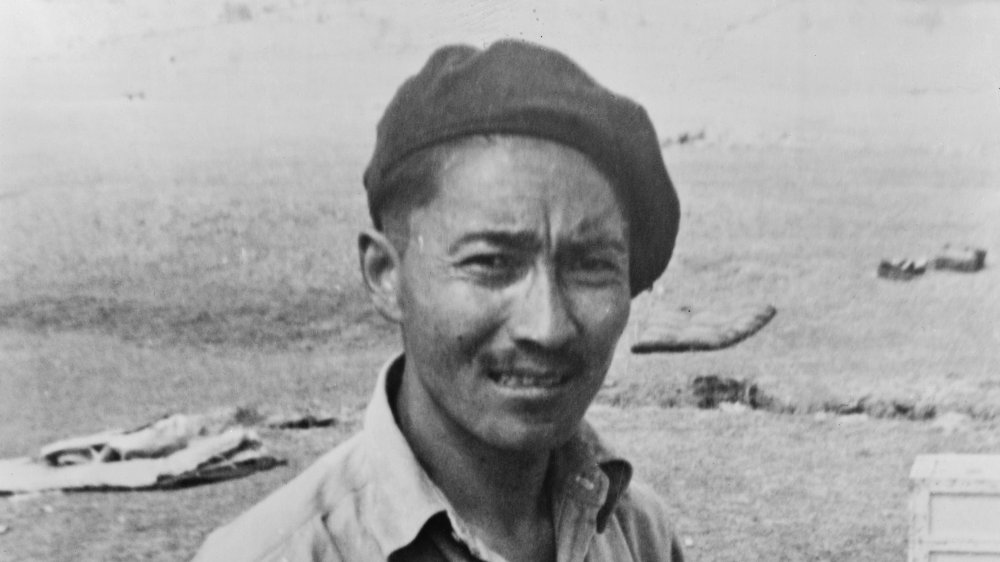 Keystone/Getty Images
While Tenzing Norgay eventually became an Indian citizen and settled down in the picturesque town of Darjeeling, situated in West Bengal, his early life has been speculated upon by many. Some say he was born in Thami, Nepal, in 1915 (the exact date remains unknown to this day) and spent his childhood there. In his autobiography, Tiger of the Snows, which was published in 1955, Norgay gave readers insight into his childhood. Per The Guardian, Norgay's birthplace was very close to Everest. "I was born in a place called Tsa-chu, near the great mountain of Makalu, and only a day's march from Everest," Norgay revealed. Makalu is situated on the fringes of Nepal and Tibet and is around 12 miles from Everest.
What's interesting to note is that throughout his life, Norgay chose to not be too transparent about his childhood and origins as political debates stirred up after he conquered Everest in 1953 and became a prominent figure globally. After his climb, the Nepali government celebrated Norgay, hailing him a hero who was one of their own, while the Indian government offered him a passport and citizenship when Norgay needed to travel abroad. Claiming Norgay was beneficial, and he was a political asset to both countries as a famous man who'd made a historical achievement. Many years later, one of Norgay's sons cleared up the suspense by revealing that his father was indeed born in Tibet.
Tenzing Norgay came from humble origins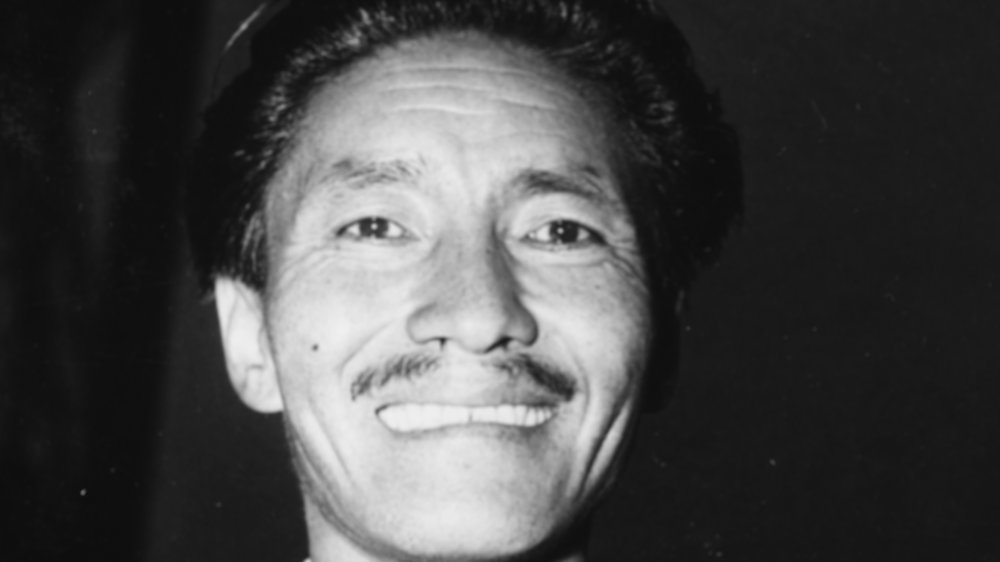 Keystone/Getty Images
Tenzing Norgay had no privilege or riches to fall back on. Growing up, he witnessed hardship as his parents, herders who tended after yaks, worked to make ends meet and put food on the table. Out of 14 siblings, only six kids survived. Norgay himself grew up herding yaks and was no stranger to the mighty peaks around his home. According to the Nepali Times, it is believed that he walked with his family across the Himalayas to Thame in a bid to find better prospects. 
Perhaps his modesty as an adult and his humility after he rose to fame can be traced back to his humble beginnings, a reminder that kept him detached and undeterred even when he became a renowned figure. Stories were circulated of Norgay's family being ill-treated because of caste hierarchies, which made them vulnerable to exploitation at the hands of their peers. However, later in life, Norgay shattered several stereotypes as he conquered Everest and amassed enough riches to help out others like him and provide for them in times of need.
Tenzing Norgay was a restless soul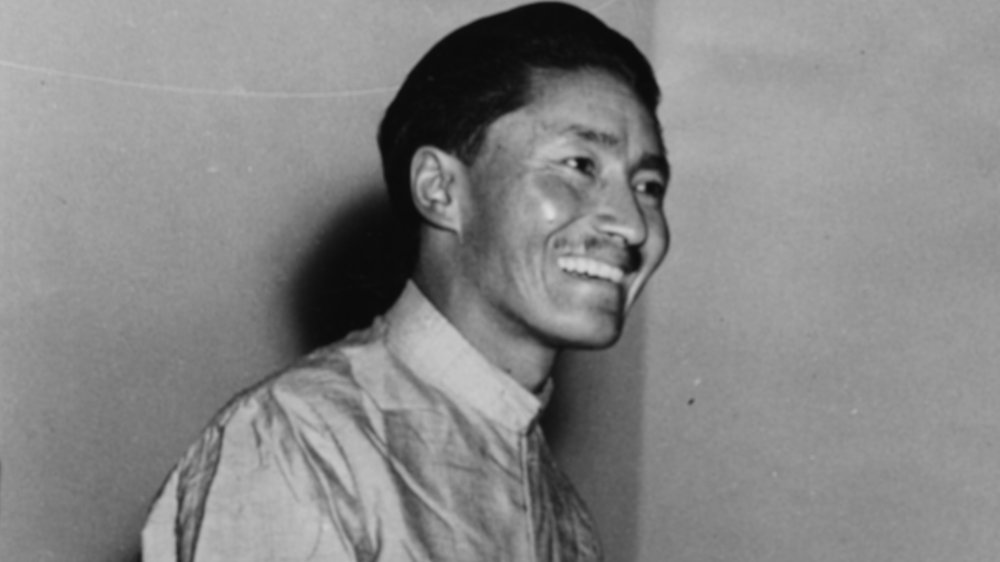 Fred Ramage/Getty Images
It appears that it was difficult for Tenzing Norgay to stay put. According to the book Life and Death on Mount Everest: Sherpas and Himalayan Mountaineering by Sherry B. Ortner, Norgay prioritized seeing the world and achieving his dreams. "Always as a child, a boy, a man, I have wanted to travel, to move, to go and see, to go and find," Norgay wrote. In all fairness, the mountaineer tried other, more conventional options to see if any would stick before he started climbing peaks.
When Norgay was a teenager, his parents thought it might be worthwhile to send him to a monastery in Nepal. However, he had other plans, and he left after a brief stay at the monastery: Norgay realized that he wasn't cut out for life as a Buddhist monk and found himself hunting for opportunities in Kathmandu before finally heading to Darjeeling, where he had his first glimpse of what a life as a Sherpa could be like.
The Sherpa community was Norgay's gateway to mountaineering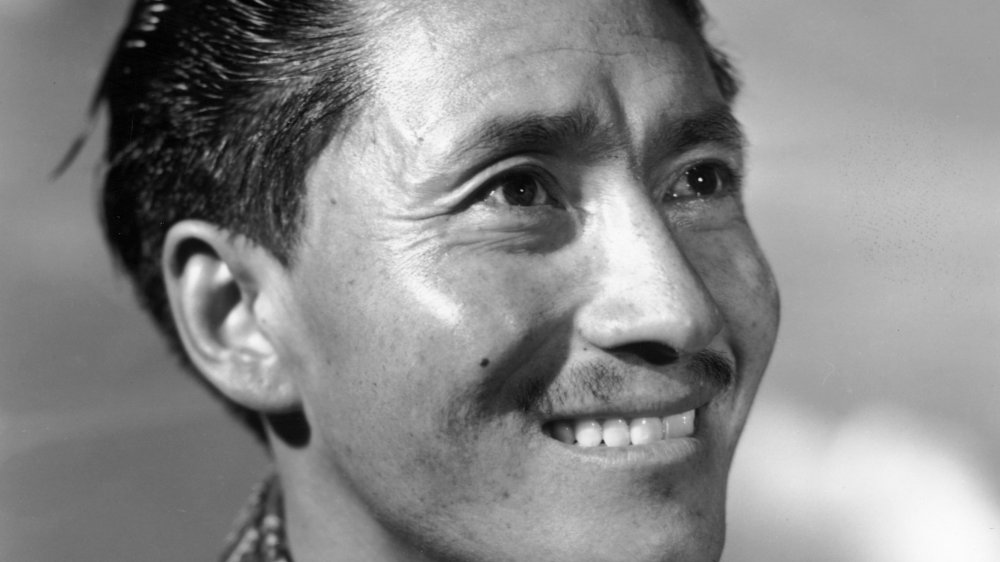 Baron/Getty Images
Sherpas are a part of a community known for being unusually skilled at scaling peaks and thereby succeeding as porters and climbers in the harshest conditions. Sherpas are believed to have originally moved from Eastern Tibet to Nepal. The term "Sherpa" is now often used to identify a trekking crew, and not all members may be ethnically identified as Sherpas. The term itself has evolved to indicate a job spent helping climbers conquer massive peaks and set things up, looking after the safety of the crew, guiding the porters, and ensuring everyone's safety on the climb. Ethnic Sherpas are the ones who attempt the toughest climbs, beyond the Everest base camp, and are thought, as reported by PNAS, to have genetic adaptations to harsh conditions at extreme altitudes with little oxygen.
For Norgay, being an active participant in the Sherpa community gave him a real shot at exploring his potential for climbing and eventually pursuing a life spent climbing mountains. However, his route to being a Sherpa was itself riddled with potholes. While Norgay tried to fit in after moving to Darjeeling by cutting off his hair, he didn't look like a traditional Sherpa anymore and was rejected from expeditions, according to the journal Himalaya. When he attempted to apply again the next time, he ensured he had his Sherpa-style braids in place and looked the part. His first break finally came in 1935, as a porter for British climber Eric Shipton's Everest expedition.
Norgay participated in several attempts to scale Everest as a porter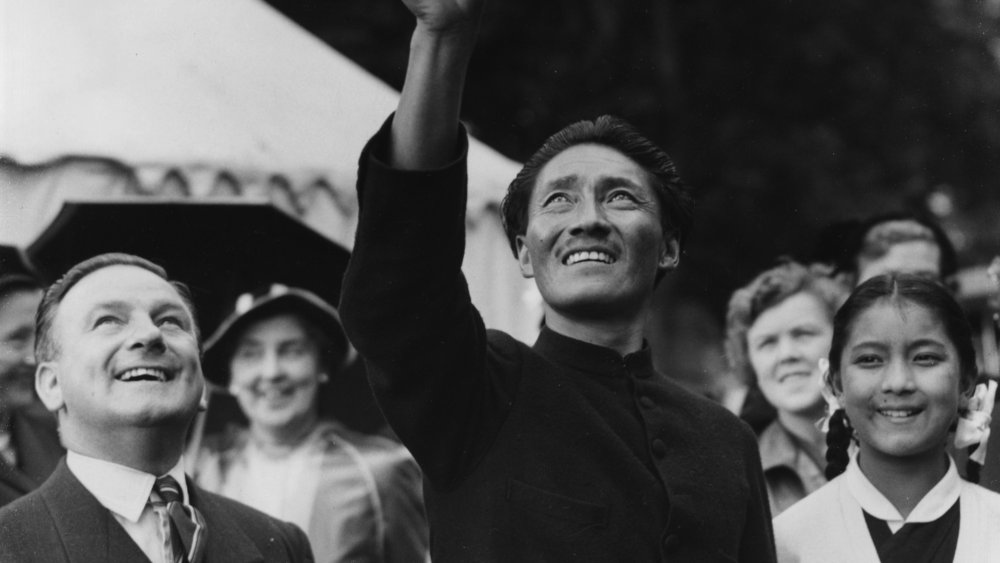 George W. Hales/Getty Images
After getting hired as a porter in 1935, Sherpa Norgay started looking for projects and actively pursuing his love for climbing with trekking teams. While the climb with Eric Shipton wasn't successful, it set the wheels in motion for Norgay's career. According to the Hindustan Times, Norgay was readily hired by mountaineers to accompany them on expeditions, including a project with English climber John Morris.
Through the 1930s, Norgay was a crucial team member during three official attempts that focused on scaling Mount Everest from Tibet. However, none of these were successful. The lack of success at that point didn't discourage Norgay in the least — he took it upon himself to continue climbing and finding ways to scale the mountains better. Norgay was a porter and a valuable team member at that point, as his familiarity with the terrain and expertise on the trail couldn't be overlooked or dismissed. He knew what he was doing.
Tenzing Norgay looked failure in the eye
Malcolm Clarke/Getty Images
In 1947, Tenzing Norgay joined a Canadian mountaineer, Earl Denman, and a Sherpa, Ang Dawa, in an attempt to scale the mighty Everest. The plan was fairly low-key: The trio had just somewhere around $1,000, limited supplies, and a secondhand camera. They had to make the journey without oxygen tanks and warm sleeping bags, per Macleans. The team didn't even have the legal permission they needed to enter Tibet but decided to throw caution to the wind and proceed anyway.
At his point, work was limited for Norgay, who had already attempted to climb Everest thrice by then and was scrambling to make ends meet. He later spoke about those years, saying, "After the war there seemed to be no ups, only downs. For myself, there was only a day's work here, another day's there, all of them menial and dreary. What had happened to me — or to the world that I could no longer go to the mountains I loved and the life I was born for?"
The climb was an opportunity for Norgay to get back to the mountains he was so fond of. The ambitious mission began in March 1947 as the team made their way to the peak and tried their best to stay hidden on the trails. Eventually, they made it to 22,500 feet, by no means an easy feat, but had to head back after being hit by a fierce storm.
Accounts of Norgay's Swiss expeditions are legendary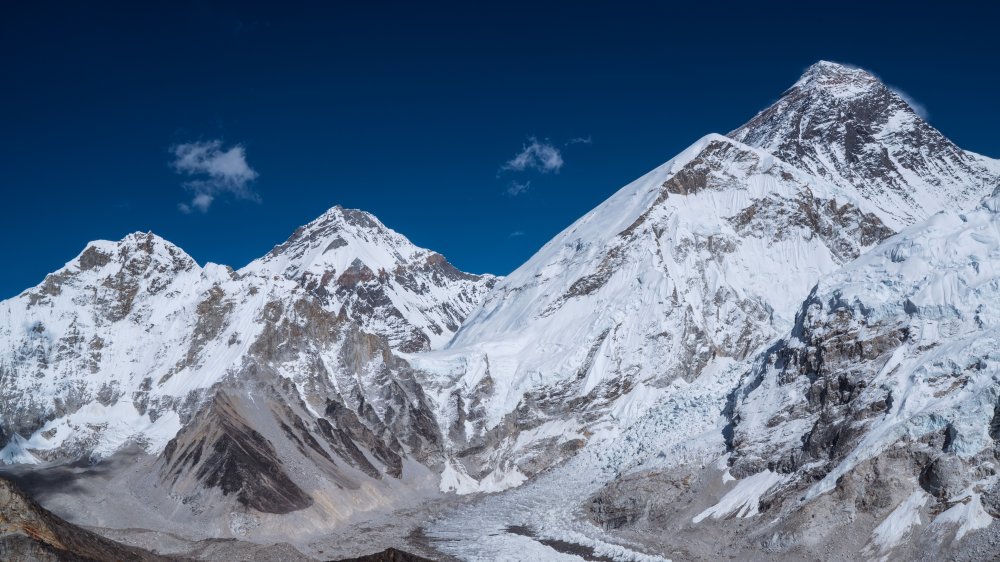 Shutterstock
The next major part of Tenzing Norgay's journey worth mentioning is his brush with Swiss climbers. In 1952, a solid team of Swiss mountaineers including Raymond Lambert got Norgay on board as they started their long journey to the top of Everest from the southern side via Nepal. According to National Geographic, they were the pioneers who discovered a pathway up Lhotse Face and also found many ways to overcome obstacles during the climb. However, despite all their promise, the group couldn't make it all the way to the top. They pushed and preserved to 28,210 feet before starting their descent.
What went wrong? Their oxygen tanks were only good for them while they were resting and weren't adequate to actually help them while climbing. They came the closest to the top that anyone ever did before the 1953 conquest and only abandoned their attempt because they were far too tired to continue climbing to the summit. However, the pathway carved by the team proved very useful to Norgay when he went on his successful climb a year later, using the same route the Swiss team had discovered earlier. When Norgay made it to the top, he didn't forget his Swiss friends and sent them a telegram later. He wrote, "To you, a good half of the glory."
Tenzing Norgay broke new ground in 1953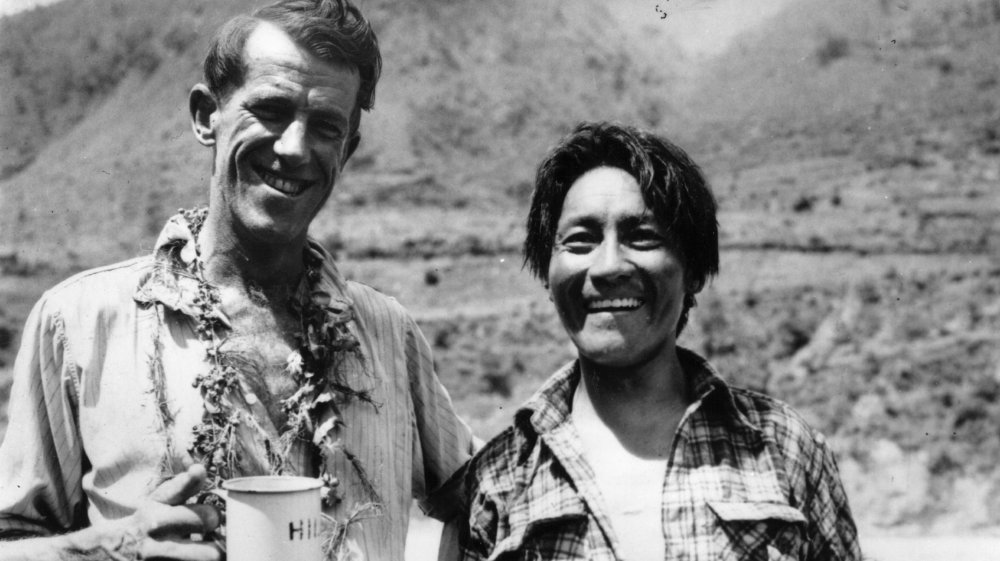 Keystone/Getty Images
Years of hard work finally paid off for Norgay on May 29, 1953, when he made it to the top of Everest with Edmund Hillary, a beekeeper from New Zealand. The feat immortalized the duo, who became the first known climbers to have conquered the mighty Everest. They were considered an incredibly friendly and down-to-earth pair and worked rather well as a team. According to the Condé Nast Traveller, they first met in 1953 as a part of a ten-member British climbing crew led by British Army officer John Hunt. The crew also had 350 porters and 20 Sherpas to help them along the way. Norgay felt ready for this feat: He'd already been on six expeditions to Everest by now, and Hillary was a climbing enthusiast who loved scaling seemingly impossible peaks in winter while tending to bees in the warmer months.
The duo's Everest climb was hailed as a turning point in history, and their return was celebrated globally. Everyone was curious: Who was the first to make it to the top? They kept mum for a long time, insisting that they reached the summit at the same time. Years later, in his autobiography, Hillary claimed he'd gotten there first. However, the conquest transformed Sherpa Norgay's life either way: He was no longer an anonymous porter and climber in the pockets of the Himalayas.
The Everest climb tested Norgay's and Hillary's mettle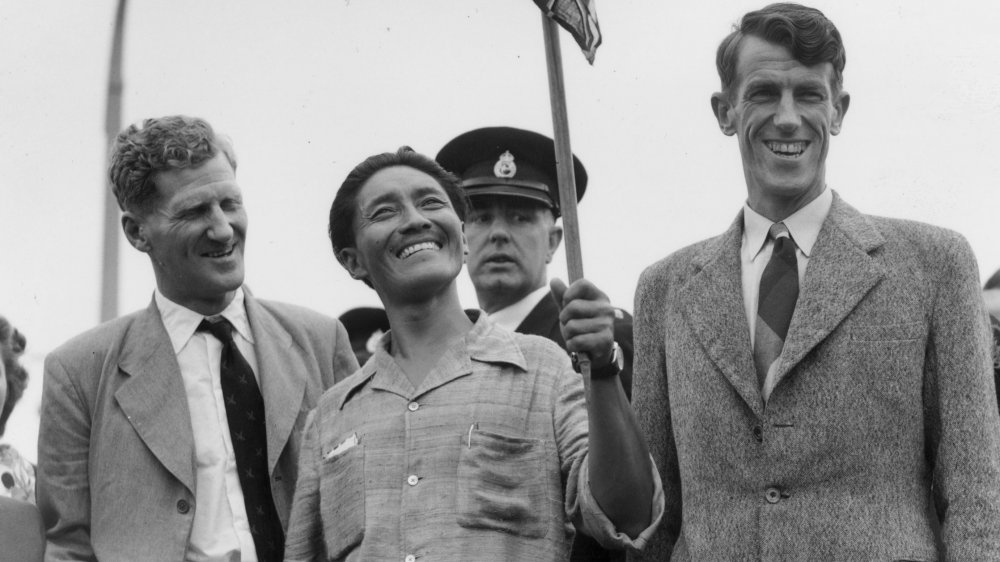 George W. Hales/Getty Images
The journey to the top was full of challenges for Tenzing Norgay and Edmund Hillary. For example, Hillary nearly lost his life. As he recounted in a contemporary newsreel (via The Guardian), while trying to cross a crevasse on Khumbu Icefall, Hillary found himself on a piece of ice that broke off. Norgay was quick to respond, and he used his ax to tighten the rope at exactly the right moment, saving Hillary's life. Moreover, the pair had to constantly battle through snow and extreme weather and steep, rocky pathways to get to the top. At one point, they were at huge risk as they began their final journey to the summit. A ridgeline that they navigated had drops of more than 3,300 feet, according to NASA.
Interestingly, another expedition that was also overseen by Hunt came very close to the summit two days before Norgay and Hillary reached the top. At the summit, the pair spent some time celebrating their milestone, reached after nearly three months of climbing. Sherpa Norgay knelt and offered sweets to the mountain in gratitude, while Hillary set a cross on the slope. Norgay also posed for the camera as Hillary snapped photos of his climbing partner at the top of the world at 29,035 feet.
Tenzing Norgay was an inspiration for other mountaineers after his legendary climb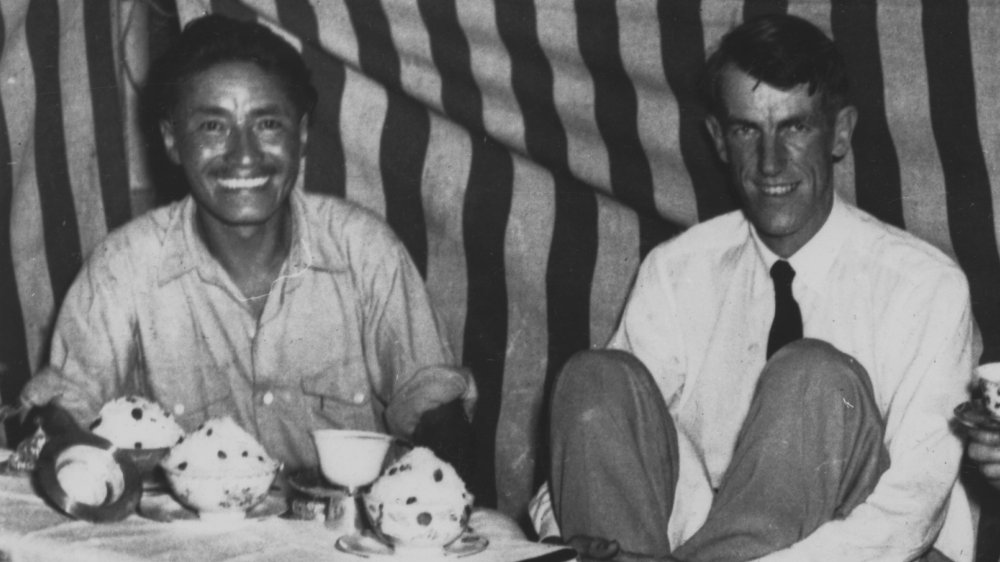 Keystone/Getty Images
After the duo's historic climb up Mount Everest, Tenzing Norgay and Edmund Hillary returned from the summit to much fanfare and admiration. Hillary spent the next several years tackling more peaks and unforgiving mountains. In addition, he engaged in social work for Sherpas in Nepal, founding the Himalayan Trust during the 1960s and helping to build bridges, schools, and hospitals. Norgay, meanwhile, focused on paving the way forward for other Sherpas, as well as his contemporaries.
He helped create the Himalayan Mountaineering Institute in Darjeeling in 1954, and in 1978, he founded Tenzing Norgay Adventures, an organization that helps trekking enthusiasts safely navigate the Himalayas. Today, his son runs Tenzing Norgay Adventures and continues his father's work. Norgay has served as an inspiration for many other mountaineers, especially Sherpas from similar backgrounds, who'd now had a glimpse of what scaling the world's tallest mountain feels like. 
Norgay was honored with several awards but remained modest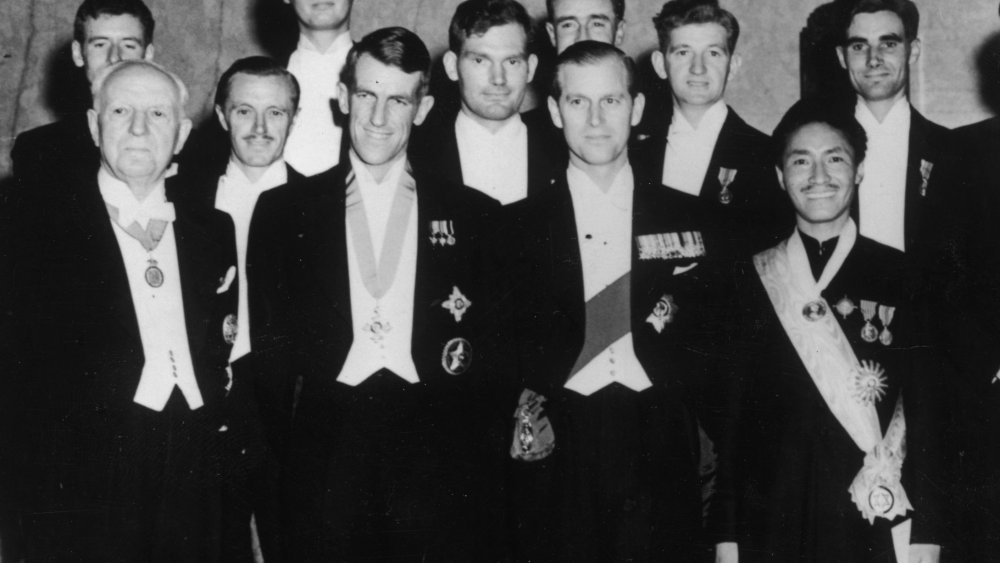 Keystone/Getty Images
Tenzing Norgay's triumphs and feats didn't go unnoticed, and he was the recipient of several awards from all over the world for his contribution to the field of mountaineering. While India awarded the climber the Padma Bhusan and the President's Gold Medal, two of its most prestigious awards, Nepal also stepped up and honored him, along with with other countries, including the U.K.
Additionally, as an acknowledgement to his and Hillary's remarkable achievement, mountain ranges on Pluto are named after the duo. Despite global recognition, Norgay remained approachable and friendly to the world at large. He didn't know English very well but politely participated in interviews with the help of a translator and friend, Rabindranath Mitra, according to Dr. Amrita Dhar. Norgay's down-to-earth approach and friendliness earned him a spot as a favorite among many aspiring climbers. He acted as a mentor for many Sherpas and maintained a friendly public image throughout his life.
The controversy over Tenzing Norgay's post-climb treatment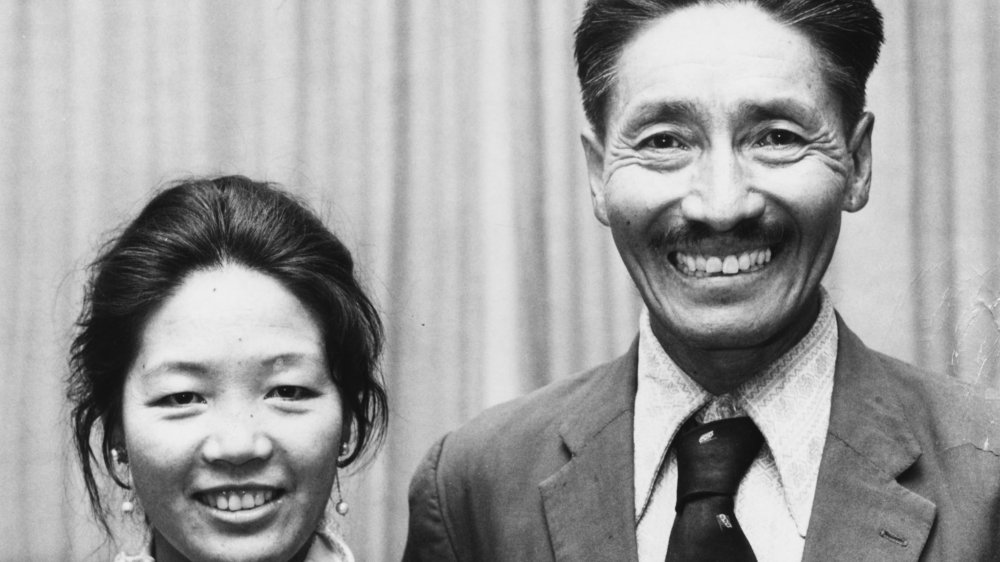 Dennis Oulds/Getty Images
While Tenzing Norgay has been awarded and recognized for his achievements across the world, debates have raged on about whether he was truly given his due. For instance, while Hillary and Hunt were knighted by the Queen of England, Norgay was awarded a medal. Several decades later, his grandson, Tashi Tenzing, spoke up about the issue. "My grandfather did not get the recognition he deserved. He should have been knighted by the British Queen for the achievement along with Hillary and Hunt," he was quoted as saying by The Independent. "It was not fair. If the Queen had knighted my grandfather it would have been a nice gesture. Without him, Hillary would never have reached the summit." 
Additionally, while Norgay always maintained that Hillary had made it to the top with him and that they were a team, Hillary later said that he got there first. Norgay's grandson, who climbed Everest himself in 1997, said, "Once you are on the summit, you don't even realize you have reached the top and it is hard to remember who got there when. They reached the summit together."