The Truth About Whitney Houston And Mariah Carey's Feud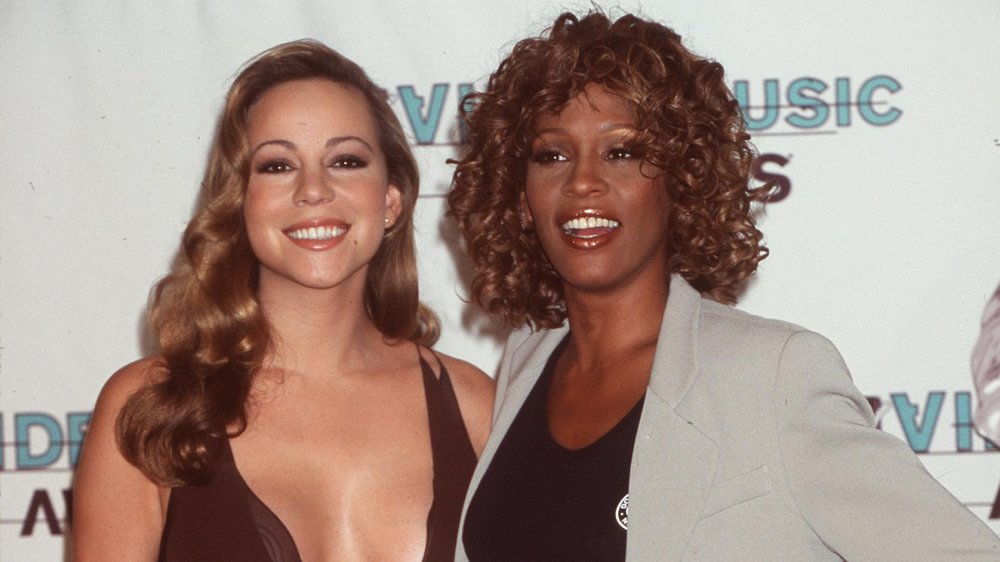 Brenda Chase/Getty Images
They were arguably the two biggest divas in the world. Whitney Houston and Mariah Carey had voices that could bring the lights down. But people still think they didn't like each other. After all, behind the big voices were big personalities.
Houston began singing when she was a teenager, her official website writes. Coming from a long line of successful singers — her mother was part of the vocal group Sweet Inspirations and her cousin is Dionne Warwick — she already had singing credits at a young age. By 1983, Houston was signed to Arista Records and released her debut album in 1985. The album, and her second and third, set sales record earning Houston her first platinum records.
Carey, on the other hand, released her debut single in 1990. As Biography points out, by the time Carey's "Vision of Love" came out, Houston was already a multi-platinum selling artist but naturally, people still compared them to each other. Carey even said in an early interview that "there are a lot worse people I could be compared to."
But the two divas continually shaded each other. Rolling Stone reports the feud was mostly smoke and mirrors until Houston was asked by Jerry Springer what she thinks of Carey. And boy did she speak her truth saying "What do I think of her? I don't think of her." Carey and Houston even battled it out on the charts.
There were miracles when they sang together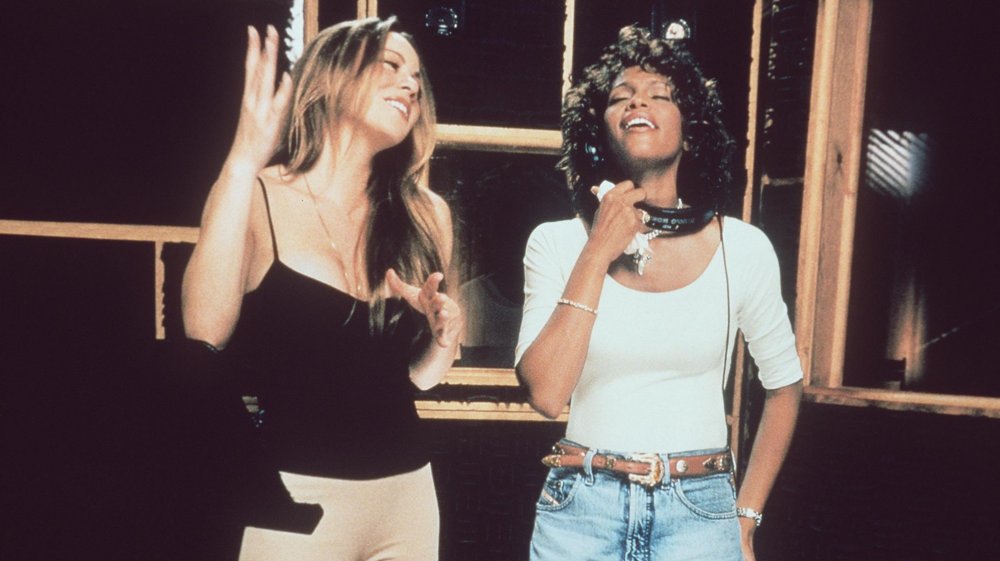 Getty Images/Getty Images
This fascination with the two divas led producers of the movie Prince of Egypt to pair them up. So Houston and Carey recorded the song "When You Believe." Many fans took the song's lyrics to heart — and perhaps as proof, Houston and Carey gushed over each other during the press tour. They both denied there was ever a rivalry between them.
The Grio reports Carey got to know Houston better while recording the duet and they had a great time working together. Later on, Carey complained about the music industry and the press's need to pit women against other, saying something needs to change. After all, that was how the supposed feud began between Houston and Carey.
When Houston died in 2012, Carey attended the service in Houston's hometown of Newark, N.J. In the days that followed, Carey said it was still hard to think of Houston's death. According to Rolling Stone, she said "I don't think people could ever really understand our relationship. There was always this supposed rivalry in the beginning and then we did the duet and became friends ... I loved her."
Carey has had a few feuds over the years, including one with Jennifer Lopez that has just gone on for too long now. But she swears up and down, there was nothing but love between her and Houston. They may be divas with incredibly powerful voices but behind the media whirlwind, they were also friends.