The Mystery Of Alanis Morissette's You Oughta Know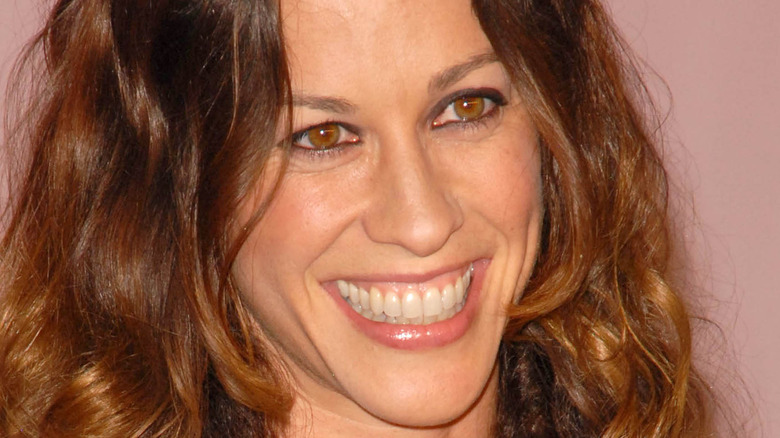 s_bukley/Shutterstock
Kids from the '90s will remember Alanis Morissette's scathing song "You Oughta Know" as a harsh kiss-off to a former flame. The 1995 smash-hit, off Morissette's breakthrough full-length "Jagged Little Pill," peaked at No. 6 on the Billboard Hot 100 after spending 30 weeks on the charts (via Billboard). In the song, Morissette detailed her relationship woes, reminding a mysterious flame of the emotional scars he left behind. Lesson learned: Although sex in a theater may be fun, it won't stop a toxic ex from cheating.
Also in the song, the Canadian singer-songwriter leaves no stones unturned, providing graphic detail about all her ex's faults. She does leave out one identifying detail, though: his name. In a 1998 biography, Alanis says that she'll never tell who the song's real inspiration. And now, more than two decades later, she maintains that stance. That hasn't kept Alanis fans from wondering, though, especially after the song became featured in the "Jagged Little Pill" Broadway musical. Surprising to some: The leading suspect is a star from the TV sitcom "Full House."
The song's Full House connection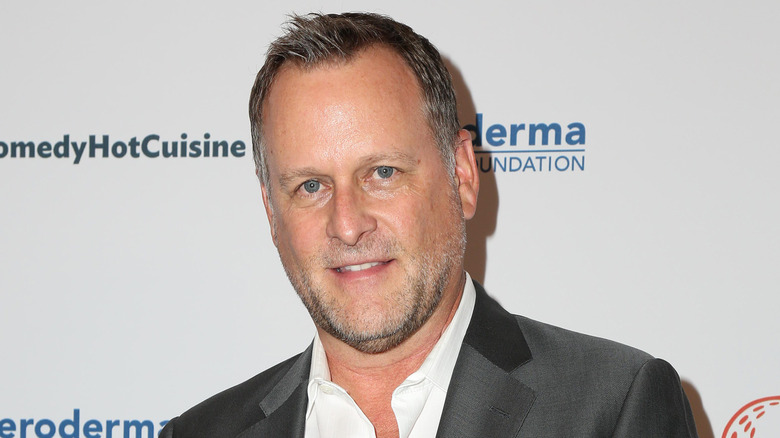 Kathy Hutchins/Shutterstock
For decades, discerning fans have postulated that the mysterious man in the song "You Oughta Know" is none other than Canadian comedian and actor Dave Coulier, "Uncle Joey" from "Full House." Coulier and Morissette dated for a time in the early '90s. And in a 2013 interview with HuffPost, Coulier admitted there were some similarities between his relationship with Morissette and the storyline of the song. In 2014, though, Coulier walked back that statement, telling BuzzFeed he then felt certain the song was about someone else. Coulier went on to tell BuzzFeed, at that point, he didn't give it much thought, and he thinks it's funny that the Coulier-"You Oughta Know"-connection had become urban legend so many years after the couple broke up, and so long after the song was first released. 
Coulier opined that the guy in the song is a real jerk, so when all's said and done, he sure hopes the song isn't really about him. Coulier also said (via Buzzfeed), "I asked Alanis, "I'm getting calls by the media and they want to know who this guy is' ... One time, I was doing a red carpet somewhere and [the press] just wore me down and everybody wanted to know so I said, 'Yeah, all right, I'm the guy. There I said it.' So then it became a snowball effect of, 'Oh! So you are the guy!'"
It's a revenge fantasy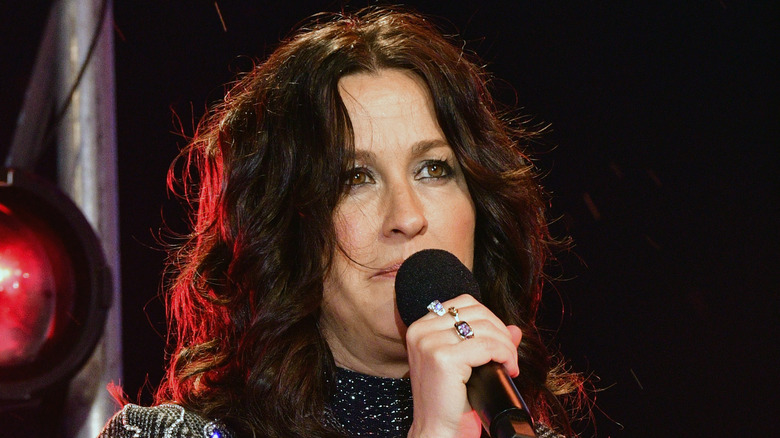 Eugene Gologursky/Getty Images
When pressed by Coulier for the truth, Alanis told the actor that (via BuzzFeed) "it could be a bunch of people," adding, "But you can say whatever you want." In 2020, Morissette further elaborated on the song's true subject matter to Stellar Magazine, describing it as a revenge fantasy that she wrote to help prevent her from acting out on her emotions with negative consequences (via Daily Mail). The star also told Andy Cohen on his show "Watch What Happens Live With Andy Cohen" that same year, she'd grown sick of people asking, and that the song could plausibly be about as many as six people from her past, as E! News explains.
In the interview, Morissette also said (via E! News), "I am intrigued at the thought — or at the fact—that more than one person has taken credit for it. I'm thinking, I don't know if you want to take credit for being the person I wrote 'You Oughta Know' about ... I just think: If you're going to take credit for a song where I'm singing about someone being a douche or an a*****e, you might not want to say, 'Hey! That's me!'" Other possible candidates for Morissette's romantic baddie include New Jersey Devils hockey player Mike Peluso, Matt LeBlanc from the TV show "Friends," or even — and in keeping with the "Full House" theme — the late standup comedian and actor Bob Saget (via Show Biz Cheat Sheet). Who do we know for sure that song is not about? Morissette's husband, Mario "Souleye" Treadway, whom she married in 2010 (via People).