The Real Reason No One Lives In Hampton Court Palace Today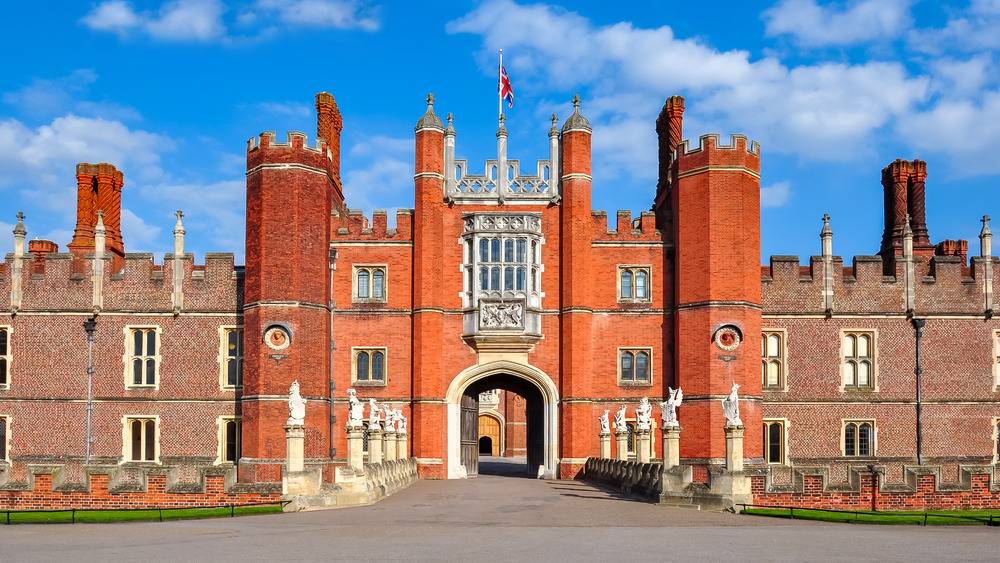 Shutterstock
The Hampton Court Palace outside of London is visited by millions each year, making it one of England's most popular tourist spots, according to its operator, The Historic Royal Palaces.  It offers tours of the grounds and inside Henry VIII's favorite castle, hosts festivals and food markets, and features a famous garden maze. It's been the background of numerous TV shows. With so many tourists tramping about the palace, people would be surprised that residents lived in the castle until as recently as 2005. These days, however, only tourists and staff roam the grounds.
Hampton Court Palace is one of many palaces belonging to Queen Elizabeth II. The Queen owns several properties — often castles, mansions, and cottages — that have been in royal possession for years. She has several organizations that help run these properties, ranging from private residences, current, and former working palaces, to commercial holdings. (Yes, the Queen owns a mall through the company Crown Estates.) Hampton Court, by virtue of it being a property passed to the monarch for ages and a former Royal residence, is managed by The Historic Royal Palaces.
Since the Queen and her family can't occupy all the rooms in all of their houses, some apartments in the palaces were offered as "grace and favor" residences. As a thank-you for loyal service, the British Royal Family lets extended family, staff, former staff, and families of soldiers and diplomats live almost rent-free in these apartments. Grace and favor allow people to live in houses like Kensington Palace.
It had a waiting list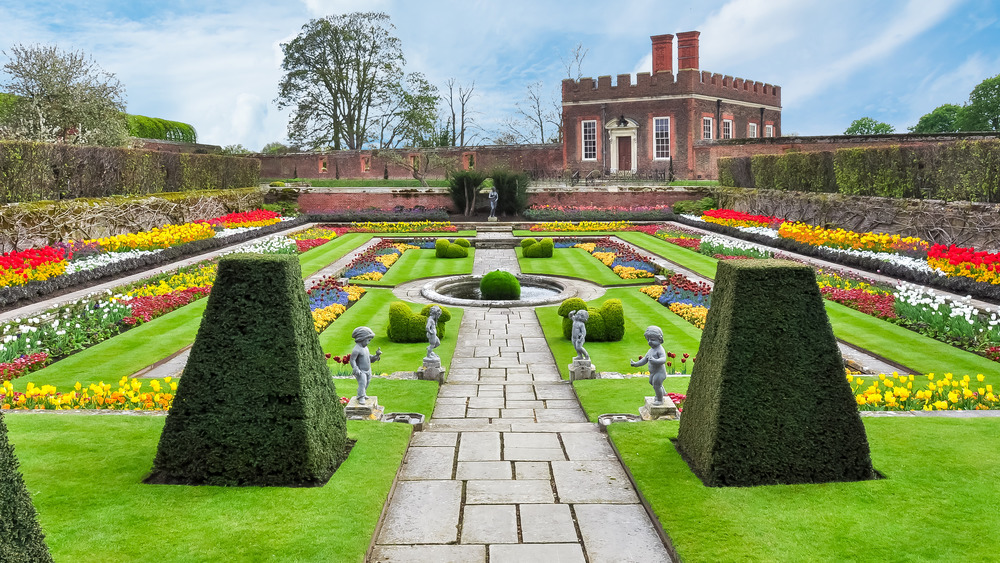 Shutterstock
The practice at Hampton Court began in 1737, writes the Historic Royal Palaces. The palace continued to have grace and favor residents at least until 2005, reports The Guardian. By then, only three residents remained, and many of them were elderly, having inherited the apartments from their families.
At its height, grace and favor residences at Hampton Court was so popular that there used to be a waiting list of 20 years for the 70 apartments it offered. Many of the people given grace and favor housing, however, declined. Since there were few residents left, grace and favor apartments at the Hampton Court Palace were discontinued by 2017. Nor does any member of the royal family live in the palace. The last monarch to live there was George III, who reportedly hated Hampton Court and declared that he would never live there.
These days, Hampton Court is mostly used as a museum, albeit a more lively one. Reenactors are roaming about, dressed as members of Henry VIII's court. There are live demonstrations of hawking and tours of the old zoo on the grounds. People can wander around its various gardens, observe a Tudor kitchen, and tour rooms. It's open to the public — of course, observing pandemic rules.
Hampton Court Palace may not be home to anyone anymore, but its previous residents did make it interesting. Michael Faraday, the inventor of the Faraday cage, which blocks electromagnetic fields, lived at the Palace in the 19th century.
It had no heating and heavy security but it felt like a community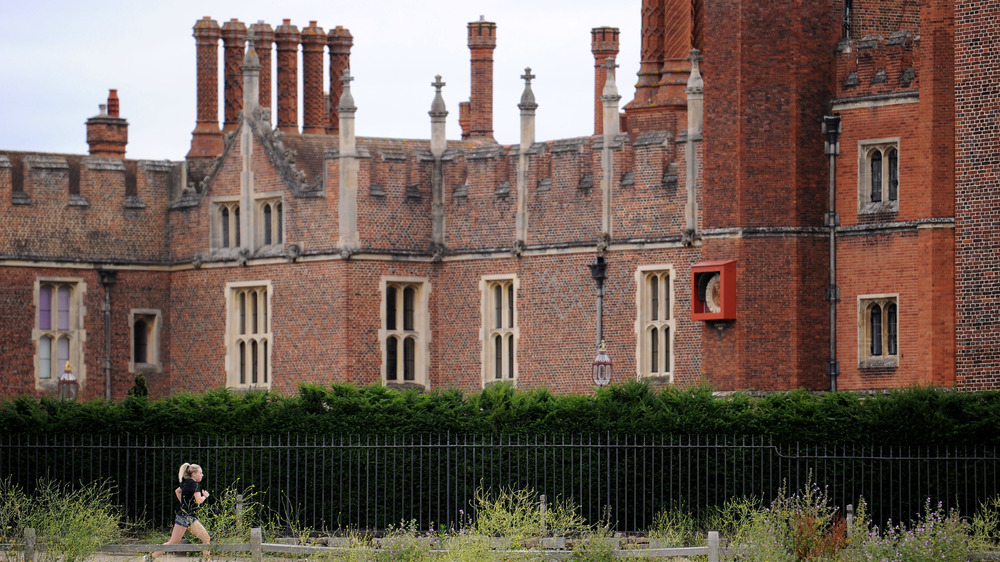 Alex Burstow/Getty Images
Lest you think the people living in the palace lived as we do, many of the grace and favor residents brought servants with them. (These are not the apartments most of us are used to.)
One resident tragically left their mark in the Palace. According to a 1986 report by the Los Angeles Times, a fire broke out in one of the apartments, killing Lady Daphne Grey, widow of General Sir Richard Gale, an official with NATO. The fire destroyed much of that wing of the palace and some artwork. Restoration work began in 1990 and ended soon after.
Living in the palace, some residents said, was like living in a typical apartment block, albeit one where the units were former royal bedrooms and barely had any heating. Lucy Worsley, a TV host, historian, and former chief curator of the Historic Royal Palaces, lived in Hampton Court from 2003 to 2004. In her blog, she writes living there felt like she was in a village because so many people worked in the palace and came and went every day. People Magazine said residents were welcoming to newcomers, and despite the heavy security, it was "quite lovely."
The Daily Mail toured the apartments and noted the Historic Royal Palaces expressed a desire to open the flats to the public to illustrate what it was like to be a grace and favor resident. It might've been nice to live in a palace, but at least in your apartment, there are no tourists.