You Wouldn't Want To Meet As I Lay Dying's Tim Lambesis In Real Life. Here's Why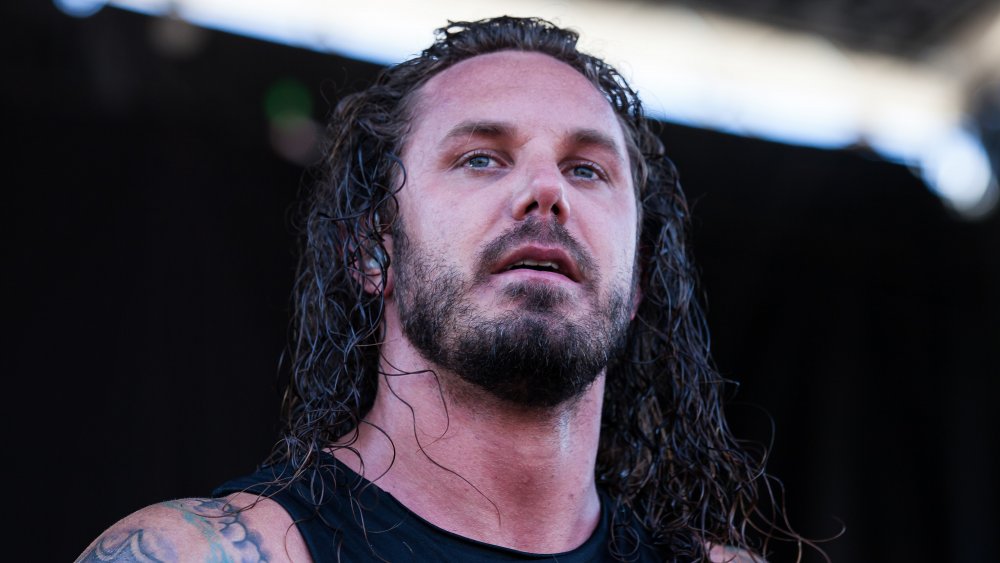 Chelsea Lauren/Getty Images
As I Lay Dying are one of the rarefied few metal bands that have managed to consistently register on the Billboard charts. Known for such hits as "An Ocean Between Us", "My Own Grave" and "The Sound of Truth", they deliver powerful, clean metalcore jams bolstered by some of the more proficient vocals in the genre, courtesy of Tim Lambesis.
Lambesis is a popular and controversial musician in his own right. Some might even call him a "one hit wonder." Literally. Because on May 7, 2013, fans were left wondering what hit them after news broke that he was involved in a murder-for-hire plot to kill his then-wife, Meggan, per Rolling Stone.
The price tag? A cool $20,000. The angel of death? A burly undercover detective for the San Diego Police Department who went by "Red." Clearly something had gone horribly wrong. Why would the face of one of modern metal's most successful acts want the mother of his three adopted children dead?
The sacrificial Lambesis
As Loudwire details, Lambesis, an avid bodybuilder, became acquainted with an employee of Pure Fitness in Carlsbad, CA named Brett. Details on Brett are murky, but lawyers pointed to Brett as a potential source of steroids and other drugs for gym members — a key part of Lambesis' defense, according to Rolling Stone. "His thought processes were devastatingly affected by his steroid use," Lambesis' defense lawyer Thomas Warwick said in a statement.
Steroids or not, people generally don't up and try to have someone offed. Per Rolling Stone, Lambesis' eight-year marriage with wife Meggan reached a breaking point when he "revealed he no longer loved her and admitted that he no longer believed in God. Meggan later learned that her husband had also had multiple affairs throughout their marriage and also had a girlfriend at the time."
After filing for divorce in September 2012, citing irreconcilable differences, she noted her husband's "recent preoccupation with bodybuilding" and "expressed concern regarding his ability to care for their three adopted children from Ethiopia."
It was under these circumstances that Lambesis arranged a meeting with Brett, conveying that "he was not happy and he wanted to make sure that the kids had one healthy relationship instead of two bad ones."
Thankfully, Brett didn't have a hitman's heart, and after attempting to dissuade the singer, began setting him up with Red, the undercover detective. On May 7, Red contacted Lambesis, fresh off a tour, who arranged a meeting at a Barnes & Noble bookstore. Perhaps he thought it would help him get a read on Red. Little did Lambesis know he was about to have the book thrown at him.
As I pay for your dying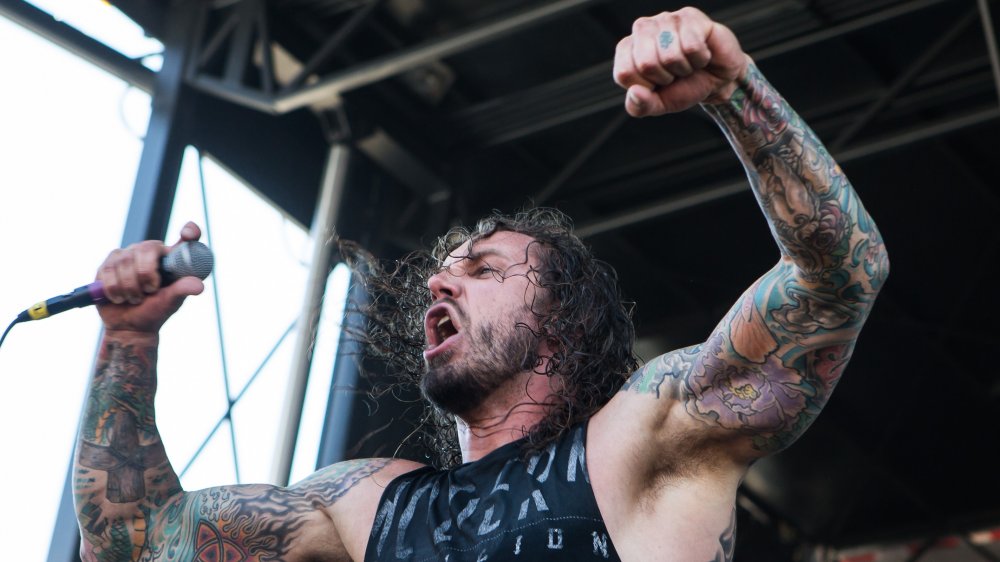 Chelsea Lauren/Getty Images
Lambesis was asked to bring photographs of the mark, and a $1000 down payment, which he did. What he would not do, initially, is use the words "kill" or "dead" in his recorded conversation with the detective, which were essential for an arrest. Instead he opted for a wistfully poetic "I want her gone. I want her never ever, ever to come back."
But as Lambesis began walking away, he thought twice. Red stated: "So, as he was leaving, we got about fifteen or twenty feet away from each other and he turned back to me and he goes, "Just to clarify, just so you know, I do want her dead.'"
Having said enough to warrant an arrest, Lambesis would ultimately face a maximum sentence of nine years in prison and $10,000 fine, per Rolling Stone. He would be sentenced to six years, and serve just under three before his release in December of 2017.
Fast forward one year and infinite message board debates later, and Lambesis was reunited with his band, with a more metal-than-ever air around him. Shortly after their first gig back together, the group shared a Youtube video addressing their decision to continue, along with Lambesis' arrest and conviction, during which he stated: "I don't defend what I did, because there's no defense for it. I'm not gonna try to defend what I did, because it's ridiculous. All I can do is make amends where possible, express my remorse and just put my energy into something positive."
So the question is — can you separate the art from the artist?