Eddie Van Halen's Son Is Worth A Lot More Than You Think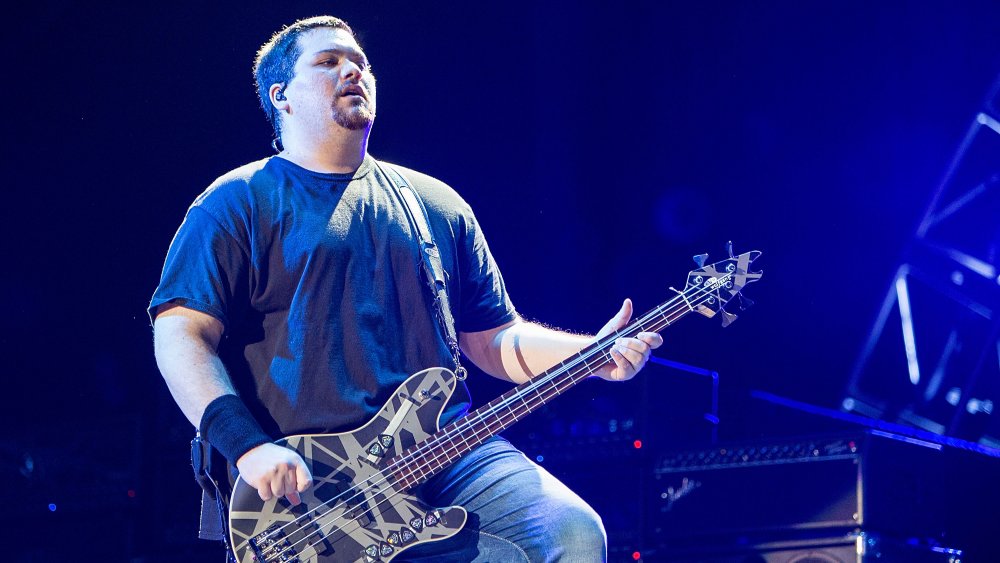 Daniel Knighton/Getty Images
While you would probably expect the son of Eddie Van Halen to be worth something, you might be surprised by the news that according to Celebrity Net Worth, the twenty-nine-year-old Wolfgang Van Halen is worth $10 million. This is in part because, again, he is Eddie Van Halen's son. However, the fact that he joined Van Halen in 2006 — when he was 15 — and recorded their latest album surely helps as well.
That's right. On December 12, 2006, musicradar announced that Wolfgang Van Halen had joined his dad's band: "He's only been playing bass for three months, but it's spooky. He's locked tight and puts an incredible spin on our s***. The kid is kicking my ass!" Since then, Wolfgang Van Halen has also backed Clint Lowrey on his debut solo album and served as the bassist for the metal band Tremonti for a few years. Now he is currently recording his own debut album, a clipped preview can be seen on his Twitter. So, in fairness, Wolfgang Van Halen has worked to earn his worth, instead of contenting himself with simply being born. 
Didn't Van Halen have a bassist already?
Scott Legato/Getty Images
The news that Wolfgang Van Halen was joining Van Halen came as a shock to everybody, including Michael Anthony, Van Halen's bassist of thirty years. "Probably like everybody else," Michael Anthony said when Rolling Stone asked how he found out about his departure, "I found out on the Internet and through word of mouth."
From what people could tell, the sudden change was due to Eddie Van Halen's disapproval of how Sam Haggar and Michael Anthony would capitalize on their connection to Van Halen. In interview with Howard Stern, highlights of which only seem to be found on Blabbermouth, Eddie Van Halen goes off on the two: "Michael Sobolewski [Michael Anthony's real last name] is out touring with 'the little red rocker' ... I mean the little red worm. I got no problem with these guys, but they're billing themselves as the other half of Van Halen. My brother is the other half of VAN HALEN. They're out there selling hot sauce and tequila and playing all my songs. It doesn't bother me. It just makes them a cover band." Right... It clearly does not bother him. 
Michael Anthony later told New York Magazine that the hot sauce seemed to be the cause of the rift. Though why isn't clear at all considering  Michael Anthony definitely put in the years to ride "the Van Halen brand." Props to Michael Anthony though for not blaming Wolfgang Van Halen.