What The Final Months Of Napoleon's Life Were Like
Print Collector/Getty Images
"How do you solve a problem like Maria?" sang the nuns in The Sound of Music. (Easy: They married her off.) The governing heads of Europe might have been asking themselves the same question in regard to the recently abdicated (again) Emperor of France, Napoleon Bonaparte — Napoleon I, in 1814.
Napoleon, a native of Corsica, had come very close to conquering the entirety of Europe. His Waterloo hadn't occurred quite yet (we'll get to that in a moment) but his disastrous attempt to invade Russia certainly had. After a series of defeats, Napoleon abdicated his throne and was exiled to Elba, an island off the west coast of Italy. (Besides being a place to keep a former emperor on ice, it gave rise to one of the best-remembered palindromes: "Able was I ere I saw Elba.")
Napoleon didn't get where he got by giving up. After 11 months of exile he returned to France, where he reclaimed his throne and raised an army. And then came, yes, his Waterloo, according to History — another stunning defeat, this time by English and Prussian forces fighting against Napoleon in Belgium. He again abdicated and was again sent into exile — but this time to the Island of St. Helena, way far away from Europe — some 1,200 miles off the west coast of Africa, as Historic UK reports. He had an entourage of about 30 with him, says Dartmouth Medical School, under the governance of the English.
Napoleon was twice exiled to islands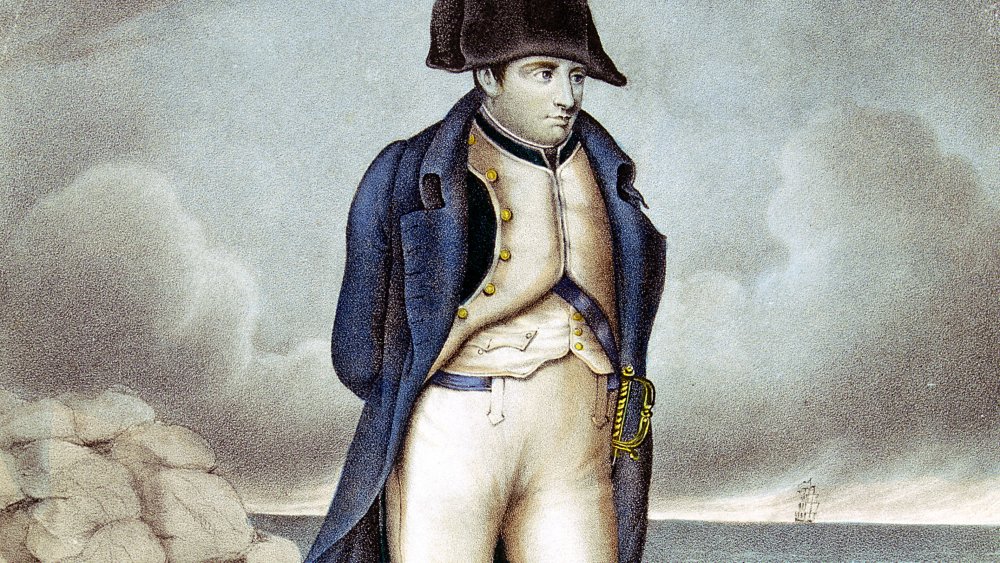 Print Collector/Getty Images
He bickered with those in charge, in part because the English governor refused to refer to Napoleon as "Emperor." "In a few years the whole pack of you will be buried in the dust of oblivion," Napoleon told them. "But the Emperor Napoleon will continue to be forever the subject, the ornament of history."
It didn't help that his accommodations were less than five-star. The Comte de Las Cases was among those accompanying Napoleon to his final residence. He described Bonaparte's dwelling as "a wretched hovel," says Eyewitness to History. The Comte quotes Napoleon this way: "This is the anguish of death. To injustice and violence they now add insult and protracted torment. If I were so hateful to them, why did they not get rid of me? A few musket balls in my heart or my head would have done the business, and there would at least have been some energy in the crime." Why didn't they just shoot me and get it over with?
St. Helena — "a barren, windswept rock," as Eyewitness describes it — was Napoleon's home from October 15, 1815, until his death on May 5, 1821. He wasn't imprisoned, strictly speaking, but St. Helena was no Eden, either. He tried to fill his time with writing — he dictated his memoirs, and worked on a biography of Julius Caesar, says History Daily — but within two years his health began to decline.
Napoleon's health declined slowly and painfully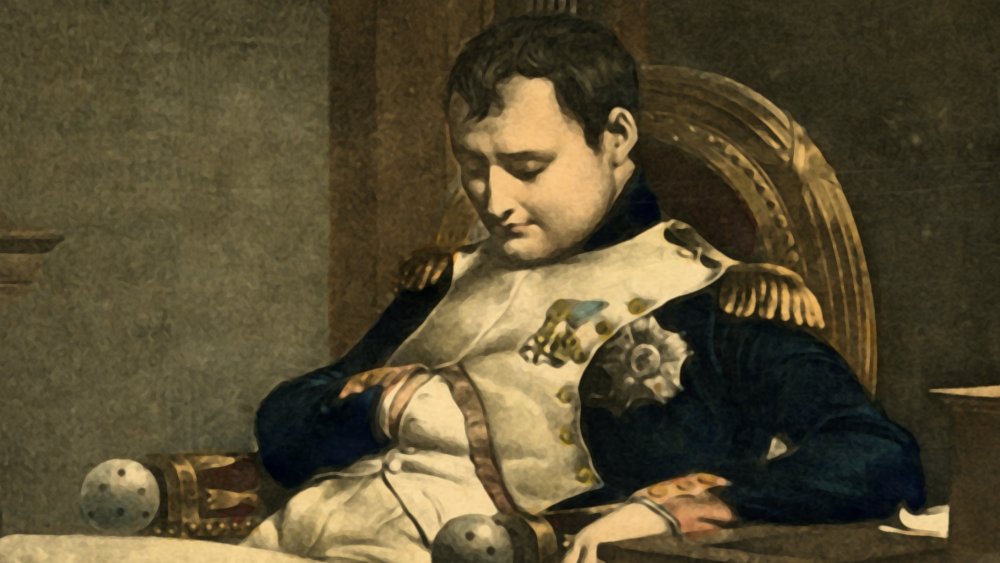 Print Collector/Getty Images
He became lethargic, complained of insomnia, suffered from alternating constipation and diarrhea. Napoleon, now in his late 40s, had assorted aches and pains. His liver was tender; his legs were swollen; he had abdominal discomfort. There were brief periods of recovery over the next few years, but they were indeed brief.
All of that brought some scholars to the conclusion that Napoleon was slowly being poisoned, perhaps through his wine or his food, reported National Geographic in 2007. Examination of his hair after his death revealed high levels of arsenic, but that wasn't necessarily unusual — arsenic was commonly found in a number of household items in those days.
An international team worked to decipher exactly what caused Bonaparte's death at the age of 51. After examining the reports by the former emperor's medical team, eyewitness accounts, and Bonaparte family history, the researchers concluded that Napoleon I probably succumbed to a lengthy bout with gastric cancer. Robert Genta, a pathology and internal medicine professor at the University of Texas, is quoted by National Geographic: "It was a huge mass from the entrance of his stomach to the exit. Size alone suggests the lesion was cancer." There's some evidence that gastric cancer ran in his family, possibly taking his father and one of his sisters. And sometimes, fate is fate. Said Professor Genta, "Even if treated today, he'd have been dead within a year."