The Tragic Death Of Kimbo Slice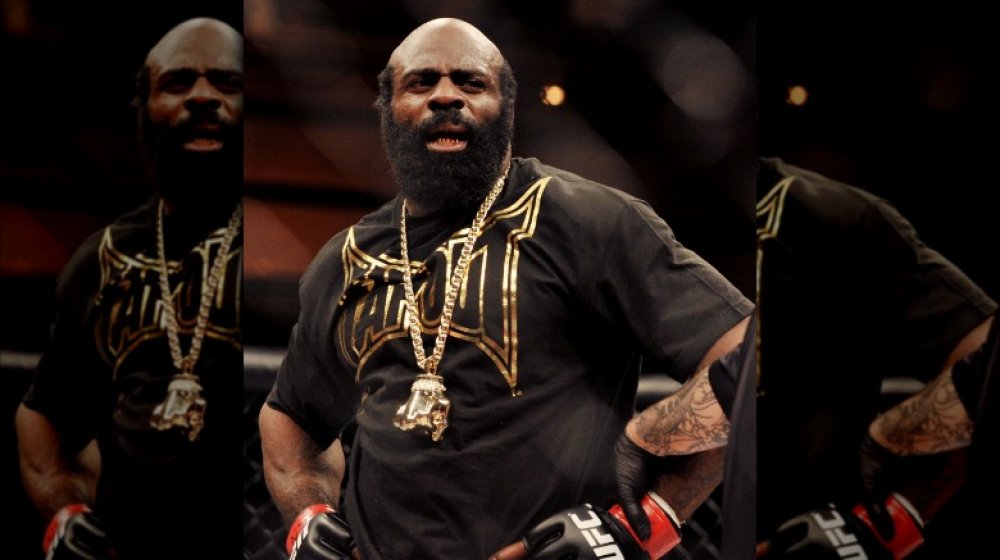 Jon P. Kopaloff/Getty Images
The name Kimbo Slice became synonymous with "I wouldn't want to get hit by that guy" back in the early 2000s. He rose to stardom as a YouTube sensation during a time when mixed martial arts and knockout videos had become the next big thing. His videos often showed Slice in bare-knuckle brawls with other competitors and, let's face it, the guy knocked people out HARD. It was his main appeal. He hit like he was holding bricks.
The internet fame wouldn't last — the web is too fickle — but Kimbo Slice wasn't down for the count. In 2008, Slice transitioned from backyard brawls to the professional fighting world of MMA. Slice found himself fighting in the top tier from the start of his professional career, gracing the UFC cage and the Bellator ring. It wasn't just his hard punches and fierce demeanor that drew in fans though. Slice had charisma and, according to Bellator president Scott Coker, Slice was a "gentle giant" with a "larger-than-life personality." Unfortunately for Slice's family, friends, and fans, he passed away on June 6, 2016, per the Independent.
Waiting on a heart transplant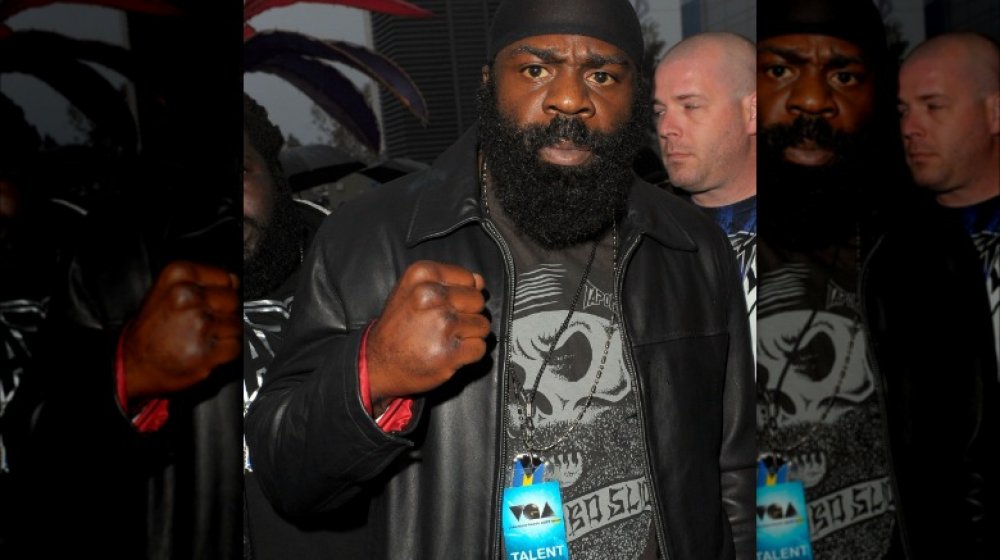 Jason Merritt/term/Getty Images
Seemingly out of nowhere, Kimbo Slice, whose real name is Kevin Ferguson, went from being an athlete at the top of his profession to a mere mortal in a hospital bed. Slice found himself in the Northwest Medical Center located in Margate, Florida, on the Friday before his death with complaints of severe pain in his abdomen, difficulty breathing, and nausea. No one would have thought the 42-year-old professional fighter was on his way out within the week.
Medical experts discovered that Slice was suffering from congestive heart failure, a potentially deadly condition, according to the Independent. Slice was brought to intensive care where he was put on a ventilator. For such a large and powerful man, his weakened state came as a shock to the world. Things quickly went from bad to worse. Slice's condition declined, and If he were going to survive, he'd need a new heart. Waiting for a heart transplant is a terrifying gamble. You have no clue when one will be available or if you'll make it long enough to receive the transplant in the first place. Kimbo Slice, unfortunately, didn't have the time to wait. He died while the medical staff was preparing him for a transfer to a facility where he'd be placed on the organ donor list, leaving behind six children and millions of fans.