This Is Why The Mob Went After Steven Seagal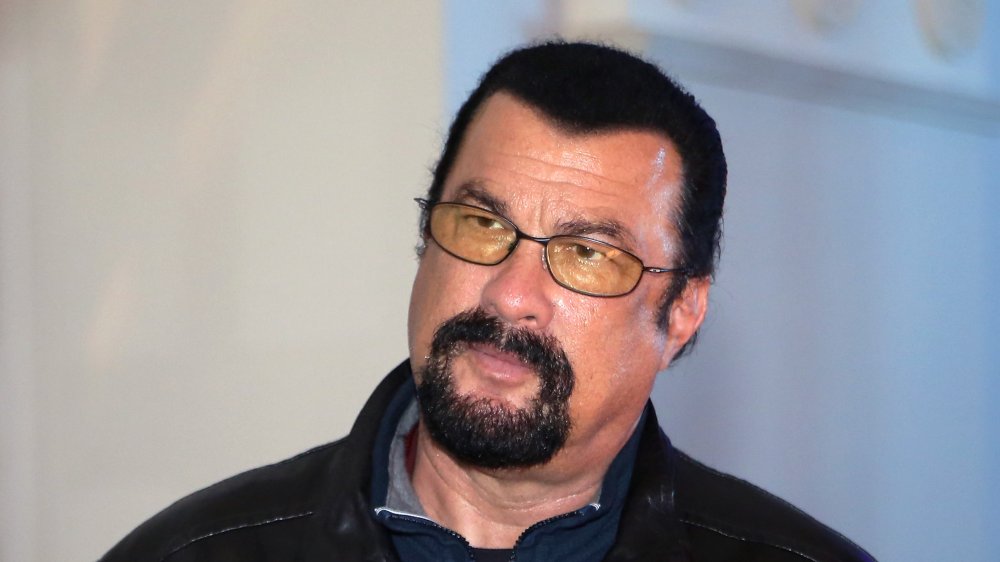 Kristina Nikishina/Getty Images
Steven Seagal has faced a great many challenges on his lifelong quest to become the biggest Steven Seagal to ever Steven Seagal, and quite a few of them have been of his own making. He has been a historically awful Saturday Night Live host. He has made horrible movies. After making a flippant challenge, he was once (allegedly) choked out by martial arts master Gene LeBell so hard that he soiled himself. Sylvester Stallone has recounted a story about Seagal talking smack about Jean-Claude Van Damme, and subsequently fleeing the scene when the furious Muscles from Brussels challenged him in a fight. Oh, and multiple women have alleged that he has a habit of being ... less than tactful with the ladies, which has caused more than one famous actress to outright flee their auditions with him.
However, Seagal once faced a force that was far more dangerous and criminal than he ever was: the Mafia. Today, we'll take a look at the time the mob went after Steven Seagal.
A connected producer set the mob loose on Seagal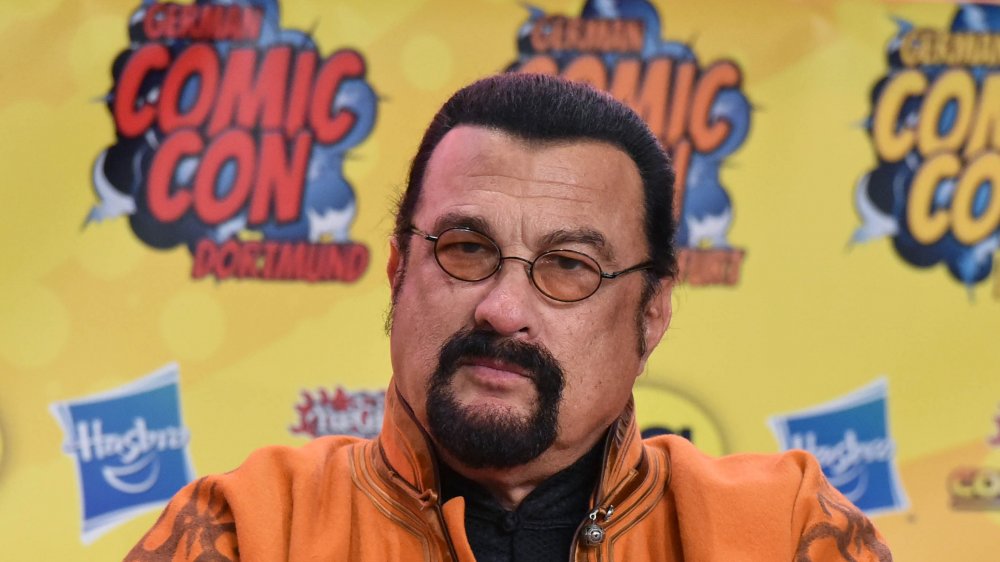 Tristar Media/Getty Images
As CBS News and Ralph Blumenthal of the New York Times tell us, a legal case between Seagal and his producer, Julius R. Nasso, revealed that the bad blood between the two had led to the producer sending the Gambino family to shake down the actor, old school style. As Staten Island Advance notes, Nasso and Seagal had been on perfectly fine terms for 15 successful years, but the relationship turned sour at the turn of the millennium, with the actor allegedly owing around $500,000 to Nasso. 
Things came to a head when mafia types ordered Seagal to step into a car, and drove him to a Brooklyn restaurant, where an alleged Gambino captain called Anthony Ciccone had a little talk with him, ordering the movie star to resume his working relationship with Nasso — and to pay a cool $150,000 for every film he'd made with the producer. The aikido star says that after Nasso and the mob paid him another visit in his L.A. home, he ended up paying $700,000.
If you wonder why Seagal didn't simply glare at his tormentors and throw the entire concept of organized crime through a window like he does in his movies ... well, these guys weren't acting. In fact, Seagal claims that after he left the restaurant meeting, one of Ciccone's men told him: "If you would have said the wrong thing, they would have killed you."
The mob had a blast scaring Seagal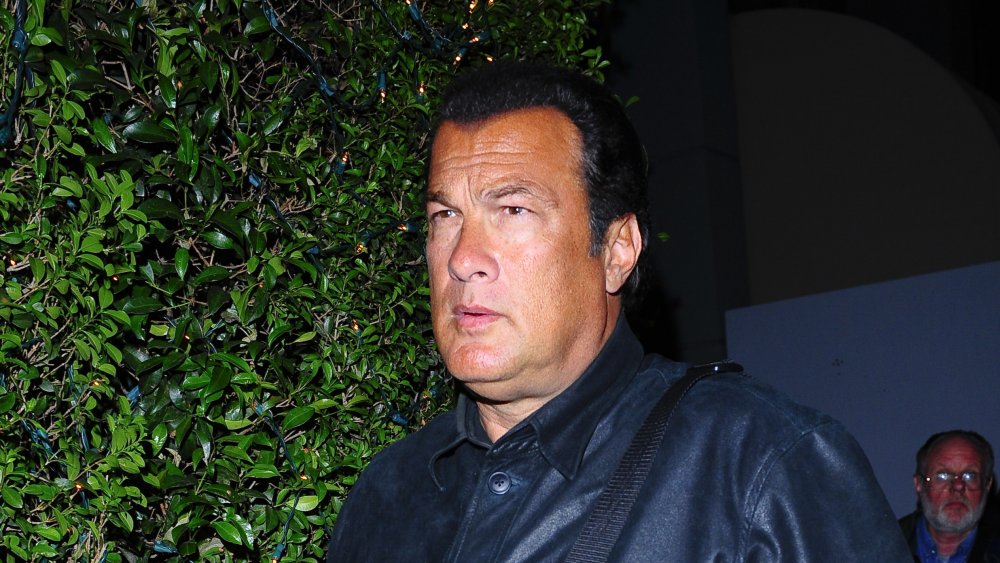 Ray Tamarra/Getty Images
Steven Seagal knew that Anthony Ciccone and his men meant business, and told as much to the authorities when he was called to witness in a 2003 racketeering trial of several notable gangsters. Seagal was called in precisely because of his history with Ciccone, and his testimonial revealed the gravity of the situation. "Look at me when I talk to you," Seagal revealed Ciccone had told him. "We're proud people. ... Work with Jules [presumably, Julius Nasso] and we'll split the pie." Seagal also stated that he hadn't contacted the authorities in his struggle with the mob. "I'm a movie star," he said. "If you want to keep making movies, you don't want to start a war with these people." He also revealed that he had carried a gun during his meetings with the mob.  
All of this makes it seem like Seagal was keeping his cool and handling things pretty well, but some audio footage from a wiretapped restaurant in Brooklyn reveals that the Mafia had a significantly different view on how things went. According to prosecutors, the suspects could be heard laughing about their meeting with Seagal, and how "petrified" the actor had looked. Ouch.
Steven Seagal and his producer fought in court for many years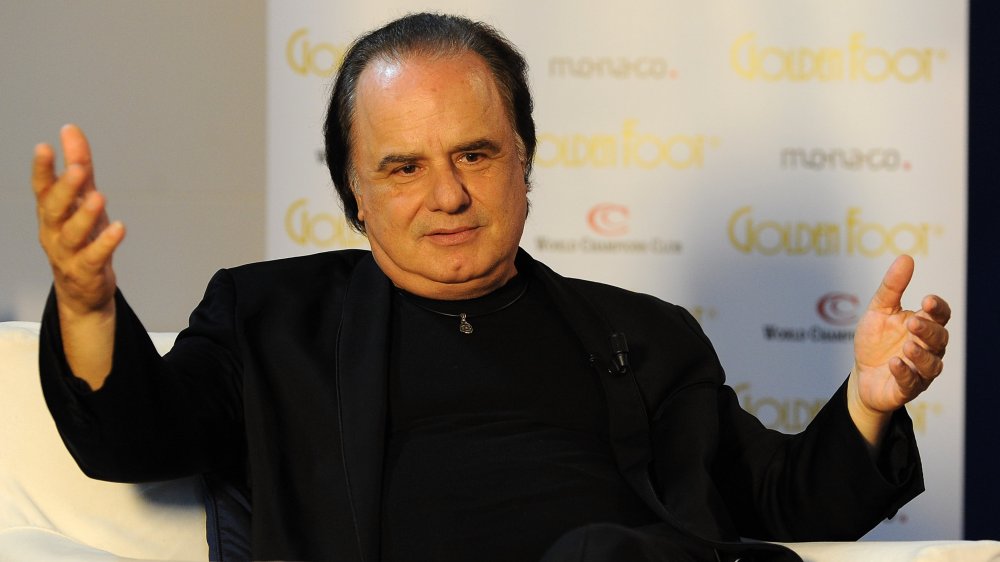 Valerio Pennicino/Getty Images
The time the mob went after Steven Seagal was actually just one short part of the actor's copious misadventures with Julius R. Nasso. In 2002, as Chuck Philips of the Los Angeles Times tells us, Nasso slapped Seagal with a whopping $60-million lawsuit, alleging that the actor had walked back on an agreement to work together on four more movies. In 2003, the producer was arrested and pled guilty on charges of conspiring to extort the martial arts star, and received a one-year prison sentence. However, their legal battle raged on until 2008, when they ultimately settled out of court. 
Neither Seagal nor Nasso commented on the size of the settlement sum, though Philips reports that Seagal had to pay roughly $500,000 to his former producer. While this may seem peanuts compared to $60 million, Staten Island Live notes that Nasso was quite happy with the situation. "I got a lot more than I expected," he commented, "I am very pleased." Nasso has said that he also acquired something more precious than money:  A letter from Seagal to the Office of the Pardon Attorney, which read: "I am writing this letter to indicate that I have no objection to and would support the application (when it is timely) of Julius R. Nasso for a Presidential pardon." In time, that letter could clear his criminal record.