The Ridiculously True Story Of The Nazi Rally At Madison Square Garden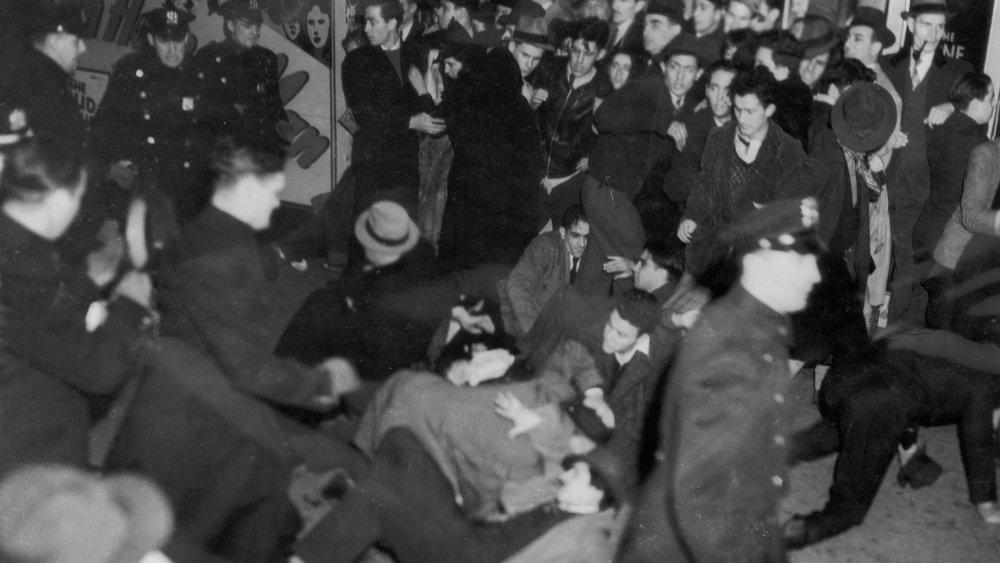 Fox Photos/Getty Images
"We, with American ideals, demand that our government shall be returned to the American people who founded it!" This may sound like some of the toxic rhetoric currently dominating politics today, but those words were spoken February 20, 1939 by Fritz Kuhn, head of the German American Bund – i.e. American Nazis, on film posted by The Atlantic.
Kuhn's speech was a hit with the 22,000 American Nazis in attendance at New York's Madison Square Garden, all of whom had no obvious qualms with the swastikas flanking the two-story-tall image of George Washington behind the stage. That's right. Tens of thousands of Americans reciting the Pledge of Allegiance, cheering the performance of the Star-Spangled Banner, and raising their right hands together in the Nazi salute, in still photos also posted by The Atlantic. The magazine published the hair-raising footage of the rally in 2017, noting that "at the same time, in Europe, Hitler was finishing construction of his sixth concentration camp." The Nazis invaded Poland seven months later.
By mixing these patriotic symbols and their support for overtly racist and xenophobic ideals — the speeches were loaded with antisemitic vitriol –  those 22,000 Americans ironically pledged their support for what would end up being both sides of the same war. According to the National WW2 Museum, over 400,000 American military personnel died in that war.
How did they hold a Nazi rally in New York City?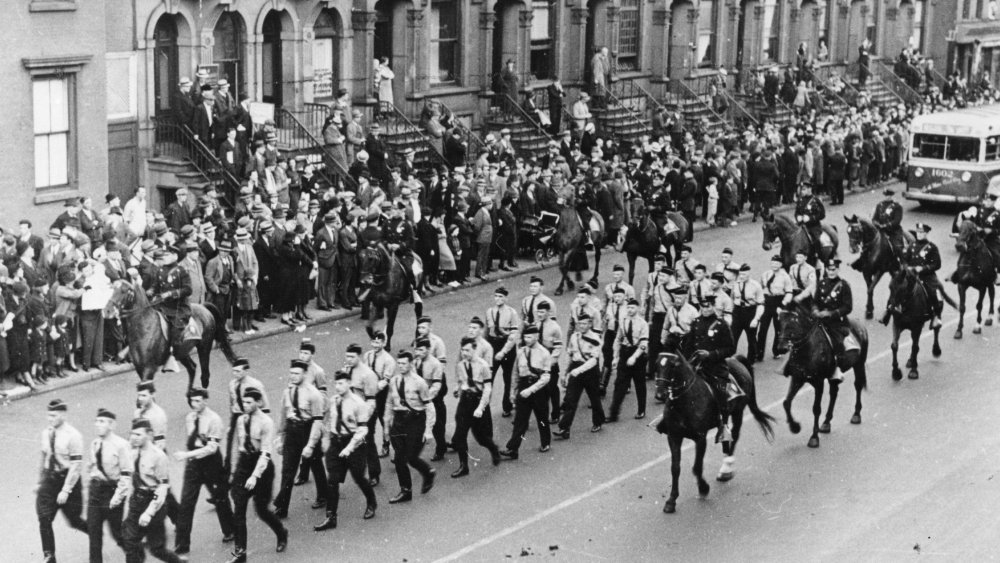 Three Lions/Getty Images
The New York Times reported that a "record [police] detail of 1,700" had separated the Nazis from the crowd of as many as 100,000 people who had come to protest the shameful presence of Nazis in the United States of America. "It was such an outpouring of policemen as the city never had witnessed before for a similar event," said The Times.
"We have enough police here to stop a revolution," joked the city's Police Commissioner. Some believed that the police were on the Nazis' side. It wasn't just hinted with un-American bravado; it was backed up by physical violence. There were "scuffles" with police outside the arena and one protester who rushed the stage during Kuhn's speech was pounced on by dozens of officers and beaten roughly, to the cheers of thousands. A small boy on the stage can even be seen in the footage hopping up and down with excitement as the officers assault the man.
The story of the 1939 Nazi rally at Madison Square Garden should serve as a warning for today, for, as was the case with this event, these beliefs can lead to people hailing support for their very own worst enemies. We can learn from this chapter in history. We don't have to add to the already terrible aftermath of mankind's bloodiest conflict.