The Truth About The Rivalry Between Bob Ross And Bill Alexander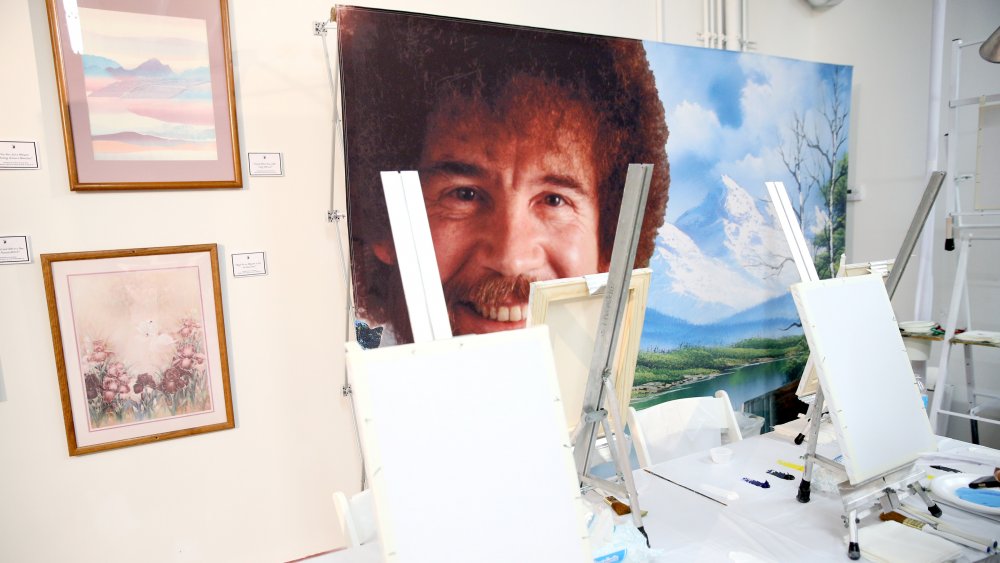 Robin Marchant/Getty Images
Bob Ross was plainly uncomfortable. He had just finished raving to The New York Times for an 1991 profile about the class that had directed the rest of his career: "I took one class and I went crazy. I knew this was what I wanted to do." But when asked for the identity of his mentor, Ross demurred: "Now he is our major competitor."
This hesitation did not stop Alessandra Stanley, the article's author, from immediately following up with a paragraph naming his mentor, the East Prussian (whom Stanley incorrectly describes as Bavarian) painter Bill Alexander. Alexander's quotation drips bitterly: "He betrayed me. I invented 'wet on wet.' I trained him and he is copying me — what bothers me is not just that he betrayed me, but that he thinks he can do it better."
Strictly speaking, Bill Alexander didn't invent "wet-on-wet," an oil painting technique described by My Modern Met – essentially, adding paint to the canvas before previous layers of paint have dried completely, an artistic device used by other painters for centuries. As Artsy reports, Alexander perfected the technique and invented a series of shortcuts that enabled him to paint at an unheard-of pace. The real sticking point might have been the fact that Ross's The Joy of Painting used the exact same script Alexander used for his program, The Magic of Oil Painting, a decade earlier, while being immeasurably more successful. 
A relaxed joy outdoes excited magic
The premise of using a television show to wax poetically about wet-on-wet painting wasn't all Ross nicked from Alexander. In "Bob Ross, Bill Alexander — Beyond the Pale" on the Painters Online website, Robert Philip Jones points out that some of Ross's catchphrases — "happy little trees," "the almighty knife" — were originally Alexander expressions, though he does grant that one — "we don't make mistakes; we just have happy accidents" — could be a purely Ross creation. 
Yet, despite all this, it's Ross who has the cultish status. Why? Jones and Stanley (and many others) point to Ross's voice. Jones states that Ross's only serious contribution to the show's format was "[his] soft, hypnotic voice ... whether his art tuition was much good or not hardly mattered: Ross was the very best promoter of relaxation and sleep on US television at the time, and he still is on YouTube, 20 years after his untimely death." People would even watch his program not to learn how to do quick, passable paintings, but to zone out in blissful relaxation. Alexander's more energetic euphoria couldn't compete. Even though Ross may or may not have regurgitated Alexander's teachings, he still figure-headed a multi-million dollar industry by virtue of being Bob Ross. When faced with this, who'd blame Bill Alexander for being a bit bitter?