Here's How Rick James Accidentally Set Himself On Fire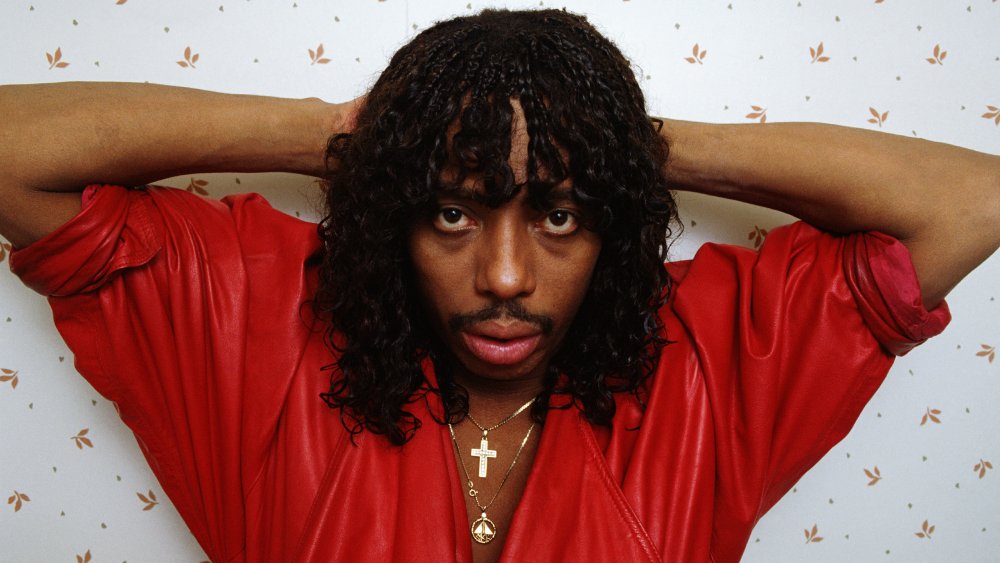 George Rose/Getty Images
Funk legend Rick James once said, "cocaine is a hell of a drug," and you can believe he had the wild stories to back up such a sagacious claim. According to the L.A. Times, the "Super Freak" singer had at least nine illicit drugs in his system at the time of his death by a heart attack on August 6th 2004. The coroner said that the meth, coke, and pharmacy full of prescription pills that showed up on his toxicology report "possibly" contributed to the heart failure.
James' behavior grew ever more erratic along with the addictions that most likely led to his death at just 56 years old. He spent time in the L.A. County Jail for allegedly imprisoning and torturing a 24-year-old woman. He also once punched and stole a beer from Alfonso Ribeiro (Carlton from Fresh Prince), according to Mike Tyson. So it shouldn't really be a surprise to hear that Rick James once accidentally set himself on fire while smoking crack.
M.C. Hammer warned Rick James about the dangers of drugs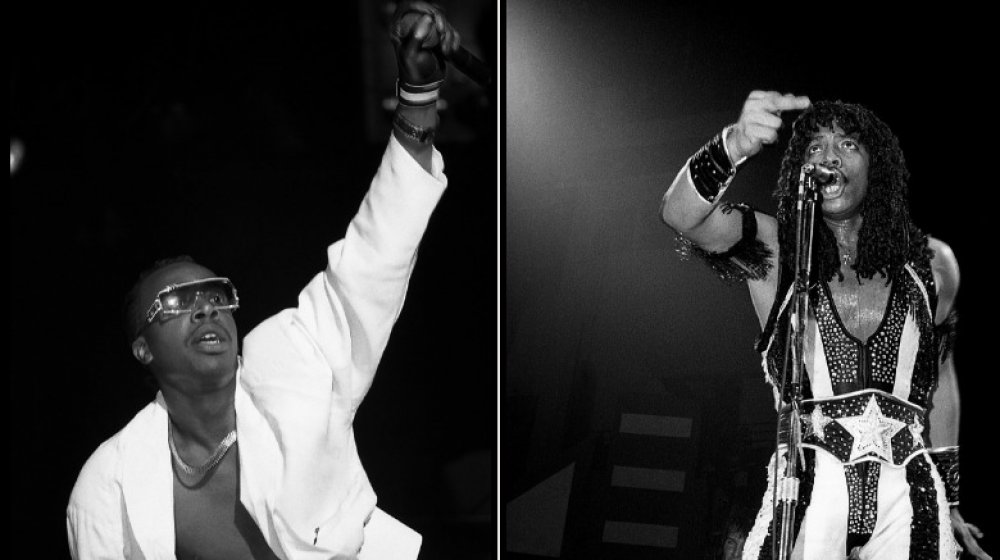 Raymond Boyd, Raymond Boyd/Getty Images
According to The Buffalo News, Rick James visited rapper M.C. Hammer at a concert in 1990. The two had recently settled a feud over the rapper's sampling of James' smash hit "Super Freak" for his own smash hit, 1990's "U Can't Touch This." The two smile in a photo together, but Hammer also got serious and warned James: "We all know where dope leads us—death. Or jail."
Rick got another warning not long after, when he was jonesing for some coke and couldn't wait for the dealer to arrive. When the stash began to run dry, he would use rubbing alcohol to scrub out the residue from his crack pipes and smoke it again to get a buzz. He poured the alcohol and crack out onto a plate, lit it on fire, and walked to his bedroom. But he dropped it on the way and his robe caught fire. Friend and fellow crack fiend Rayce Newman smothered him with a bedspread to extinguish the flames. "He got up, still smoldering, picked up the plate as if nothing had happened and took it to his room," said Newman.
Still, Rick refused to heed the warning signs of his addictions that led to a crazy life story full of both comedy and tragedy, and one that left behind a super funky legacy for future generations.