The Disturbing Details Of Rebecca Schaeffer's Death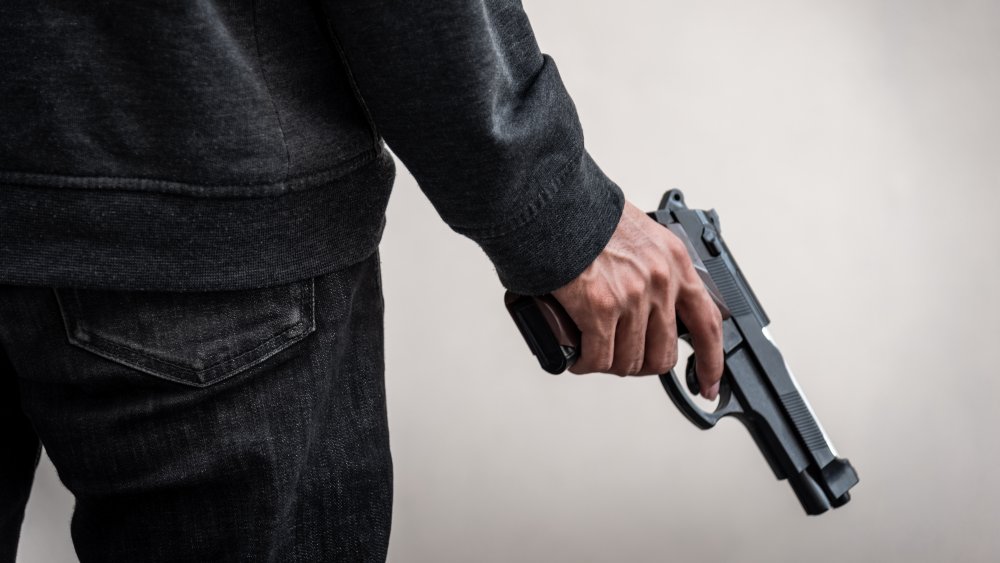 Shutterstock
Rebecca Schaeffer began her career as a teen model. Even though she had been pursuing acting roles for only a few years, she was already winning major parts, beginning with her recurring feature as Patti Russell In CBS's My Sister Sam starting in 1986. She had several films under her belt and had been featured on the cover of Seventeen magazine. Schaeffer was even under consideration for the lead role in Pretty Woman (which eventually went to Julia Roberts). She was, on many accounts, poised to be a teen superstar. But her fame and her life were tragically cut short after a deranged fan did the unthinkable. Robert John Bardo, 19, found Schaeffer's West Hollywood home and fatally shot the 21-year-old actress on July 18, 1989.
Bardo, an obsessed fan, paid a private investigator to secure Schaeffer's home address. Bardo arrived at her home and she answered the door — Schaeffer was preparing for an audition for The Godfather Part III and was expecting a script to be delivered. She had a brief conversation with Bardo before kindly asking him not to show up at her doorstep again, per Today. Later in the day, Bardo returned to the house. This time he shot her in the heart. According to Bardo, she repeatedly asked "Why?" as she died.
Her death influenced several changes in the law
Schaeffer's killer was arrested the next day after several drivers reported a man running through traffic on Interstate 10, according to Reel Reviews. Bardo immediately confessed to the killing and was convicted of first-degree murder two years later. He will remain in prison for the rest of his life, and his actions prompted many states to adopt strong anti-stalking laws.
An investigation into the star's death found that Bardo had been stalking her for three years, per Reel Reviews. He wrote numerous letters to Schaeffer and, in 1987, traveled to Los Angeles hoping to meet with Schaeffer on the set of the CBS sitcom, but security swiftly turned the teen away. He returned one month later with a knife, but security guards again prevented him from accessing the set.
As a result of the tragic incident, federal law regarding the release of personal information through the DMV was changed. The Driver's Privacy Protection Act, which prevents the DMV from releasing private addresses, which is how Bardo's private investigator found Schaeffer's home, was enacted in 1994. Following Schaeffer's death, Pam Dawber and several of her My Sister Sam co-stars filmed a public service announcement for the Center to Prevent Handgun Violence in her name. It certainly wasn't the fate that the young star wanted, but at least she can rest peacefully knowing that the world is just a little bit safer in her absence.