The Real Reason Guns N' Roses' Original Guitarist Left The Band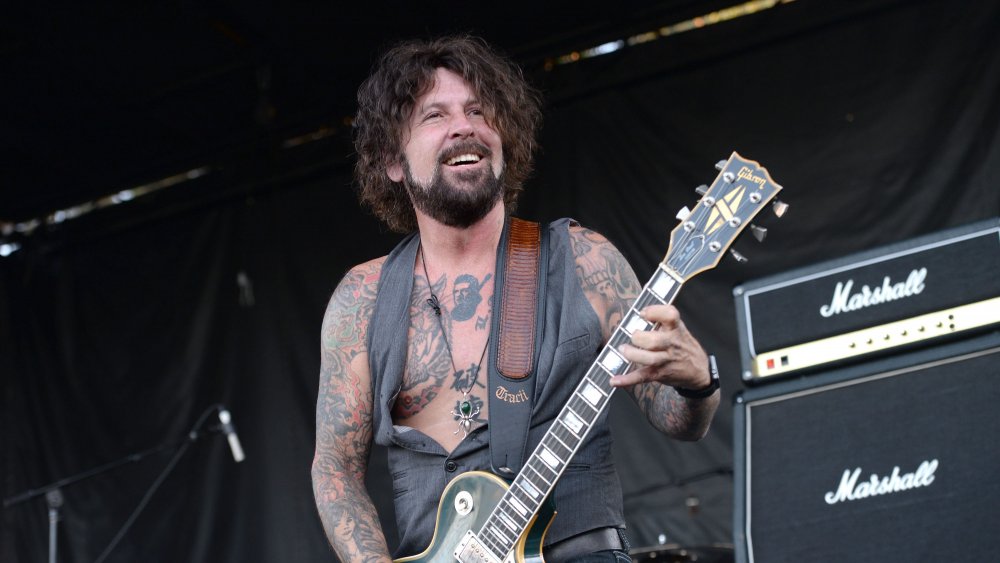 Scott Dudelson/Getty Images
Tracii Guns was hanging around stage before a gig for his band, L.A. Guns, when another young man performed a mic check. "Oh s—," Guns recalled thinking to AL, "who is this guy?" He knew who he was, Axl Rose, lead singer of Hollywood Rose. The two knew each other already. Guns explained to Guitar World in 2018 that Izzy Stradlin, Rose's friend, bandmate, and later Guns n' Roses rhythm guitarist, was renting a room in Guns's mom's house. However, this was the first time Tracii Guns understood Rose's ability and they quickly grew into friends afterwards. 
Six months later, Axl Rose was singing for L.A. Guns. As the obituary of Michael Jasgoz, L.A. Guns first lead singer, notes in 2014, when Jasgoz received a week's jail sentence 1983, the manager of L.A. Guns pushed him out, opening a position for Axl Rose to jump in. Then, according to his interview with The Quietus, after six months passed, the same manager hated Axl Rose and wanted him out of the band. They disagreed with the manager and formed a new band, Guns N' Roses. 
After another half year, however, the two got into a massive fight about Michelle Young, the Michelle of "My Michelle," not being on a guest list. That, though, seems like only the surface of the issue: "It just wasn't fun anymore. I was probably 19 then and I thought 'Great band, and I love these guys, but they're not worth the headaches.'"
Back to L.A. Guns
Marc S Canter/Getty Images
So Tracii Guns went back to L.A. Guns, which has enjoyed a successful career if not mainstream success, and Guns N' Roses hired Slash as their new lead guitarist, a move that laid the foundations for their extreme mainstream success. Even Guns agrees that this difference made Guns N' Roses. In a 2017 interview with Ultimate Guitar, he talked about how important the Slash-Rose dynamic was: "I think the way Slash plays and his tonality with Axl's voice is way more compatible. When Axl and I play together, unless we're playing a straight up rock and roll ballad that's one thing but when I write heavy stuff, it's heavy... Had I been in the band, I don't think Guns N' Roses would have had the mass appeal." 
Still, he felt it was a bit much to call the band Guns N' Roses without the Guns, even if the name sounded cool. When he first left the band, Guns asked them to change the name. Izzy simply said "It's just a band name." And that was that.
He doesn't seem to have any animus towards the band however. "I think I'm more proud of it than anything," he told The Quietus and while it would be nice to have some more money to raise his son, he wasn't going to go about raising a fuss against a band he was with only for a few months before they actually released anything.