Barry White's Tragic Real-Life Story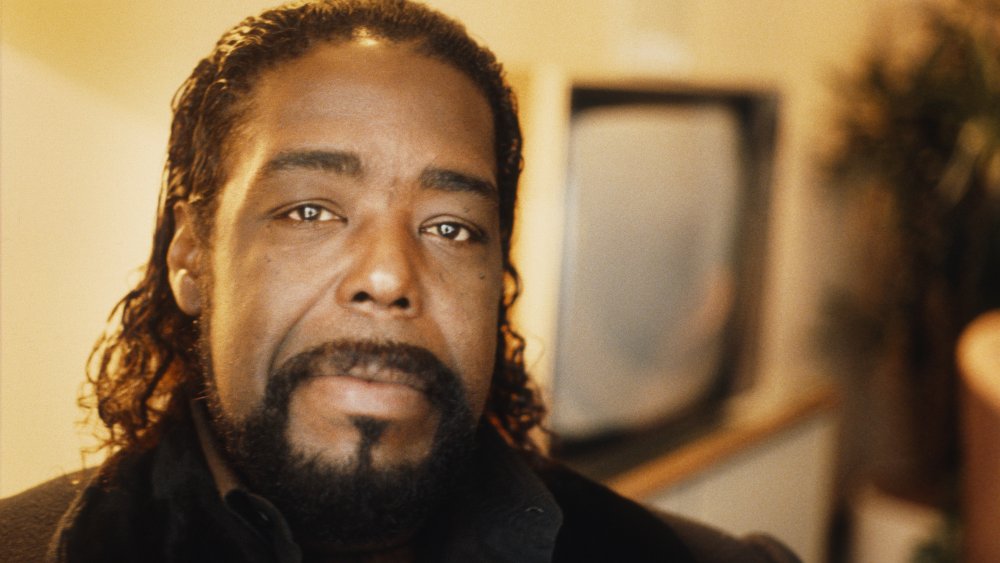 Gie Knaeps/Getty Images
Barry White was a popular singer, known for his unique voice and for delivering hits such as "Can't Get Enough of Your Love, Babe" and "You're the First, the Last, My Everything." He has been touted as one of the most successful artists of all time because of his contribution to music and was awarded a star on the Hollywood Walk of Fame after his death. White remains a popular icon even now and is often remembered for his love ballads and his identity as the singer who so openly celebrated love through his art and music. 
However, White's life wasn't easy, and he came from humble beginnings, climbing the ladder on his own steam and working hard to achieve success in a notoriously cutthroat industry. In his autobiography, Love Unlimited: Insights on Life and Love, he wrote, "If I've produced some music that strikes a chord in the fine-tuned land of people's emotions, so be it. In that sense, my music is great, a special gift that allows me to create a more perfect world than real life. It takes us all out of the lives we live, into the fantasies of our dreams."
Here's a look at Barry White's life, including some of the most iconic moments from his incredible journey to stardom, as well as the tragedy and hardship he had to overcome.
Barry White's childhood had rough patches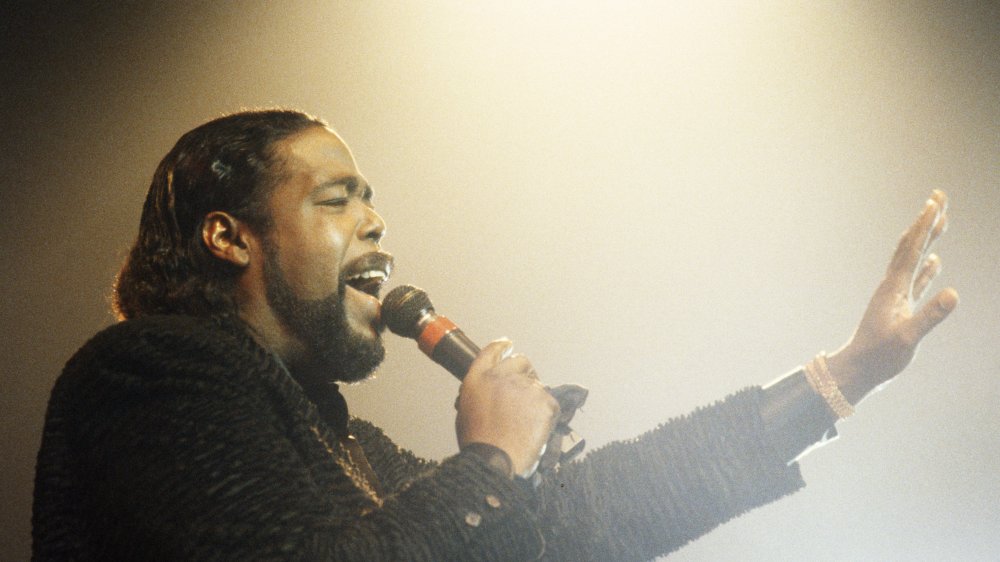 Gie Knaeps/Getty Images
Barry White was born in Texas on September 12, 1944. He spent a large part of his childhood in Los Angeles and saw some tough times as a kid. According to his 1999 autobiography, Love Unlimited: Insights on Life and Love, the musician grew up in a small home with his mother and siblings. White and his brother became involved in local gangs and often got into trouble, much to the disappointment of their mother.
In an interview with Rolling Stone, White said, "I'm an ex-gang-banger. I come from southeast L.A. I didn't only hear about the 1965 riot, I was in it. I understand the disappointment, the anger that people have. I had the same. My brother had the same until he died in 1983. A man shot him in his heart. He was my best friend and my life till he died. He was night, and I was day." He added that his brother was addicted to the world of crime the way Barry himself grew to love music. White spent some time in jail himself for stealing tires when he was just 16 years old.
White chose to be transparent about his past to his young fans later in life. "So I tell young people the truth, and a lot of them listen," he said. "They know I've been to jail. I've never hid my past, and I never will. I don't want no young person to think he's stuck in that misery."
Barry White was always attracted to music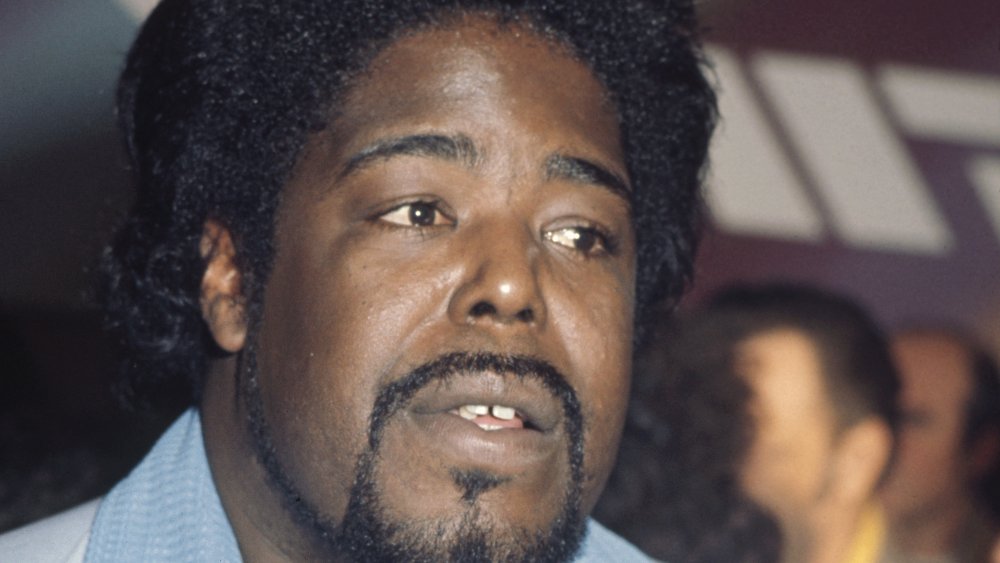 Michael Putland/Getty Images
Even as a child, Barry White was fascinated by music, and he wanted to understand it and explore it further. According to Love Unlimited: Insights on Life and Love, White would listen to music on the radio and figure out ways to make his favorite songs a part of his life. Per Biography, the singer closely followed the local music scene as a kid.
"Ever since I was a little boy, whenever I heard a song on the radio I liked, I made it my song," White wrote. "If I was alone, I immediately formed an attachment to it, a touchstone to the time and place I first heard it. If I was with a lady, it became a clear reminder to me of whom I was with, how I felt about her, and how she felt about me." He added that music was a major part of his romantic experiences, and when he finally started making his own music, he consciously tried to allow his songs to serve as an inspiration to lovers in different parts of the world. White was also part of his church choir and spent a significant amount of time consuming music.
Barry White's voice underwent a major change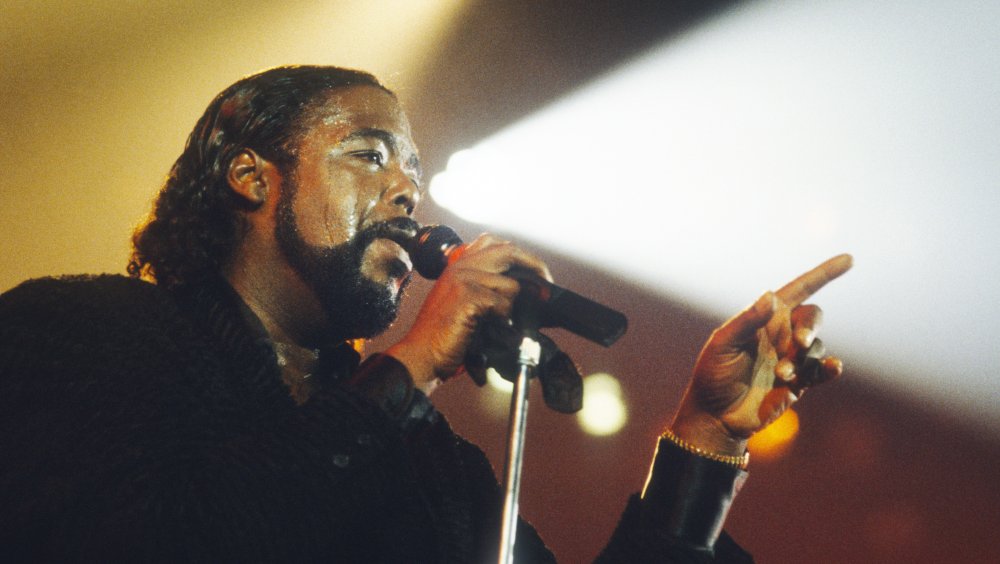 Gie Knaeps/Getty Images
One of Barry White's most interesting memories involved observing the change in his voice as he grew up, and he found himself embracing the change. While his voice was originally a bit squeaky, it suddenly changed and deepened, a fact that both scared and intrigued him. The change happened almost overnight, and it definitely took him by surprise.
According to the Sydney Morning Herald, White and his mom were really excited when his voice transformed. "It scared me and my mother when I spoke that morning," White said. "It was totally unexpected. My chest rattled. I mean vibrations. My mother was staring at me, and I was staring at her. The next thing I knew, her straight face broke into a beautiful smile. Tears came down her face and she said, 'My son's a man now.'"
White, of course, would eventually be well-known for his unique, deep voice.
Barry White struggled to get noticed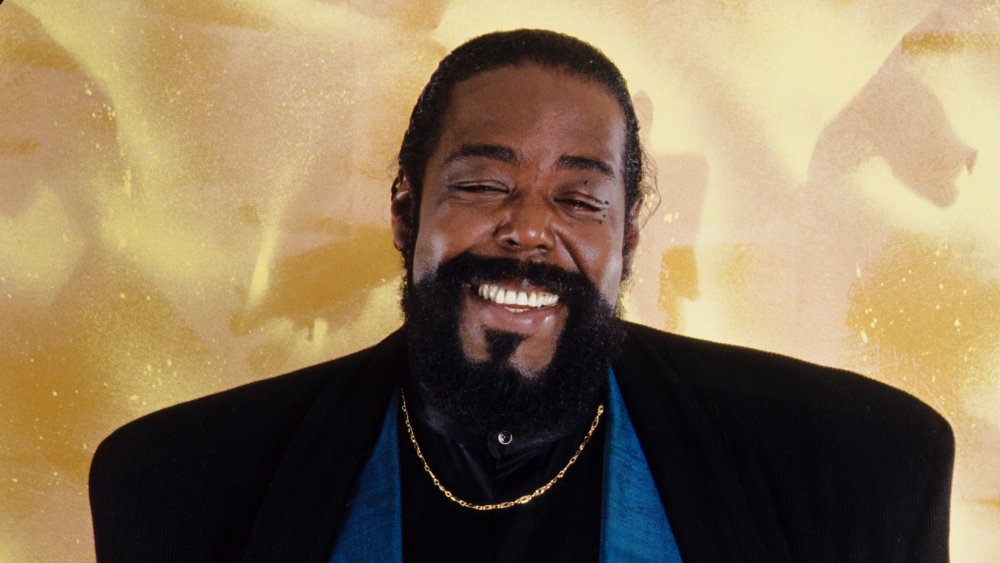 Al Pereira/Getty Images
Barry White's journey to redemption after his fractious childhood was not an easy one. He knew he needed to change his ways and give up gang life. As he explained in Love Unlimited: Insights on Life and Love, he decided to transform himself after spending time in jail. "After two months on the inside, it finally started kicking in," White wrote. "I have to change my ways, because if I don't, I'm going to end up in jail the rest of my life!"
White knew he'd have a hard time changing his bad habits, but he didn't see any other way out. A few days after he left jail, he received an offer from friends to join a band and sing bass. Until then, White had never thought of music as a solid option. White credited that moment when he was asked to be a part of the music group in 1960 as the thing that changed the course of his life. However, simply deciding to pursue music wasn't enough. He spent almost a decade trying to get noticed and make a mark in the world of music. Along the way, White worked on collaborations and slowly fought his way to the top.
Barry White finally achieved musical success in the 1970s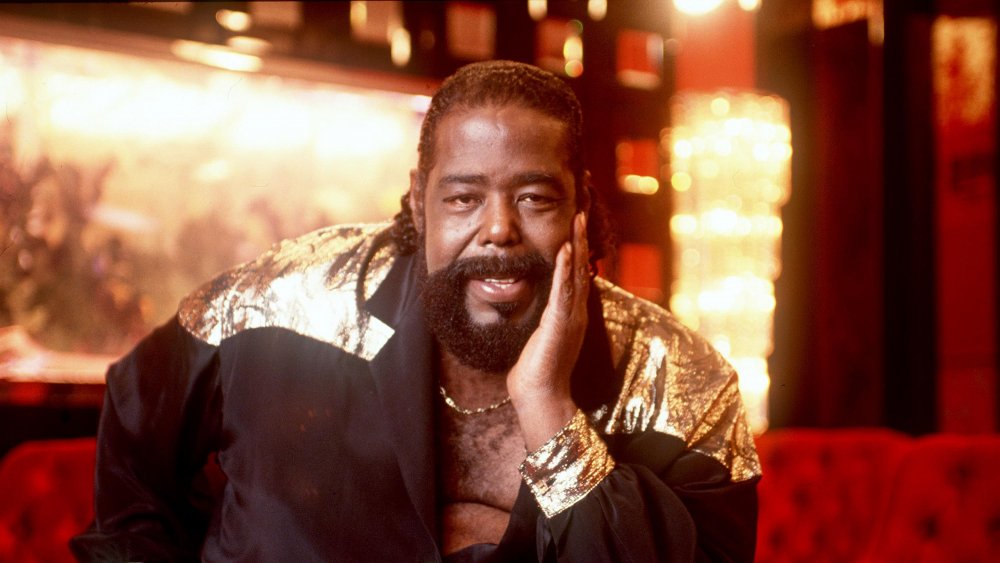 Paul Harris/Getty Images
It was in the 1970s that Barry White truly started seeing the fruits of his labor. He founded the girl group Love Unlimited and became a producer, a significant landmark in his career. Through a friend, he also met businessman Larry Nunes, who helped him with finances for his album. The album was titled From a Girl's Point of View We Give to You...Love Unlimited. Per Love Unlimited: Insights on Life and Love, White knew meeting Nunes was a godsend for him.
"I couldn't believe it," White wrote. "Here I was, without a dime to my name, with a group I couldn't afford to record, with nothing but my knowledge of music. And over there, was Larry Nunes, a millionaire, offering me not just a way to make a decent living, but the opportunity to make my musical life." The 1970s were kind to White, who released one of his most popular tracks, "Walkin' in the Rain with the One I Love" in 1972. It was his first major hit and catapulted him into fame. Around this time, White also started the Love Unlimited Orchestra and found more success with the track "Love's Theme."
Barry White's career had its ups and downs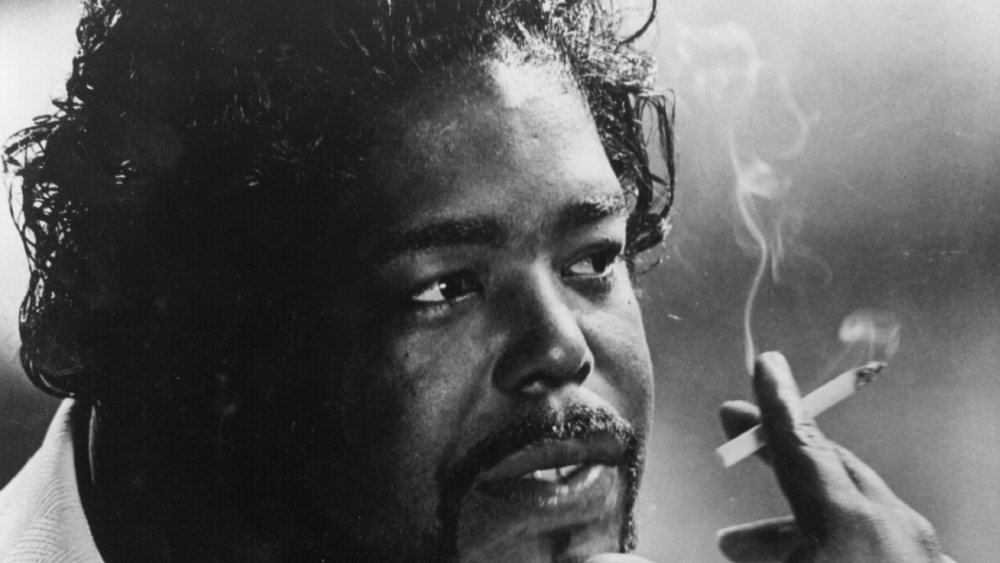 Hulton Archive/Getty Images
What made Barry White stand out was the fact that he didn't shy away from taking risks. He released a solo album called I've Got So Much to Give, which became popular for his hit track, "I'm Gonna Love You Just a Little More Baby." White longed for more, and he eventually founded his own label, Unlimited Gold, with CBS/Columbia Records in 1979.
However, the 1980s had loss and failure in store for Barry White. According to The Sydney Morning Herald, in the late '80s, he attempted to replicate his earlier triumphs with albums like The Right Night & Barry White and The Man is Back! Nonetheless, things were tough until the 1990s, when he managed a breakthrough with his album The Icon Is Love in 1994. He went on to rack up two Grammy awards in 1999 for his song "Staying Power." White's career was definitely impacted by the evolution of disco through the years, but he did manage to keep his fanbase hooked onto his music.
Barry White was misunderstood
Michael Ochs Archives/Getty Images
Barry White, unfortunately, was not always understood and didn't get the right kind of attention from the public. He was made fun of and ridiculed occasionally. According to The Guardian, at one time, the media looked down upon White due to his rather steamy lyrics and identified him as a musician who only made trashy music. However, White was willing to embrace this image. He even appeared on The Simpsons as himself and was comfortable with self-deprecating comedy.
White was asked in an interview with Rolling Stone about his thoughts on having to live with labels such as being seen as a sex symbol. "It never gets in my way. I'm none of that. I'm Barry White," he declared. "Calling me different nicknames doesn't bother me one bit. I'm Barry White. Have a sip of champagne. Women are not into fish eggs, they have a different nature. Men love it."
Barry White had an unfulfilled dream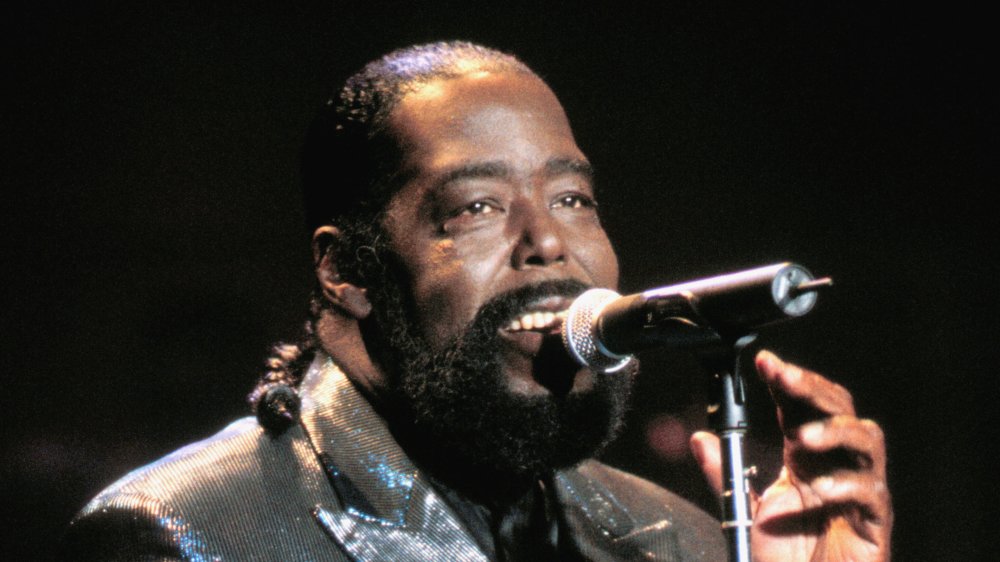 Tim Mosenfelder/Getty Images
While Barry White did rack up several honors and triumphs in the course of his career, there was one dream he didn't get a chance to see through. In Love Unlimited: Insights on Life and Love, he wrote about having missed the opportunity to work with one of his favorites, Marvin Gaye. They were finalizing a project together when the singer unexpectedly passed away.
"His passing hit me so hard and deep," White wrote. "It broke my heart. He was looking to make an even bolder leap, to stretch, to work himself to a new level. Now he is gone forever. It is everybody's loss." The loss was very personal for White, who spoke to Gaye just days before he died. Gaye asked the musician to help him with his next album and produce it. White told him, "Marvin, you're insane! You don't need a producer! That's the last thing you need." He added that he'd be happy to brainstorm with Gaye but was convinced that no one could make music like him. "I can never produce Marvin Gaye," he said. "Marvin is the only one that can produce Marvin." Sadly, the duo never got to produce their project together.
Barry White had a rocky love life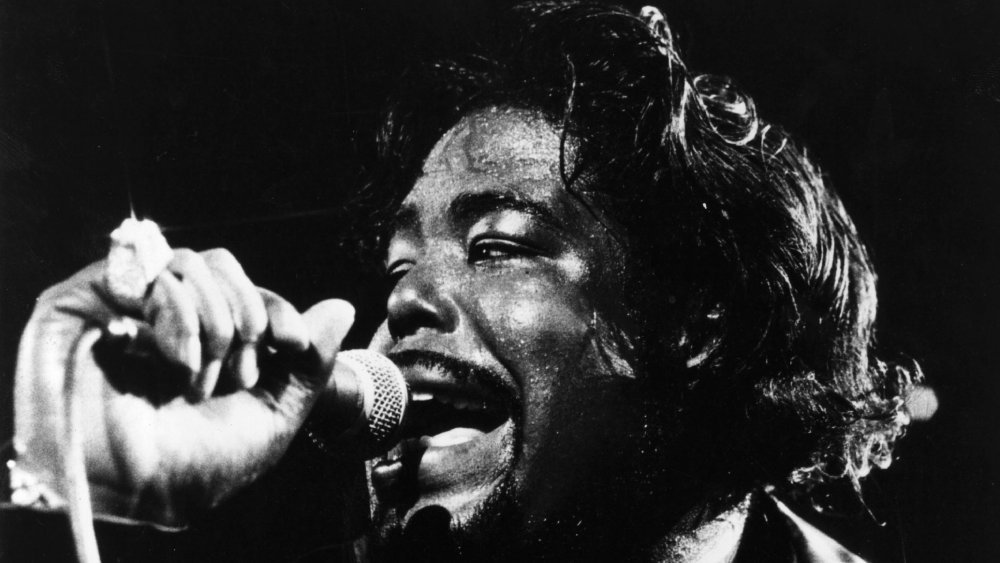 Hulton Archive/Getty Images
Despite being the king of romance in the music industry and being known for producing iconic love ballads, Barry White's love life was full of hurdles. His romances didn't have happy endings, and both his marriages ended in divorce.
White's first wife was a childhood friend named Mary. According to The Sydney Morning Herald, he had four kids with her before they decided to go their separate ways in 1969. His next wife was from the female group Love Unlimited, and her name was Glodean James. They worked together on "Walkin' in the Rain With The One I Love" and ultimately decided to split up in 1988.
In 1995, he was asked by Jancee Dunn about his love life for an interview with Rolling Stone. White simply said, "I'm relaxing, I'm enjoying my life, and I let things do what they do. I've already got one lady — music." 
Barry White suffered from major health issues
Raymond Boyd/Getty Images
Barry White's health was less than stellar. According to a piece by MSN, White found it hard to even stand up on his own two feet during his final days. A docuseries called Autopsy: Barry White delved into the singer's life and his health concerns. White's half-sister, Sandra, said in the docuseries (via MSN), "The last concert that I saw of Barry's... he could barely stand up. He managed to get through it and then I understand he almost collapsed after he walked offstage." She added that despite the scare, White was not keen on seeking help: "I was around Barry a lot, during that time we would talk a lot, and I could tell he was getting tired a lot."
Additionally, White had dealt with weight issues for a large part of his life and suffered a stroke in 2003 that affected his speech. He'd also been dealing with a failing kidney and had acute blood pressure issues, a fact which had forced him to back out of many live shows. "My dad had surgery May 1 to place a catheter in his arm," White's daughter said back then, per Billboard. "He had a stroke ... that affected his speech and the right side of his body, but he is in great spirits." Unfortunately, Barry White's health issues became worse, and he was unable to recover. He passed away in July 2003 at the age of 58.
Barry White was ridiculed by his fans in his last days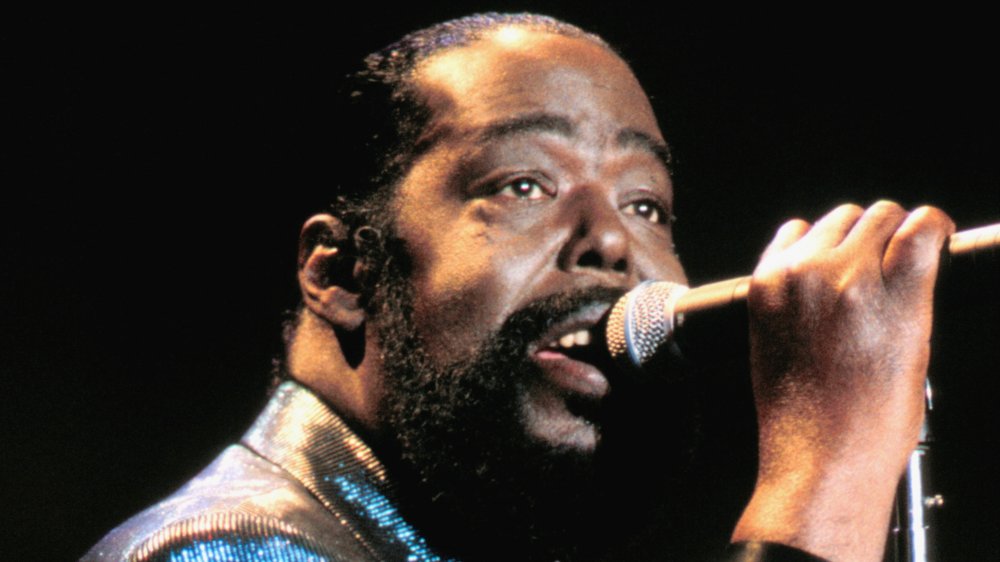 Tim Mosenfelder/Getty Images
Sadly, Barry White faced ridicule from his audiences at concerts and live performances as his health waned. White was struggling to stay animated while performing live as he fought ever-increasing exhaustion. According to MSN, Ned Shankman, White's manager, revealed in Autopsy: Barry White that people didn't take kindly to the singer's ill health. "He had to perform sitting down. It infuriated the crowds, they wanted Barry playing the piano and moving around," Shankman stated. This thought was echoed by White's biographer, Marc Eliot, who said, "The show was in the round and he wouldn't turn, so half the audience saw only his back, and they booed him!"
White's son felt that his father was doing the best he could, considering the circumstances. "He wasn't able to stand up, he was trying. He was struggling, but he was trying, and God bless him for that," he said. White's mobility issues were primarily caused by edema (swelling due to fluid buildup) in his legs and ankles.
Barry White left behind a painful legacy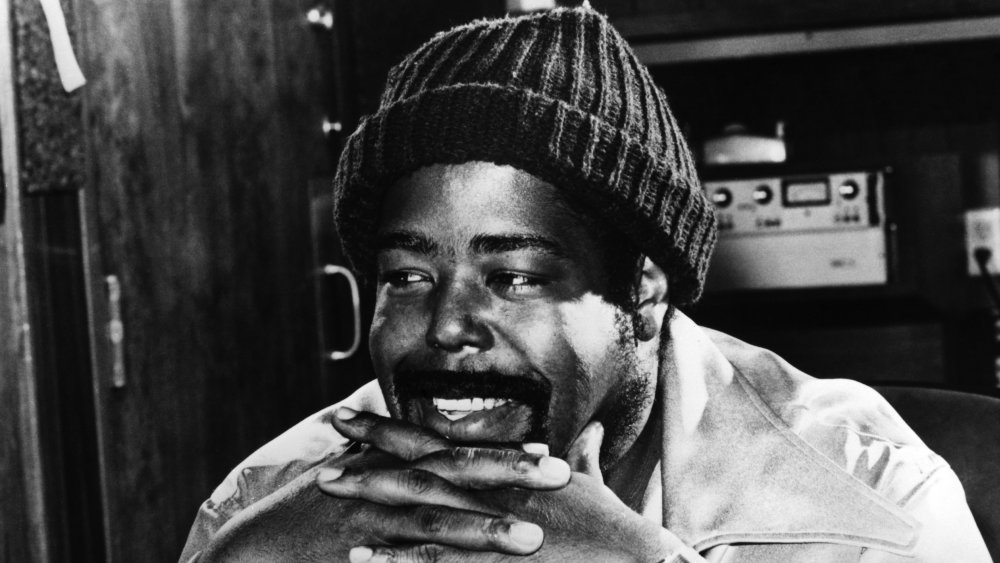 Bobby Holland/Getty Images
Ultimately, Barry White left behind a rich but painful legacy for his fans. He had a lot more that he wanted to do, and his work remained unfinished. Sadly, his failing health simply didn't allow him to pursue his future goals and dreams. White's death left fans heartbroken, and they paid a moving tribute to him in Los Angeles. According to a piece by NME, more than 100 fans and friends of the singer celebrated his life and music at a park in the city's downtown after his death, paying tribute to White and dancing to some of his best songs.
One of White's friends, Mohammed Mubarak, remembered his old mate and said, "He truly was the maestro of love. We ask that you will open up the doors of Heaven, and allow him to rest in peace in Heaven forever, and forgive him of all of his sins and have mercy on him on his day of judgement."  
Per CNN, White once said that researchers had experimented on whales with his music and found that his songs did, in fact, encourage them to mate more. "I sleep music, I eat music, I'm never without it, I'm never without music, that's my first lady," White was quoted as saying in an interview. "He had a most unique voice, a most unique appearance," Ned Shankman said. "He was just a very unique guy."