The Magical Reason This Victorian Market Looks Familiar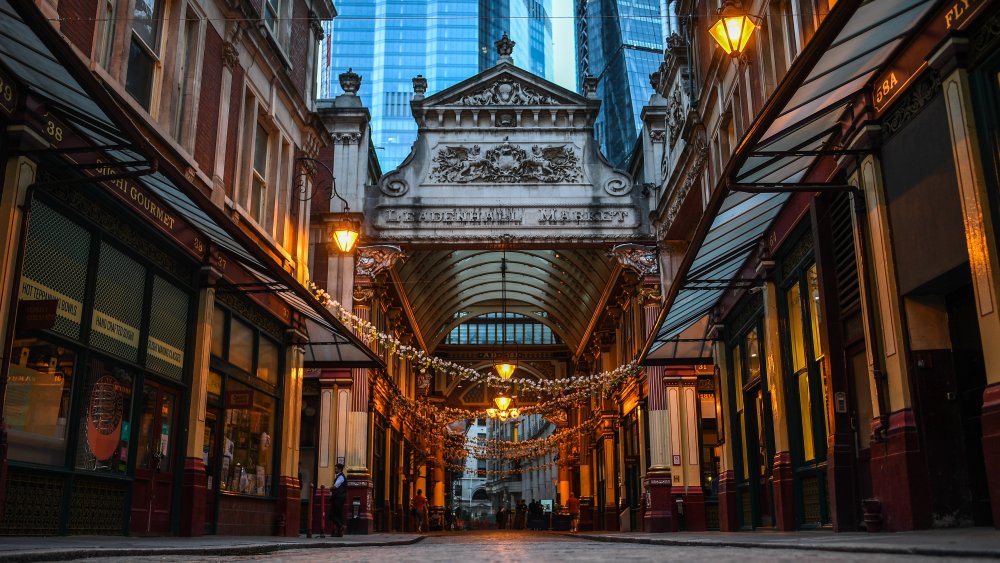 Peter Summers/Getty Images
"Welcome ... to Diagon Alley."
With these words and four small taps of his tiny pink umbrella, Hagrid in the first Harry Potter movie introduced both Harry Potter, the character, and every audience member, to a wondrous wizarding world that exploded into a cultural zeitgeist. Diagon Alley is but one of a host of memorable locations within the Harry Potter franchise — either the books or their movies — including such places as Godric's Hollow, Hogsmeade, Platform 9-3/4, Hogwarts itself, and many more. Diagon Alley itself is stuffed full of notable fictional shops such as the bookstore Flourish and Botts, Ollivander's, Gringotts, and the Leaky Cauldron. J.K.Rowling's Harry Potter, as a franchise, remains branded in the mind of the times.
When reading the Harry Potter novels, it's easy for readers to use Rowling's prose to hand-tailor their vision of the series' locales. But when these highly ornamented places need to be translated into movie sets and relatively non-green-screened environments, it becomes exceedingly tricky to craft just the right space. Details and broad strokes need to be balanced to stay true to the novels' vision, and also provide enough details to satisfy the requirements of a visual medium.
Enter an actual place that looks lifted from the pages of a magical novel: Leadenhall Market, located in London on the north side of the Thames, east of Bank Station in the city's financial district.
Follow in the steps of a wizard (and ancient Romans)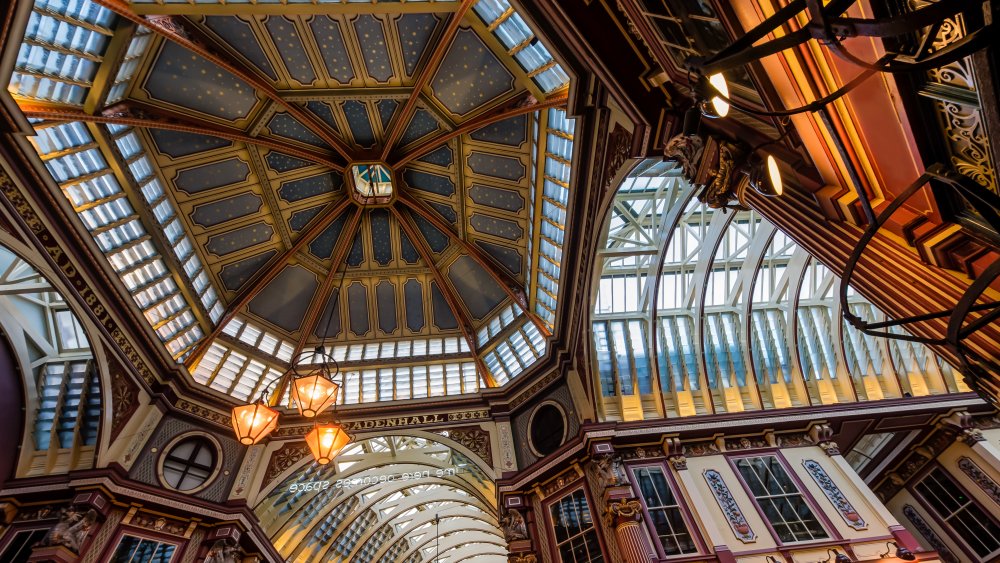 Shutterstock
Leadenhall (pronounced LED-uhn-hawl) Market, per Atlas Obscura, is one of the oldest markets in London and dates back to the 14th Century (not nearly as old as Ollivanders, of course, at 382 BCE). As Strawberry Tours states, the area was first settled by the Romans in 70 CE and has always been used as a marketplace. Pre-Renaissance, Leadenhall didn't have its current green-and-red roof, of course, nor was it quite so full of glitz, cleanliness, and gorgeous architecture. But by the late 1800s, it was a renowned spot in Victorian London. A quick jump over to Leadenhall's website reveals quite an array of fine dining, watchmakers, stationary shops, health and beauty options, cigar shops, and, of course, pubs. 
Leadenhall was used, specifically, for Diagon Alley exterior shots in the Harry Potter movies, and the Leaky Cauldron itself, entryway to Harry Potter's world within a world. There's a wide array of walking tours of Leadenhall and other locations around London, such as those described on Londonist magazine. The entrance to the Leaky Cauldron can be found at 42 Bulls Head Passage. In reality the location is an optician's shop (no eye exams, sorry). Its blue door was also used in Harry Potter and the Goblet of Fire.
For those living nearby who haven't had the chance to visit, and for those waiting to book their next fight (floo powder not available, sorry), Google Maps might prove handy.