What Really Ended Hulk Hogan's Wrestling Career
Jerod Harris/Getty Images
Wrestling superstar Hulk Hogan is the poster child for the spectacular sport. According to Collider, he's the second greatest wrestler of all time, and IGN said that he is "the most recognized wrestling star worldwide and the most popular wrestler of the '80s." He's widely regarded as putting the sport on the map and ushering in the wave of popularity it experienced in that decade.
Many wrestlers retire due to the wear and tear of body slams and pile drivers over the years, but Hogan stepped away from the ring unexpectedly and in a storm of controversy. Although it came toward the twilight of his time with the WWE, what really ended Hulk Hogan's career was the super ugly rant he was caught spouting when a sex tape in which he is heard saying racial slurs when talking about his daughter's sexual relationship with a black man was leaked onto the internet. WWE terminated its contract with Hogan, whose real name is Terry Bollea, after Radar Online published the transcript of that tape in 2015.
But Hulk Hogan doesn't go down without a fight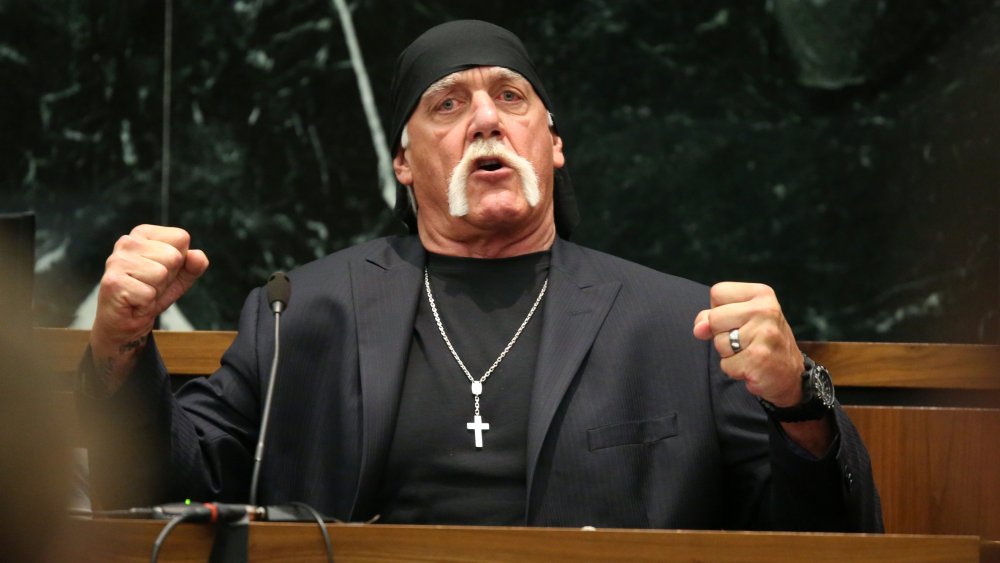 Pool/Getty Images
When Hulk Hogan goes down — on the rare occasion that he actually does — he doesn't go down without taking a few opponents with him, eg., the battle royal of his lawsuit with Gawker, the website that originally leaked the sex tape he made with the wife of his ex-amigo, radio personality Bubba "The Love Sponge" Clem.
The New York Times reported in 2016 that the $31 million settlement Bollea reached in his lawsuit against the website led to Gawker going bankrupt and selling itself to Univision for $135 million. The settlement was the end of an era for both parties involved. Gawker's irreverent, no-holds-barred style of journalism ended up leading to its own demise, and Hogan's reputation was forever tainted.
The case had lasting effects on the state of journalism, as well. In an op-ed for The Guardian, columnist Arwa Mahdawi lamented the demise of Gawker. She admitted that the site was a bit unscrupulous, but also called it courageous. "It held powerful people to account. It was beholden to nobody," she said, adding that Hogan's ability to take it down — with the help of billionaire Peter Thiel — "sent a chilling message to journalists ... [and] dealt free speech a worrying blow." It seems that Hogan's monumental ego is able to take down opponents both in and out of the ring, and his latest victim was none other than the American public at large.