The Tragic Death Of Junior Seau
Owen C. Shaw/Getty Images
News of keeping players, coaches, and other staff safe during the coronavirus pandemic is currently dominating the news about the 2020 NFL season. Fox Sports reported that the league has doled out more than $2.5 million in fines for violations of its safety protocols (bringing new meaning to the term "facemask violation") and Sporting News called it "by far the biggest challenge the league has faced" since the viral outbreak began.
It wasn't that long ago that the news focused on another medical condition afflicting professional football: chronic traumatic encephalopathy, or CTE. The neurodegenerative brain disease is one of the dirty little secrets the NFL doesn't want you to know about, so in a way, commissioner Roger Goodell might be breathing a sigh of relief that we're not focusing on it right now.
The families of players affected by CTE, on the other hand, can't forget the terrible effects of the repeated head trauma that's one result from participating in the uber-aggressive sport. As ESPN reported in 2013, it may have been the primary factor in the tragic death of former San Diego Charger Junior Seau — Tiaina Baul Seau, Jr., says Encyclopedia Britannica — who shot himself in the heart on May 2, 2012. He was just 43 years old.
Seau's ex wife blames CTE for his death by suicide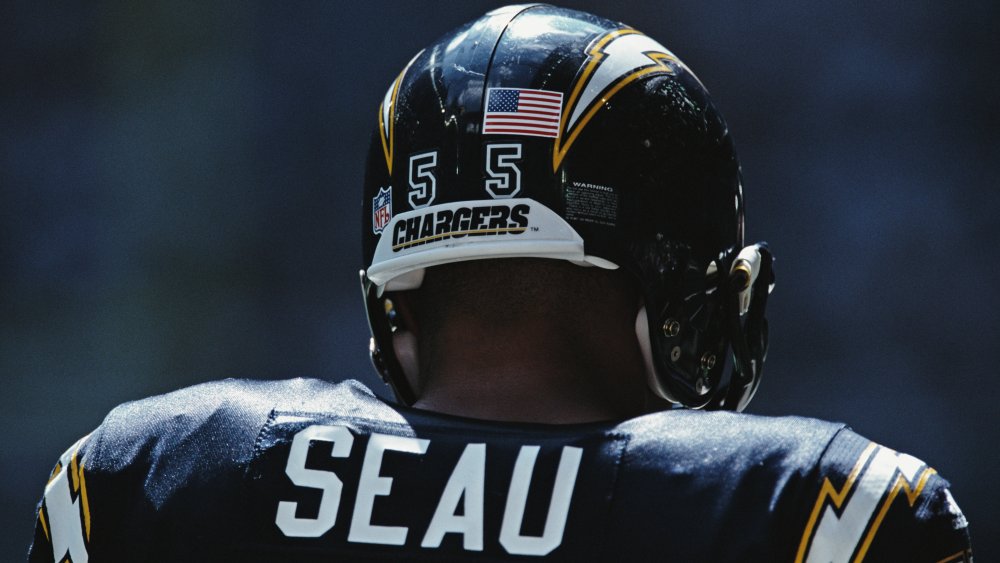 Ronald Martinez/Getty Images
After Junior Seau committed suicide, his brain was sent to the National Institutes of Health in Washington, D.C., where researchers discovered that the former All-Pro linebacker had indeed suffered from CTE. The news really isn't surprising, after subsequent research published in 2017 revealed that 99 percent of the brains of deceased NFL players show signs of CTE, according to CNN. The condition can lead to memory loss, dementia, and depression, symptoms that Seau's ex wife, Gina, told ESPN she noticed in her former husband. Ultimately, CTE results in "the deterioration of his brain and his ability to think logically."
The NIH's findings in Seau's autopsy pathology report were corroborated in blind studies by three outside neuropathological experts, so it seems quite clear that the NFL player's repeated head trauma over 20 years of game play contributed to his emotional state at the time of his suicide. Gina Seau said that she hopes the findings will lead to better care for current NFL players so that more don't suffer the same tragic fate as her late husband. "We certainly don't want to see anything like this happen again to any of our athletes," she told ESPN.
While CTE shows up in those who've played college football as well as in professionals, of even greater concern is a recent study that indicates the presence of CTE in high school football players, according to Medical Xpress. The condition is progressive, worsening with age.
Accountability at the NFL for deaths like Seau's is long overdue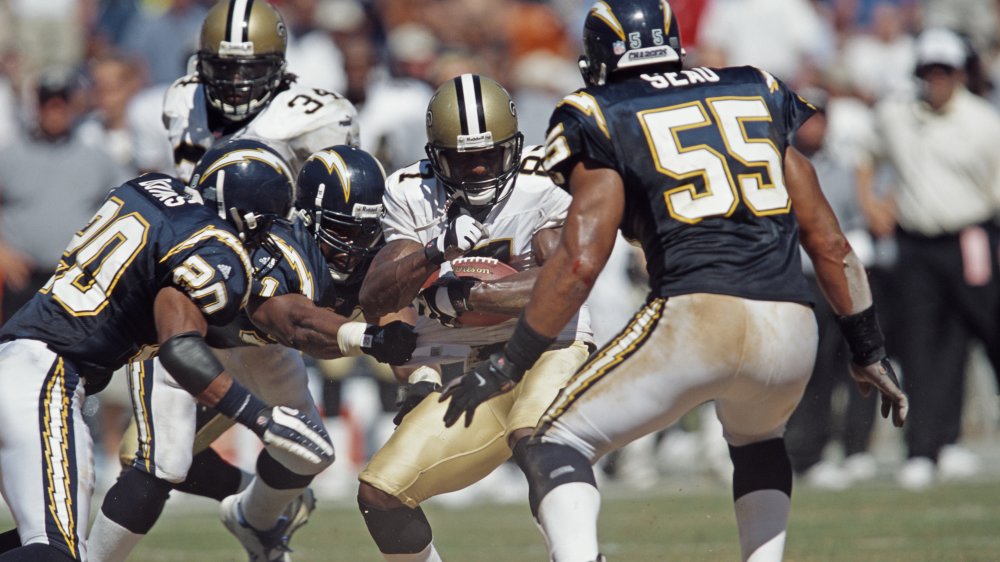 Stephen Dunn/Getty Images
A 2013 PBS Frontline investigation into CTE found that the league knew much more about what became one of the biggest sports scandals of the 2010s than it initially let on. Thomas Girardi, an attorney representing over 4,500 former NFL players in a class-action lawsuit against the league, said that "there was a very severe hazard that was present in professional football, and it was a little secret. The NFL knew it, but the players certainly didn't know it."
Unsurprisingly, the NFL claimed otherwise. "We strongly deny those allegations that we withheld any information or misled the players," said NFL attorney Beth Wilkinson. Allegations denied or not, the NFL agreed to pay a settlement of $765 million to resolve the case while never admitting to any wrongdoing. ESPN reporter Peter Keating said he didn't think that a trial was necessary to reveal the "shoddy research" conducted by the NFL. "But the details of how they went about it, that's what's going to stay locked away," he said.
The evidence in the case against the NFL seems pretty clear: responsibility lies with the upper management. For the past, current, and future players and their families, we can only hope that the league will someday accept responsibility for its negligence and take steps to ensure that players don't have to destroy their brains so that fans can have a good time watching the big game.