Dave Grohl And Courtney Love's Feud, Explained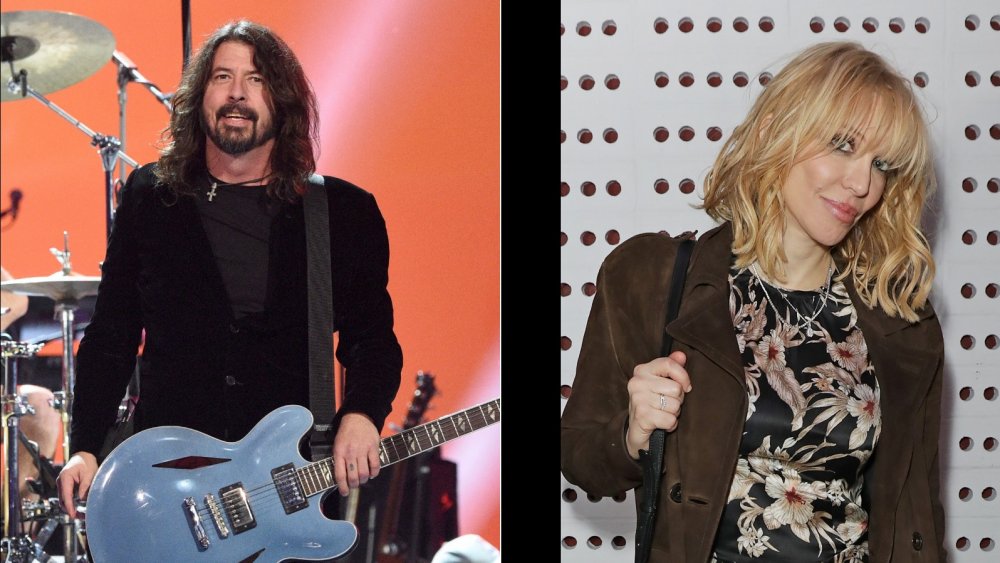 Kevin Mazur / David M. Benett / Getty Images
Before the death of Nirvana frontman Kurt Cobain, there were few people in this world closer to him than bandmate Dave Grohl and Cobain's wife, Courtney Love. Who knows how close Grohl and Love were to each other before Cobain's passing? Given the proximity they both had to Kurt, chances are they weren't outwardly hateful of each other. But, after Cobain's death, things got pretty heated between the two.
Both Love and Grohl went on to develop successful independent music careers unrelated to Cobain and Nirvana. Love played with the band Hole for several years, and Grohl went on to lead Foo Fighters. With both musicians prominent in the rock world, you know their circles had to overlap from time to time. It's pretty obvious they weren't on the friendliest of terms. Luckily, the feud was put behind them in 2014 when the pair bonded over an unnamed actress's breasts, according to Love, when she appeared on Jimmy Kimmel Live!, as Spin reports. Until that point, the feud was pretty serious.
So, what was the feud all about? We're not entirely sure. Love and Grohl just really didn't seem to like each other very much. At all. If there was a single point of contention, it would be easy enough to track the whole thing down to its root, but there wasn't one single event. There were many.
What was it really about?
Shutterstock
The bad blood lasted for nearly 20 years. At one point in 2001, the two musicians found themselves in court, where Love sued Grohl over the rights to some Nirvana songs. There's some evidence that they weren't getting along before that, either, but this seems to be a high (or low) point. Krist Novoselic, Nirvana's former bassist, counter-sued Love, saying that she was only suing them in the first place to give her career a much-needed boost. Another lawsuit cropped up the following year, with Love trying to shut down the release of the unfinished Nirvana song "You Know You're Right," according to ABC. The Seattle PI says they ended up settling and putting the legal matters behind them in 2002.
Around the same time, The Guardian relates that Grohl called Love an "ugly f***ing b****" while on-stage, which just doesn't seem like the way one friend would talk about another. Love fired back 10 years later. Loudwire reports that Love claimed Grohl had tried to seduce Frances Bean Cobain, her 19-year-old daughter. Needless to say, the whole feud thing got ugly. Or uglier. Until it wasn't. Probably.