The Untold Truth Of Magic Bullet
As people turned to smoothies to make their breakfasts faster, one blender brand soon became the talk of the town: The Magic Bullet, and its sister product, NutriBullet. Marketed first through a series of late-night infomercials, pretty soon it seemed as though every house — and office — had a Magic Bullet. Its compact design allowed people to make a smoothie in their blender and then carry the whole tumbler with them to work.
The Magic Bullet, sold by Homeland Housewares, was the brainchild of Lenny Sands, who ran a company called Alchemy Worldwide. First introduced in 2003, the bullet was probably the first personal blender for the mass market, wrote Slate. The product's first infomercials in the early 2000s touted its many features. It can grind coffee, chop onions, beat eggs, juice fruit and vegetables, make smoothies, blend muffin batter, mix salsa, and produce guacamole. This litany of uses strove to attract all kinds of consumers, not just health-conscious juicers.
According to the Los Angeles Daily News, Alchemy sold everything from self-help CDs to supplements. In marketing the Magic Bullet, they wanted to differentiate it from all of the many other blenders that can also do all of the stuff it does. So they decided to market the Magic Bullet not as a blender, but rather a smoothie maker and food processing device. Somehow, it all worked, and Alchemy was able to sell more than 30 million units by 2016, reported Man Magazine.
Infomercial success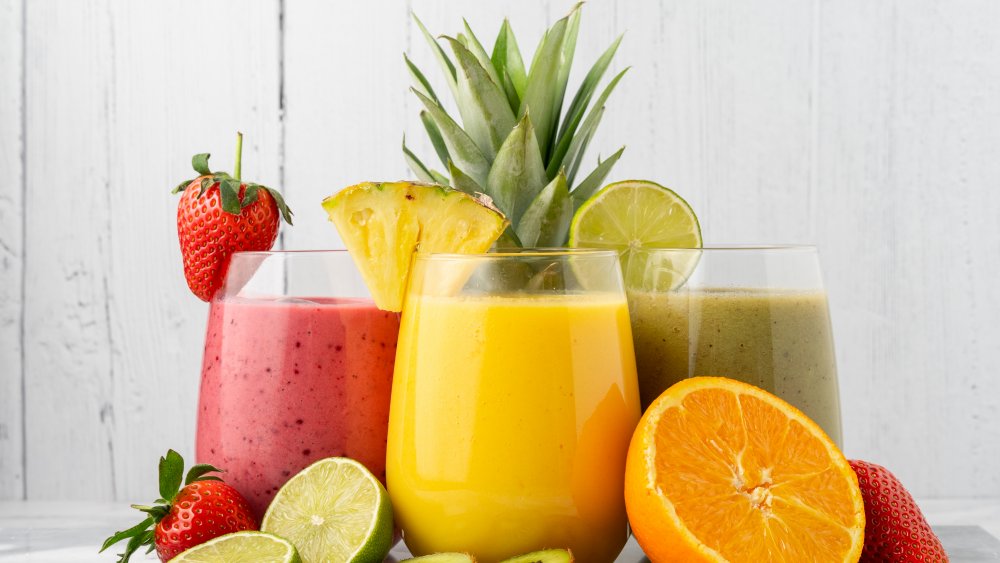 Shutterstock
The company started making different types of "bullets," including models designed for making baby food or dessert. It also made the larger, more powerful NutriBullet. The real success of The Magic Bullet and NutriBullet came largely from word of mouth. Its infomercials were impressive. It often featured a man named David Wolfe, whom Forbes described as a "cross between Kenny G and Howie Mandel," an expert in nutrition and longevity. He describes the blenders as nutrition extractors and rattles off how the blades release nutrients that no other blender can. He drops most fruit and vegetables you can think of into the Magic Bullet and boom – the result is a drink that will make you the healthiest you've been in a while. Maybe ever. (He also talks about reincarnation on his personal website, but we're guessing that not even a Magic Bullet can blend past lives.)
Slate said the Magic Bullet and NutriBullet empire expanded to 1.5 million fans on Facebook and 400,000 Twitter followers in 2016. That was around the time that NutriBullet began to outsell its forefather, the Magic Bullet. It was a very good year; Forbes reported that a NutriBullet was sold every 30 seconds in 2016. Kate Middleton even uses one. Both the Magic Bullet and the NutriBullet have moved past their infomercial roots and achieved a more mainstream status as a hot ticket item.
It's fighting off a lawsuit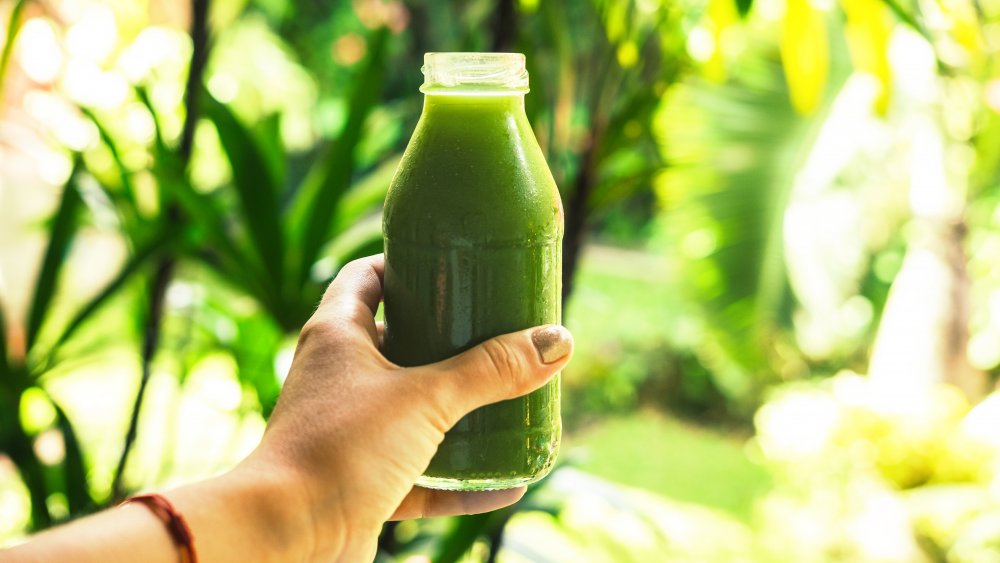 Shutterstock
What exactly is the difference between the two? In essence, both are upside-down personal blenders, meaning you attach the blade to the cup or tumbler, then turn the whole thing upside-down to affix it to the motor. BlenderRepublic explained that the Magic Bullet is best suited for softer ingredients. Its smaller motor, clocking in at 200 watts, makes mincemeat out of apples, mangoes, bananas, or avocados. It also does a fine job of mixing up items like protein powders, for instance. But don't use it for more solidified items like ice or nuts, as it won't perform its chopping duties quite as impressively. The NutriBullet, on the other hand, has a more powerful motor at 600 watts and features bigger containers as well. It will make quick work out of, say, pulverizing frozen berries. And since more is sometimes better, Homeland Housewares has now started making even more powerful versions to capitalize on people's need to blend more and more things.
The story isn't entirely rosy. The Magic Bullet has had some detractors. CBS News reports that in 2018, unhappy customers sued the company, now called Brands, for malfunctioning blenders. The suit alleged the blenders can explode and have caused cuts and bleeding. Despite this, the Magic Bullet remains one of the more popular blenders out there. All for the love of that kale smoothie you can blend, then carry into the gym like a pro.